When navigating to ClickDimensions functional areas in a Microsoft Dynamics CRM deployment that has been configured for IFD (Internet-Facing Deployment) using ADFS, you may be presented with the following error:
An unsecured or incorrectly secured fault was received from the other party. See the inner FaultException for the fault code and detail.
This error is generally represented by the following message: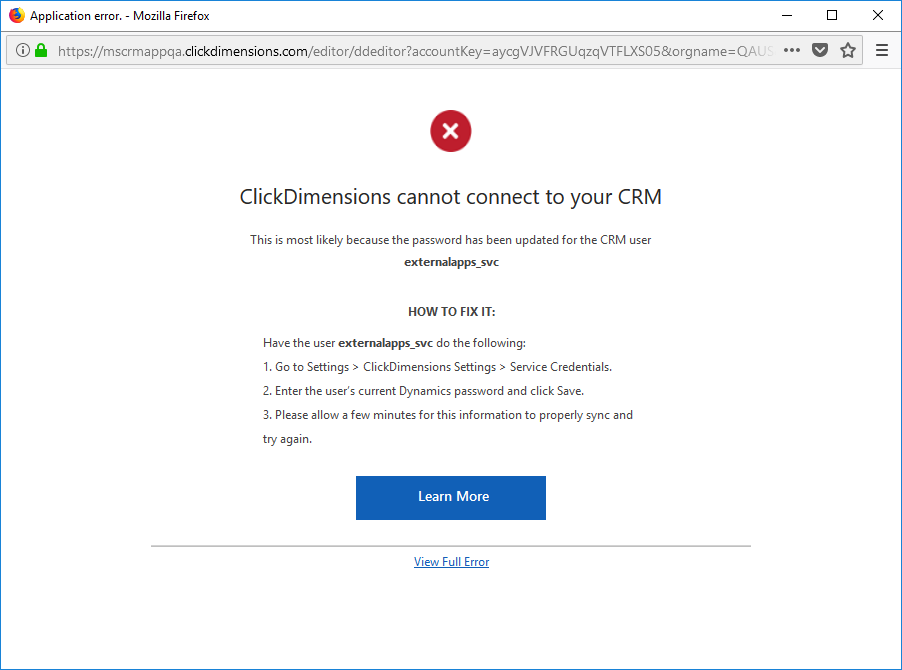 Click View Full Error to see the entirety of the error text.
Cause
Scenario 1: This error is usually caused by the Service User's password being changed so that it no longer matches the value that ClickDimensions has on record. The Service User is the CRM user who ClickDimensions utilizes to interact with your CRM, so if the password is out of sync, it will affect our ability to communicate with CRM.
Scenario 2: On rare occasions, the error can also be caused by the CRM and/or ADFS servers being out of sync with the time on the domain controller. On most networks, the domain controller is responsible for setting the time of servers that are part of the domain. In some cases, a server, such as the CRM server or the Active Directory Federation Server, can lose the connection to the domain controllers clock.
Resolution
Scenario 1: This error can be corrected by resetting the password in ClickDimensions Settings in CRM.
Scenario 2: Often, simply re-starting the affected servers will restore their connection to the domain controller and re-synchronize the time settings. If a re-boot of the CRM and ADFS servers is not sufficient, further analysis and troubleshooting should be performed by your network administrator.