If you have navigated to Settings > ClickDimensions Settings and noticed that your CRM URL doesn't match the External CRM URL listed there in the settings area, then you either have an internal CRM URL or you have the wrong solution file installed in your environment. Let's take a look a both situations.
Do the URLs Match?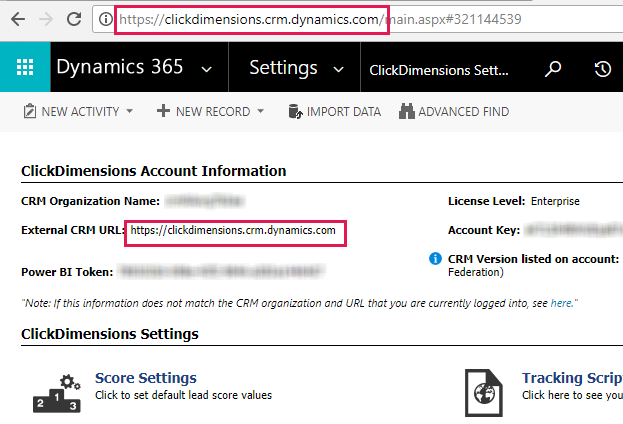 If they do, and you are having problems with something please submit a support ticket. If they do NOT match, proceed to step 2.
Do you have two different URLs for your CRM environment - one internal and one external?
Ask your CRM Administrator this question if you do not know the answer. Here is an example of what the difference might look like:
Internal: https://crmserver/orgname
External: https://orgname.company.com
If this is not the case proceed to step 3.
The wrong solution was installed in your CRM environment
To fix this you can re-install the solution if you have the right zip folder. Follow instructions here for installing.
If you see a "Wrong Orgname Value" error message on your ClickDimensions Settings page, see this article.
If you do not have the zip folder you can submit a support ticket to request that and make sure to tell us your correct CRM URL. Or you can edit the sitemap to put in the correct Account Key by following the instructions here.