The Click Heat Map is a visual report for a Sent Email Send that shows which links on the email template were clicked, as well as the percentage of total clicks that each link represents.
Goals
Learn about the email statistics available in the Click Heat Maps tab
Where can I find the Click Heat Map tab?
To find the Click Heat Map, go to Messaging > Sent and open the Email Send for which you want to see the click heat map.
The Click Heat Map can be accessed by clicking Email Statistics from the top ribbon.

A new tab will open in your browser with several tabs, click the tab that says Click Heat Map. Your Click Heat Map will appear.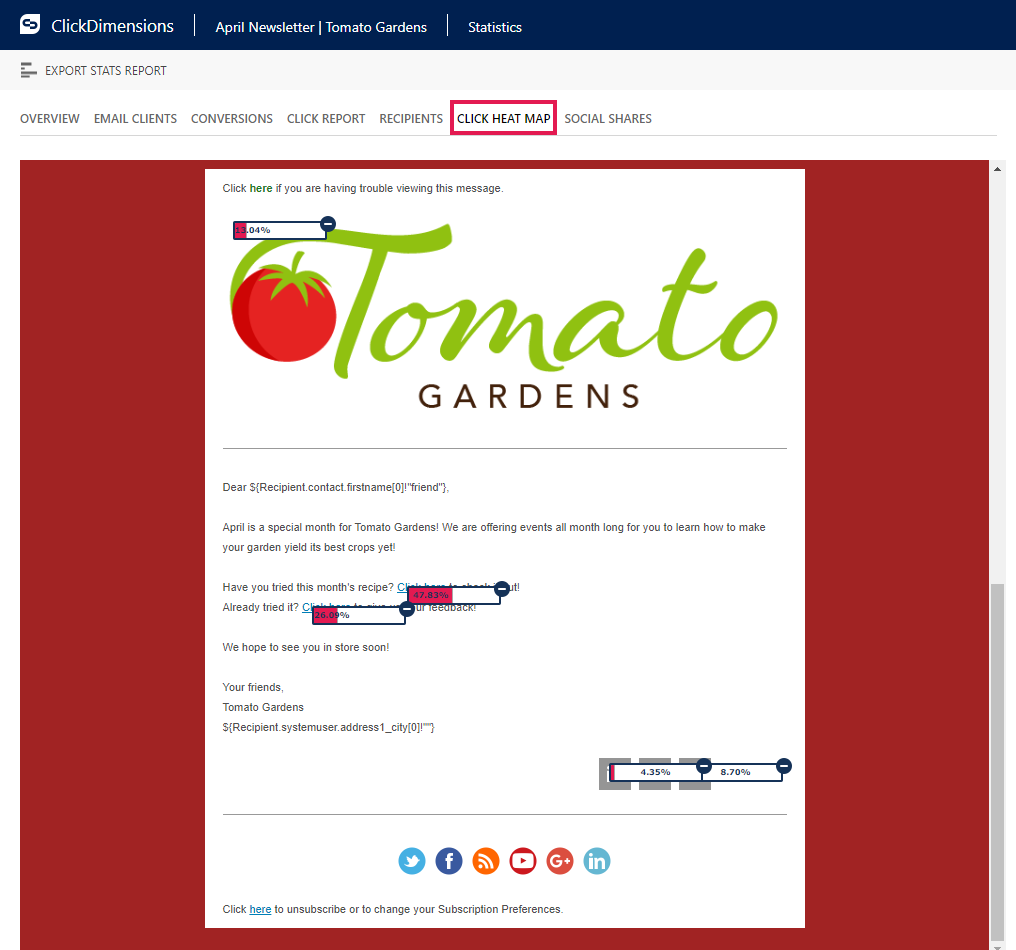 What data is included in the Click Heat Map tab?
The Click Heat Map shows your email template with bars above clicked links showing what percentage of total clicks came from that link. Each bar shows the percentage numerically and visually.
NOTE: If multiple links on your email template redirect to the same location they will be treated as different links and you will see different percentages, however on the tracking they will be treated as one link
NOTE: Clicks are not recorded for View in Browser links, Global Unsubscribe links or MailTo links, so these links will not show any data on the Click Heat Map.
If you performed a split test, the Click Heat Map window will display Heat Maps for both Version A and Version B of your email, with Version B displaying below Version A.
In cases where the click percentage bar overlaps multiple links that are near each other and you are unsure which link the bar is associated with, you can minimize the bar by clicking the circle at the top right corner. This will convert the bar into a green circle that sits on top of the link to which it is related. Clicking on the circle will convert it back into the bar.


---
Feature Added: November 2012
Feature Updated: 8.5.0
ClickDimensions Version Needed: 5.0