The Click Report shows all the URLs that were clicked and all the people who clicked them for a Sent Email Send.
NOTE: These statistics will only be available from this menu once the Email Send has actually been sent out (status= Inactive); this will not be visible when the Email Send record is still Active (not yet sent).
NOTE: Clicks are not recorded for View in Browser links, Global Unsubscribe links or MailTo links, so these links will not show any data in the Click Report.
Goals
Learn about the email statistics available in the Click Report tab
Where can I find the Click Report tab?
To find the Click Report, go to CRM Marketing > Email Marketing > Email Sends, then change the view to Sent and open the Email Send for which you want to see the click report. The Click Report can be accessed by clicking the Email Statistics button.

A new tab will open in your browser with several tabs, click the tab that says Click Report.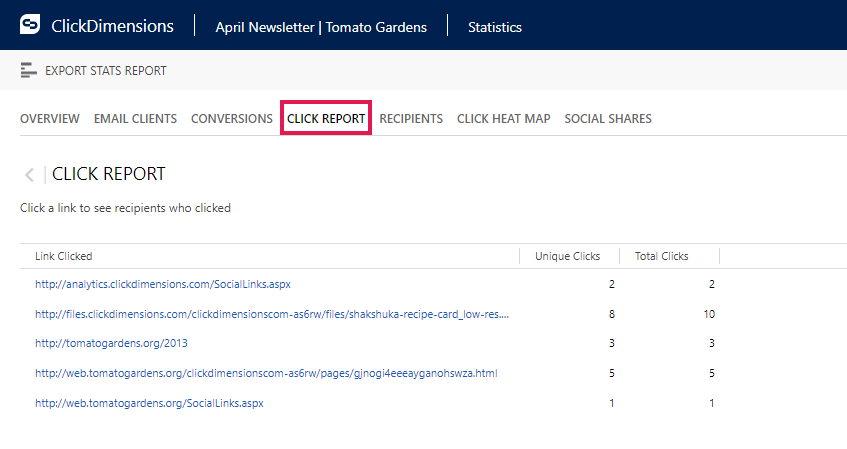 What data is included in the Click Report tab?
The Click Report tab displays a list of all of the URLs that were clicked in this email, the number of unique clicks per link, and total clicks per link. The unique clicks is the number of people who clicked that link at least once. From here, each link in the report can be clicked to see a list of recipients that clicked that link and how many times they clicked it.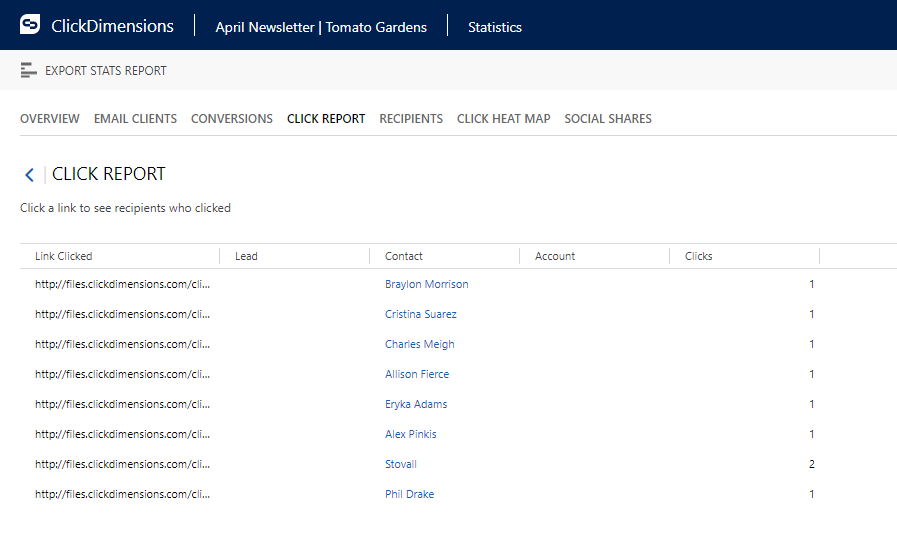 To return to the main Click Report, click on the back arrow next to CLICK REPORT.

---
Feature Added: 8.3.0
Feature Updated: 8.5.0
ClickDimensions Version Needed: 8.1.0