If you are currently on the ClickDimensions Settings page and getting a security error, but you are not getting the error anywhere else, verify the ClickDimensions solution is up to date and has been imported with override customizations selected during import.
If the solution is up-to-date and overwrite was selected during import, use the processes outlined below to verify the navigation link is utilizing the correct value instead of a hard-coded URL via the sitemap.
Dynamics 365 Online & On-Premise
To access the sitemap, navigate to Settings > Customizations > Customize the System > Client Extensions > Site Map.
Navigate in the Sitemap Designer to the Settings > ClickDimensions > ClickDimensions Settings and click on the area next to the gear icon if you do not see the display name ClickDimensions Settings.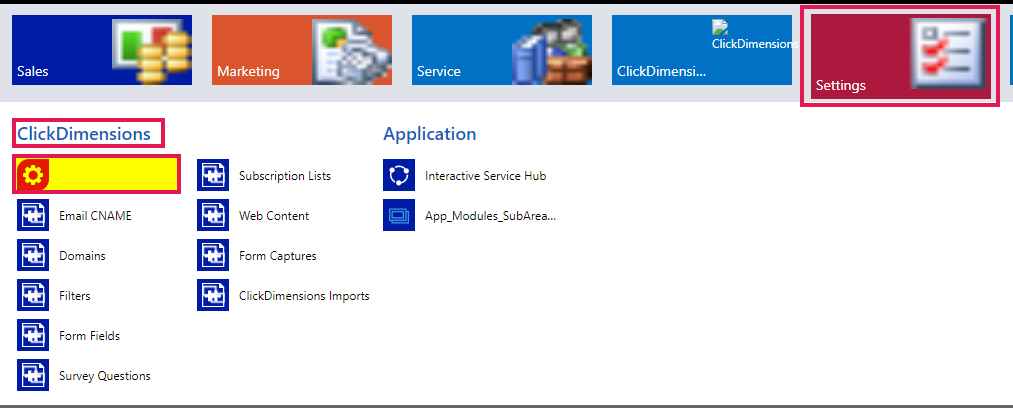 After you click the link, on the right, you will see URL & Title. Ensure that the URL and Title are set to the following values:
URL: Settings Page
Title: ClickDimensions Settings

Save and Publish, close the Sitemap Designer, log out and log back into CRM.
All Other Versions of CRM Online & On-Premise
If you are on any other version of Dynamics CRM Online/On-premise, you will need to use something like XRMToolBox Sitemap Editor to verify that the Sitemap navigation is using the web resource cdi_settingspage instead of a hard coded URL.
NOTE: XRMToolBox is a 3rd party tool for customizing CRM and should be performed by the CRM Administrator or Partner.
Load XRMToolBox and connect to your CRM
Open SiteMap Editor
Load SiteMap and choose Default
Navigate to Area (settings) > Group (cdi_clickdimensionssettings) > Sub Area (cdi_settingspage)
Verify that the URL is set as $webresource:cdi_settingspage
Save
Update SiteMap, log out and log back into CRM