Part of the Campaign Automation Templates feature includes the ability to save as well as use saved templates. So when building out Campaign Automations, you can save them to use in similar future scenarios as needed.
Please note that the templates will create a framework to work from, and the content of each action, trigger, timer, and decision node will be cleared and will need to be set again in order for the automation to publish.
Location
In the top toolbar, you'll see a couple buttons near the Save and Publish buttons. These are the Save as Template and Automation Templates buttons.

Saving a Template
To save an automation as a template, simply put the nodes (actions, timers, or triggers) your template should contain into the builder window. Then click on the Save as Template button. This will open a pop-up so you can give your template a name.

Once you've entered a name, click on the Save button and your current builder's setup will be saved as a template.
Using a Saved Template
Once you're ready to use a template, you'll select the Automation Templates button in the top toolbar. A pop-up will display showing you two options--using a ClickDimensions template or using one of your saved templates. You can toggle between both sets of templates.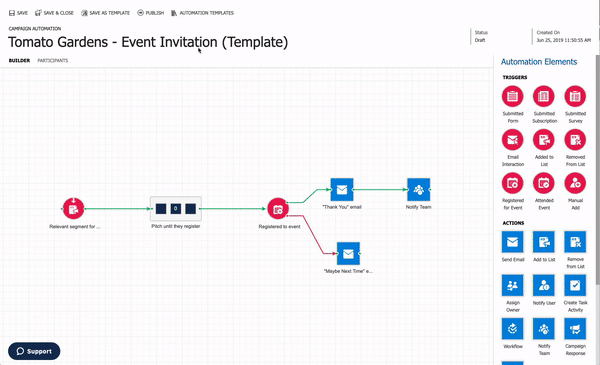 Select the template you want to use and click the Select button. You'll be prompted to confirm that you want to replace your current automation with the selected template as your current automation will be overwritten with the selected template. If you've changed your mind, just click Cancel and you'll go back to your builder.
Be sure that as soon as you have your template in place (and have made any needed changes to it in the builder), you save your automation. Simply selecting the template does not automatically save your builder window so until you click Save, your new template (and other edits) have not been saved and will be lost if you close the builder window.
FAQs
Can I organize my templates in folders?
No. There is not currently a file/folder structure that templates can be saved in.
---
Feature Added: August 2019
ClickDimensions Version Needed: 9.18