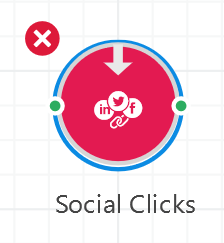 The Social Clicks trigger allows you to check to see if an identified visitor has visited a specific Social Post. The trigger may be used as an Entry Point Trigger or as an Internal Trigger. If the trigger is an entry point and a contact or lead has visited the selected post, then the Campaign Automation will begin.
Add the Trigger to a Campaign Automation
To add a Social Clicks Trigger to a Campaign Automation, click on the trigger icon in the sidebar and drag in onto the Campaign Automation Canvas.
Trigger Properties
Once the trigger has been added to the canvas, click on it and you will see the right panel change to show the properties of this trigger.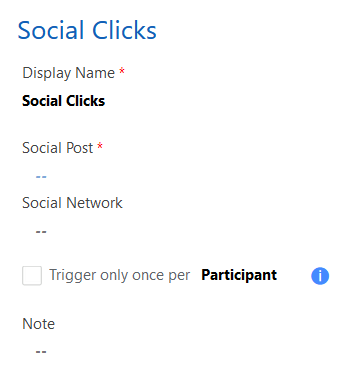 Display Name (required): Once you select a social post, this will change automatically to the name of that social post, however you may change it to whatever you would like.
Social Post (required): Choose an already created Social Post record whose clicks you would like to check for. For help on how to create a social post record, see here.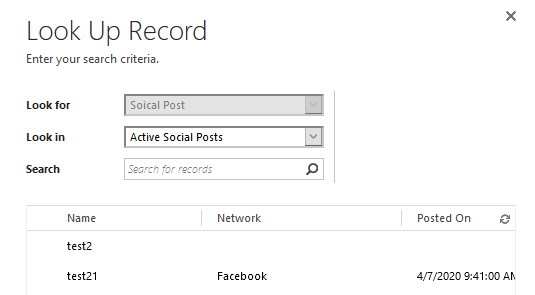 Social Network: This field indicates which social network the selected Social Post is associated to. This field will be automatically filled in once a Social Post record is selected.
Trigger only once per: If enabled, then this option will only allow the same participant/email address to trigger this automation once every 24 hours based off of the selection in the drop-down menu. Otherwise, each click on the selected social post will add that participant to the automation again.
Note: A note is an optional field for any details that need to be written about the trigger.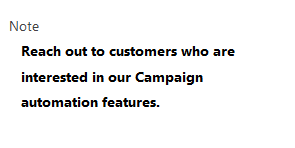 ---
Feature Added: 10.9.0
Feature Updated: 11.2.0
ClickDimensions Version Needed: 10.9.0