The Video content block lets you insert thumbnails or embed videos into your landing pages.

Content Properties
Selecting a Video block will open its Content properties.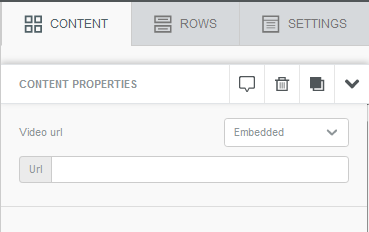 Video url: Allows you to select a video URL and whether to include the video as a 'Thumbnail' that acts as a hyperlink, an 'Embedded' video, or a 'Hosted video' on the landing page.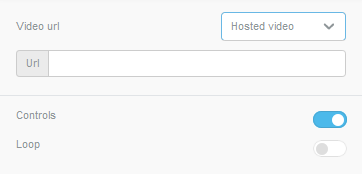 Embedded: Allows video playback inside the page. It requires the URL of a video hosted on YouTube or Vimeo.
Hosted: Allows video playback inside the page like the Embedded option, but the URL provided must point to a self-hosted MP4 format video. Please note that this option will not work with YouTube or Vimeo videos and that the video player interface may change depending on the visitor's browser.
When selecting 'Hosted video', you will also be able to select the following:
Controls: Allows you to display/hide the player controls while the video plays.
Loop: Allows you to set whether the video stops or loops once the video completes.
Block Options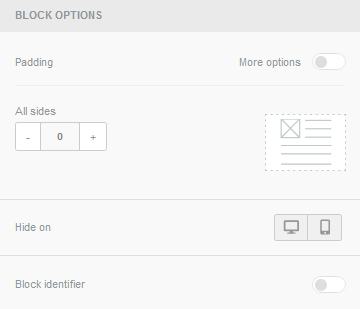 Padding: Allows you to set the padding in all directions for the column. If "More Options" is enabled, then this will allow you to set a padding value for the top, bottom, left, and right sides of the column.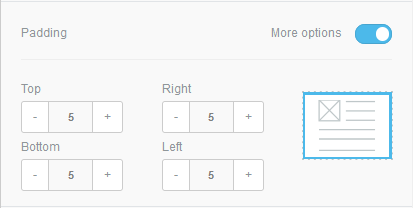 Hide on: Allows you to select whether this block will be hidden when viewed on Desktop or Mobile devices. This is based on the maximum width of the screen or browser that the content is viewed on. When the max width is over 695px, the Desktop version will be used. When the max width is 695px or below, then the Mobile version will be used.
Block identifier: When enabled, this will generate an ID for the selected block which can be selected when making an 'internal link' within the landing page.
Feature Added: 11.3.0
Feature Updated: 11.3.0