Campaigns allow you to group social posts around specific marketing activities. This enables you to easily analyze and compare the performance of your marketing activities and also maintain consistent messaging across your social networks. This article will cover the basics of the campaign features.
NOTE: Campaigns created in the Social Platform first will sync to CRM, but Campaigns created in CRM will NOT sync to the Social Platform.
Accessing the Campaigns
You can check your campaigns by navigating to Publishing > Campaigns in the sidebar navigation:

You can open a campaign or create a new one to access the tabs and features detailed below.
Syncing Campaigns
Every social post from the Social Platform is required to be associated to a campaign, and when a social post is published, our service will then check CRM to see if there is an existing CRM campaign with the same name. If an existing CRM campaign is found, then we will associate the social post in CRM to that existing campaign record. If there is not an existing CRM campaign, then our service will create a new CRM campaign record using the name from the Social Platform to associate to the social post.
For details on how Social Posts/Clicks sync to CRM, please see our article here.
Calendar
The Calendar tab allows you to see and create posts that are associated to the current campaign. This calendar will display both your posted and scheduled social posts tied to this campaign.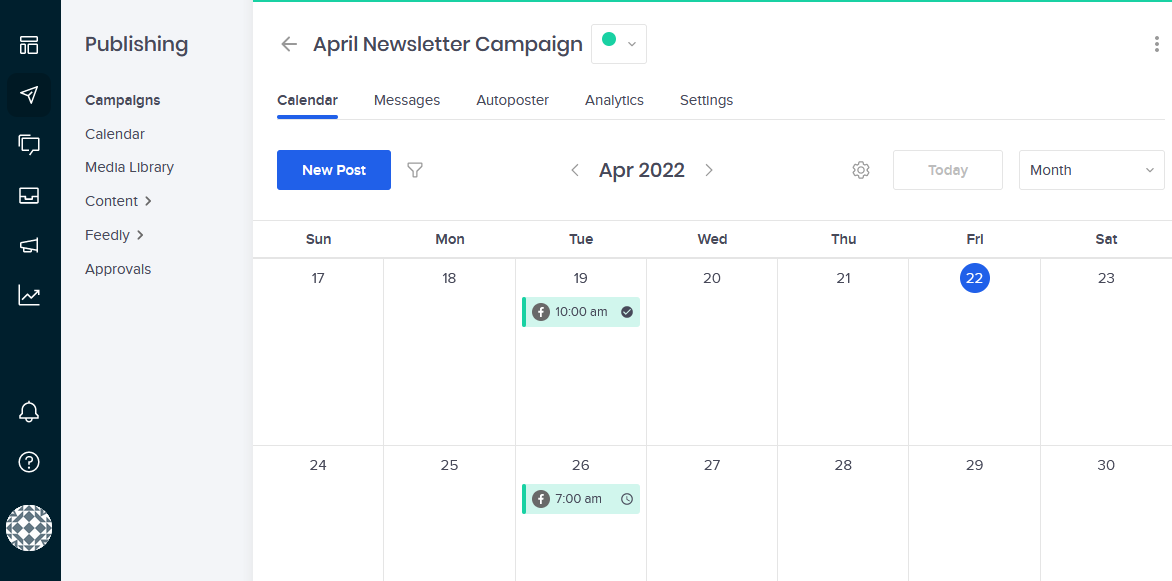 The color used for this campaign's social posts on the calendar can be adjusted using the drop-down menu next to the campaign name. This can help differentiate campaigns when viewing your general calendar.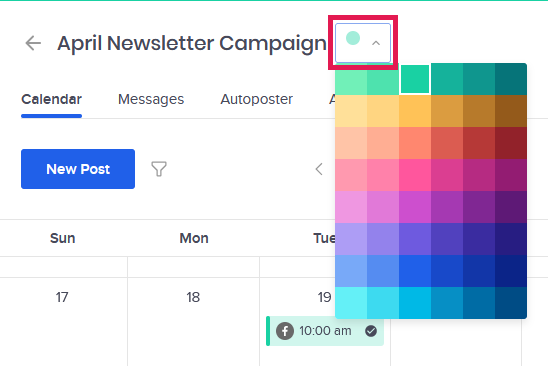 For a more in-depth look into the calendar features, please see our Calendar article.
Messages
The Messages tab allows you to create, import, and download messages so that you can reuse them and maintain consistency across your multiple social networks. Any social post that is posted to this campaign will automatically generate a message.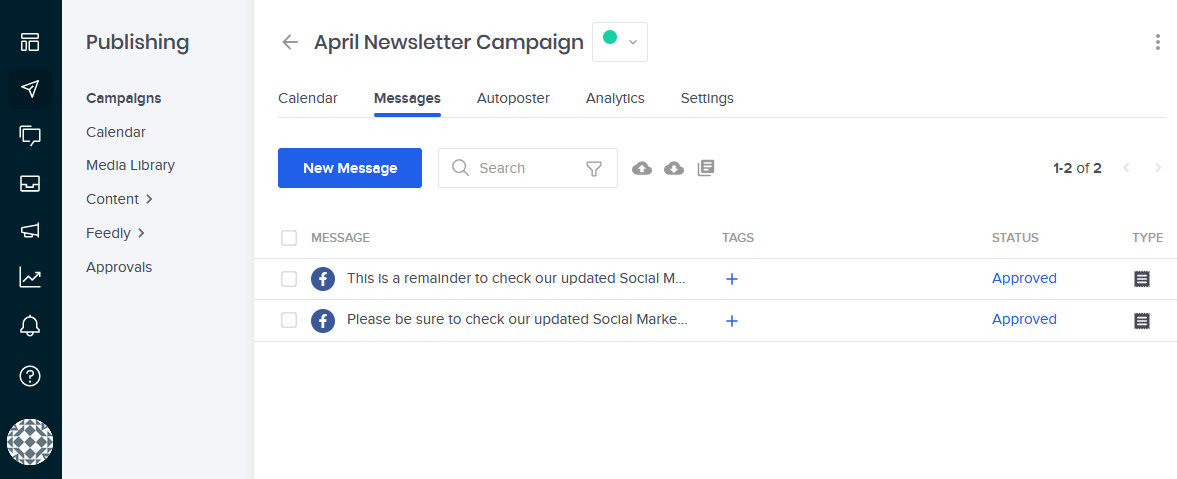 The Import option lets you upload CSV files to generate a message and the Download option will download a CSV file containing all of your messages from that campaign. The Message Generator option will automatically create a message from a provided URL. For more details, please see our Message Generator article here.
Autoposter
The Autoposter tab enables you to schedule multiple posts across multiple social profiles at the same time. This can help you save time by eliminating the need to construct individual posts one at a time.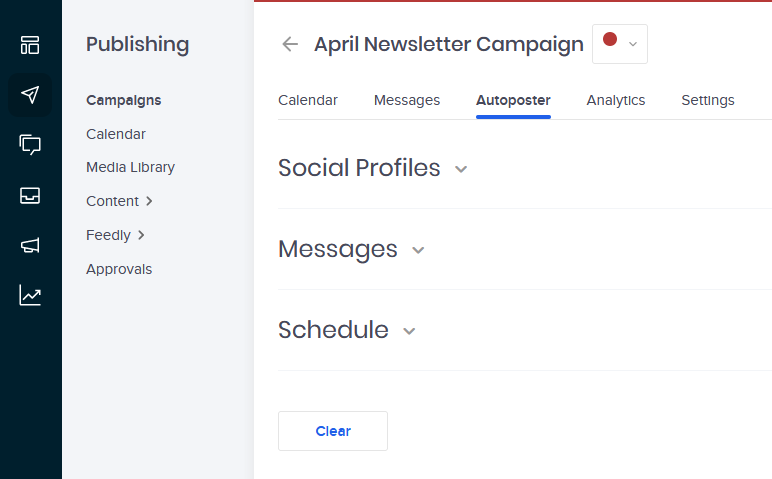 For more details on this feature, please see our Autoposter article.
Analytics
The Analytics tab lets you see the performance of the posts from this campaign to provide insights to craft more effective messaging strategies.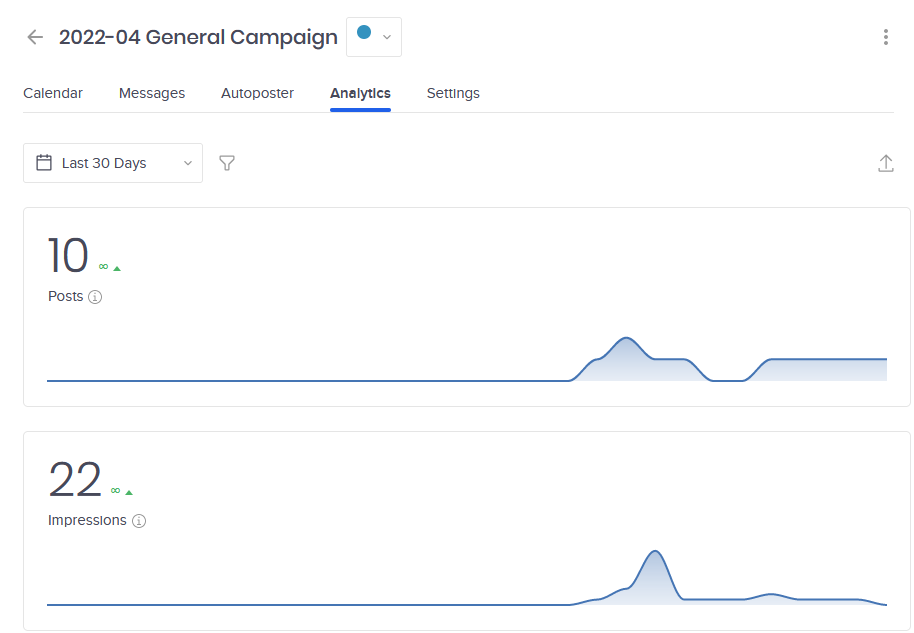 For more details, please see our Campaign Analytics article.
Settings
The Settings tab lets you update the campaign name and some of the campaign-wide options.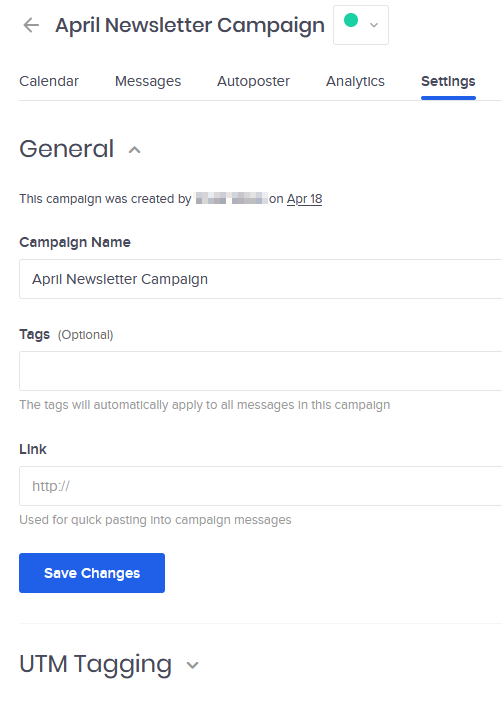 The Tags section lets you enter keywords that will be applied to all associated posts so that you can more easily filter and compare specific posts. The Link option accepts a URL. Once added, an additional icon will become available in your scheduling console for associated posts that will allow you to quickly paste the link into the message. If UTM Tagging is enabled, then you can select and add UTM tags to be added to each link in your social posts from this campaign.