1. What is ClickDimensions Intelligent Dashboards?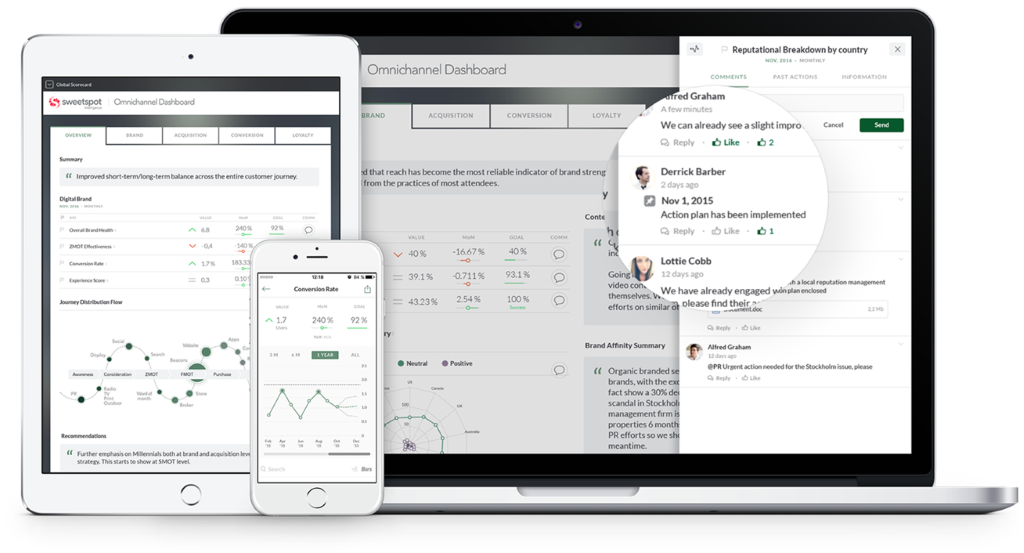 ClickDimensions Intelligent Dashboards is a purpose built, marketing dashboard solution. Intelligent Dashboards automates the extraction and processing of marketing data and presents that data through pre-defined reports. This enables business stakeholders to easily evaluate the impact of their decisions and proactively react to trends as they arise. Subscribe to Intelligent Dashboards and you will have access to these pre-defined reports in less than 24 hours.
Key benefits of using Intelligent Dashboards at a glance:
ClickDimensions Intelligent Dashboards makes visualizing key performance data easy, with pre-built, immediately available dashboards developed by marketing, sales, and IT experts based on industry best practices:
Dashboards exclusively designed for marketers' needs, which help teams of any size to manage their campaigns across different channels, for better insights - including Intelligent Insights (AI) - and knowledge about their audience.

Increases visibility through collaboration by creating a single view of marketing and sales data (single source of truth, holistic view) and connecting the activity of these two departments to revenue.

Tracks your performance with pre-defined industry standard KPIs and integrated goal tracking, fosters data-driven decisions.

No-code setup, provisioned in 24 hours.

Complete, worry-free maintenance (Automatic, managed updates to integrations and data. There is no risk of breaking the reports by losing control of data source integration updates.).

The solution is available on-demand from any desktop, mobile, or tablet device from anywhere for a hassle-free user experience that doesn't require any training or special skill sets.

Calculate and prove ROI to measure success, understand where to invest marketing funds, and gain executive buy-in on marketing strategies.

Multi-channel solution, including numerous 3

rd

-party dashboards, such as Google Analytics, Google Ads, Facebook Ads, YouTube, and more.

Highest data security, confidentiality and privacy standards. 
2. How to Access ClickDimensions Intelligent Dashboards from Dynamics 365 for Sales

2.1 Using the 'Messaging', 'Web and Events' or 'Audience' menu
Choose Messaging, Web and Events, or Audience in the bottom left corner.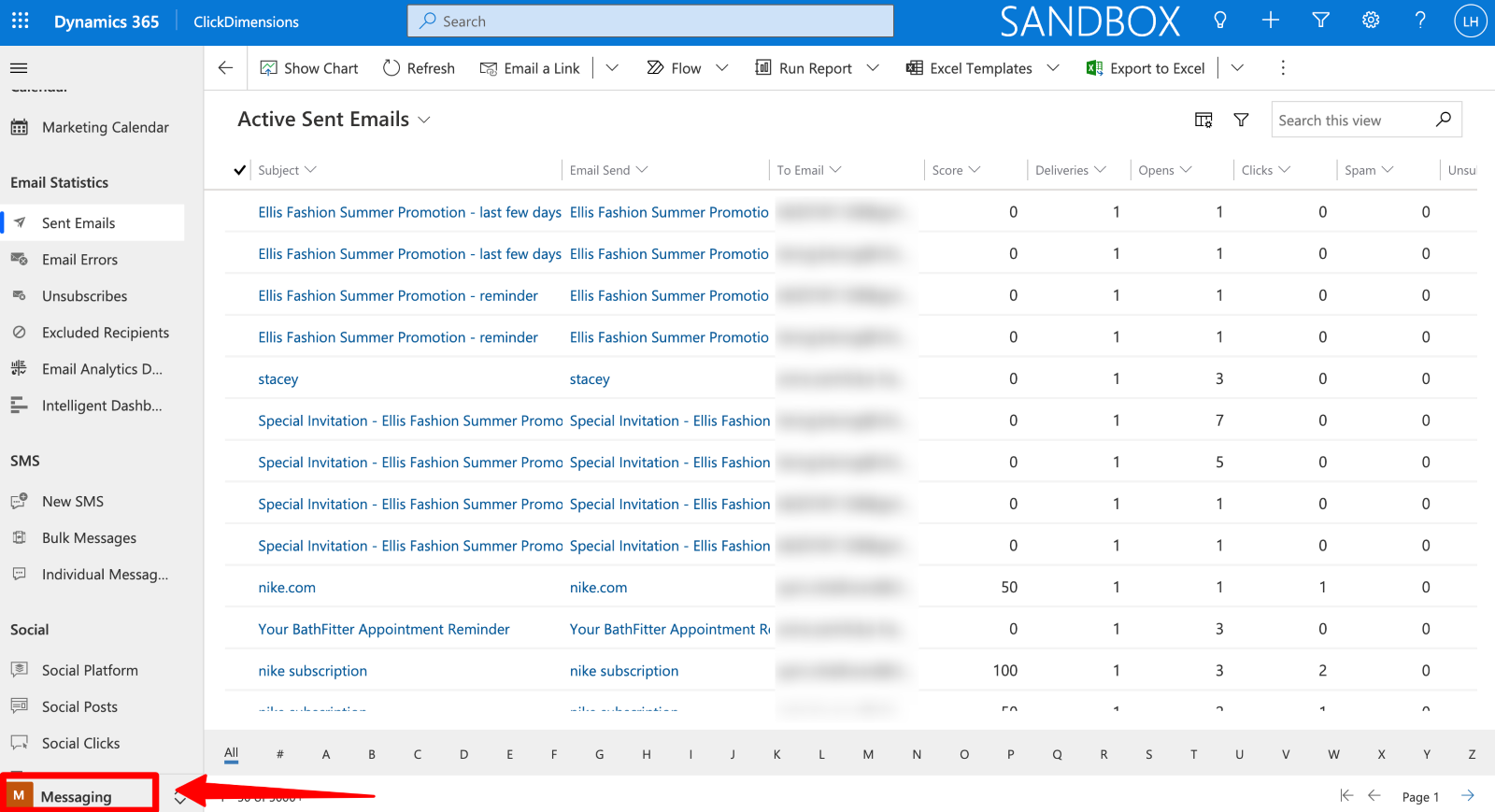 For the purposes of this article, let's use the Messaging area as an example:
You will see the Intelligent Dashboards link displayed at the end of each corresponding section, such as Automations, Email Statistics, Social, etc.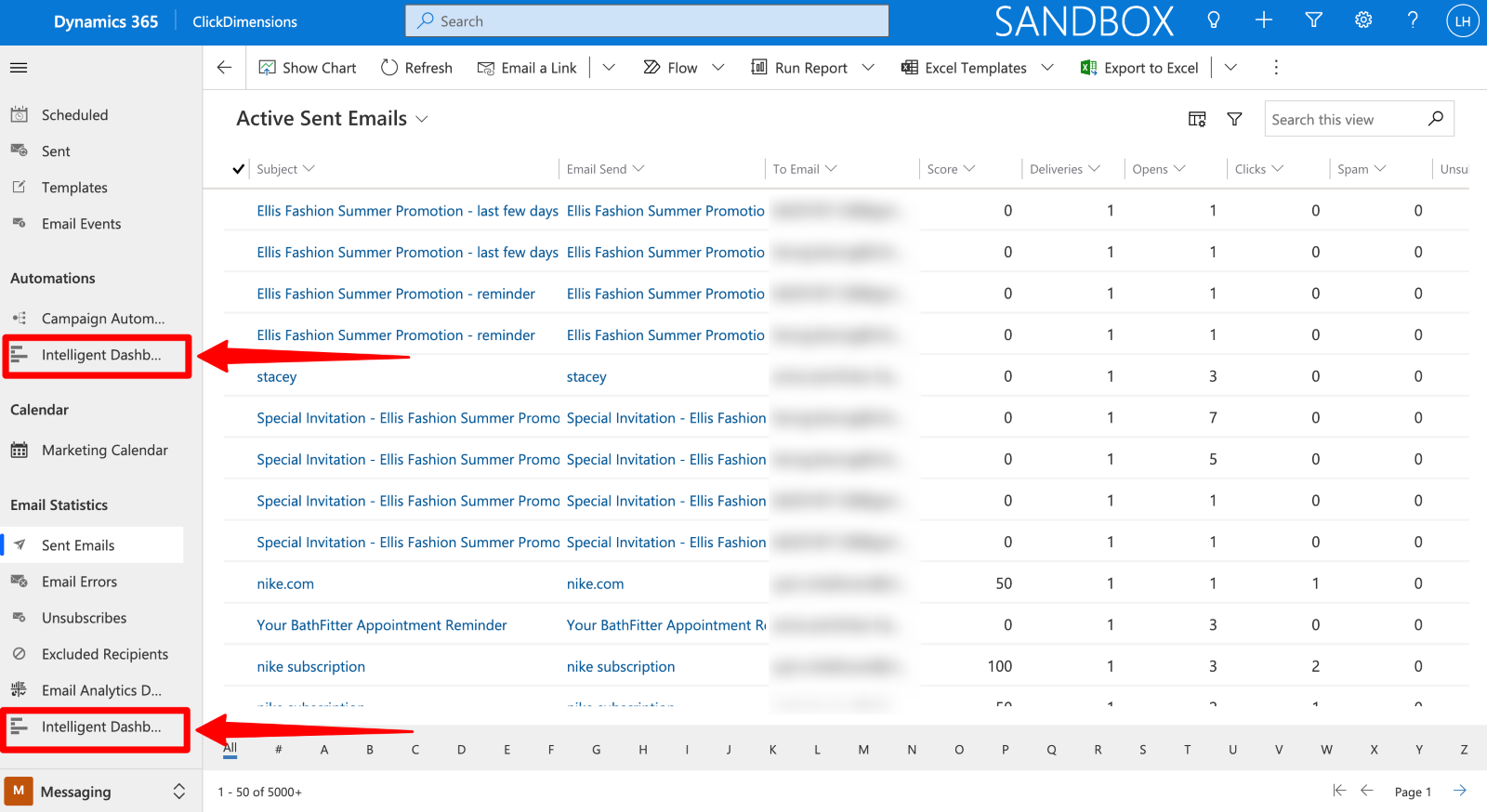 When clicked, the corresponding dashboard of the Intelligent Dashboards solution will be opened. For instance, if you clicked on the Intelligent Dashboards link under Email Statistics, then the Email Marketing dashboard will be opened. If you clicked on the Intelligent Dashboards link under Social, then the Social Marketing: ClickDimensions dashboard will be opened.
Please note: In order to be able to use the links described in 2.1, you need to have installed the 12.3 or newer solution file. You can double check the solution file installed in your CRM instance by going to the Settings and Support area (1), ClickDimensions Setting section (2), Solution Management option (3):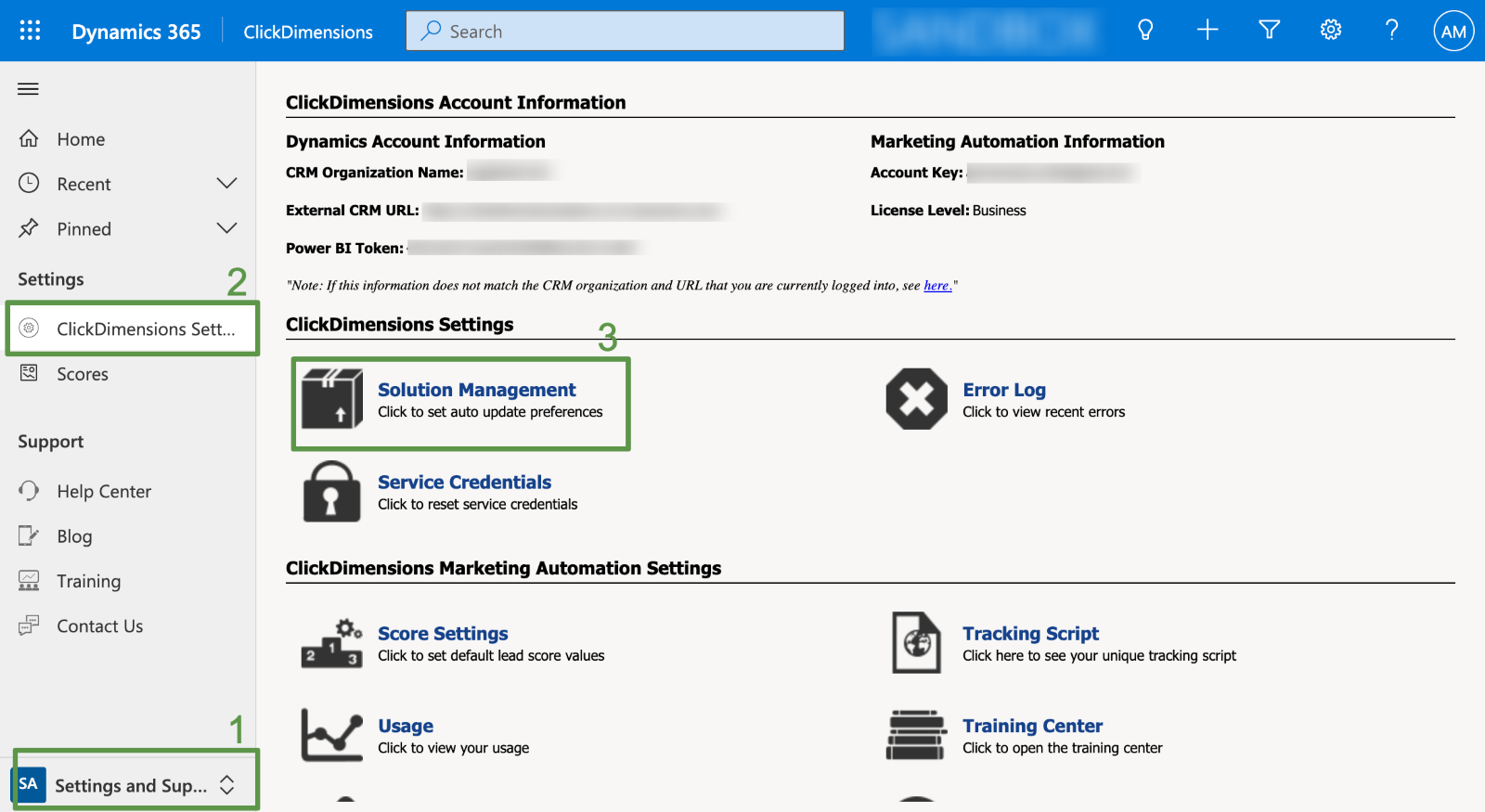 2.2 Using the Planning menu
Choose Planning in the bottom left corner.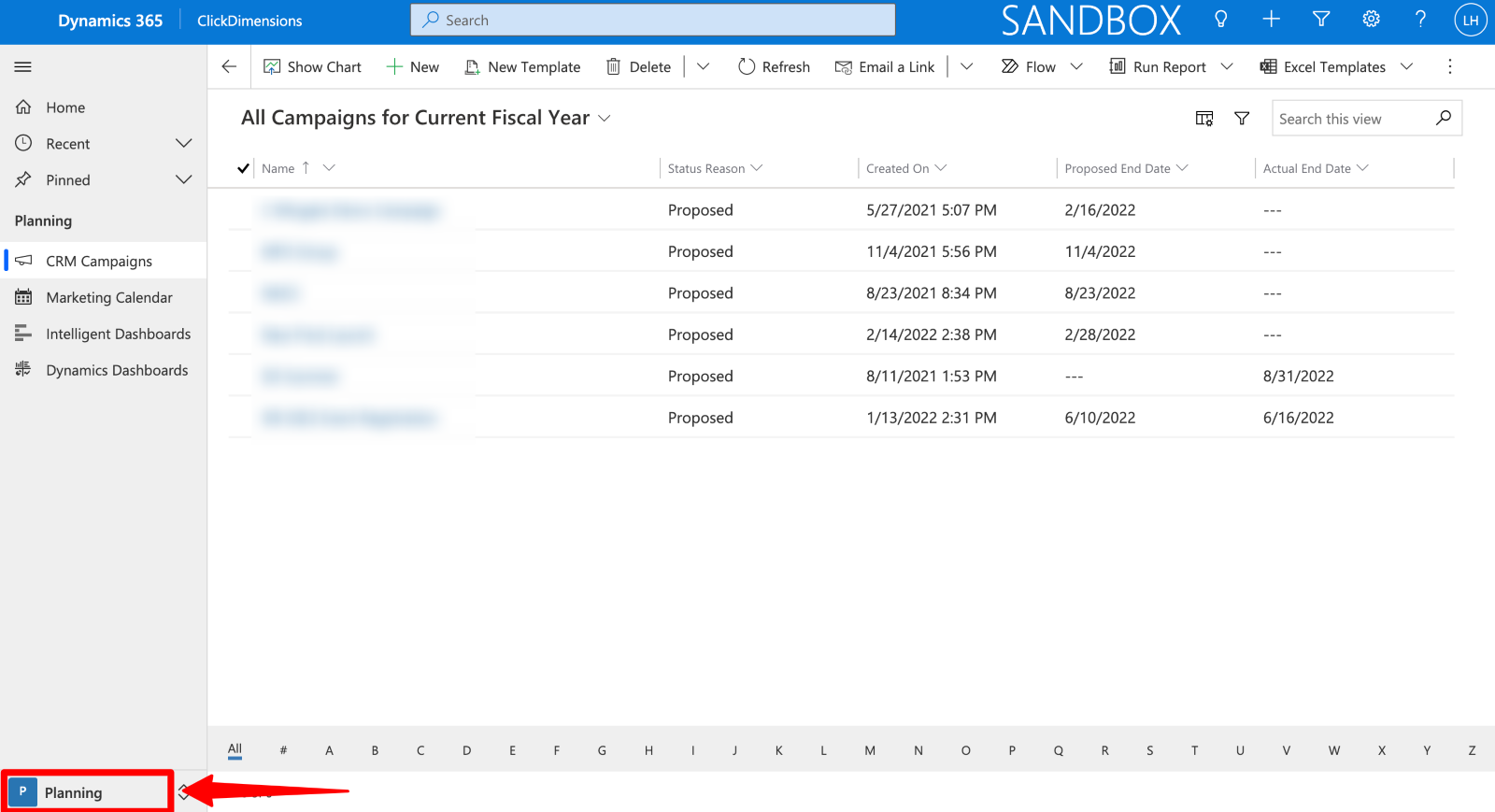 You will see the Intelligent Dashboards link displayed within the Planning options on the left.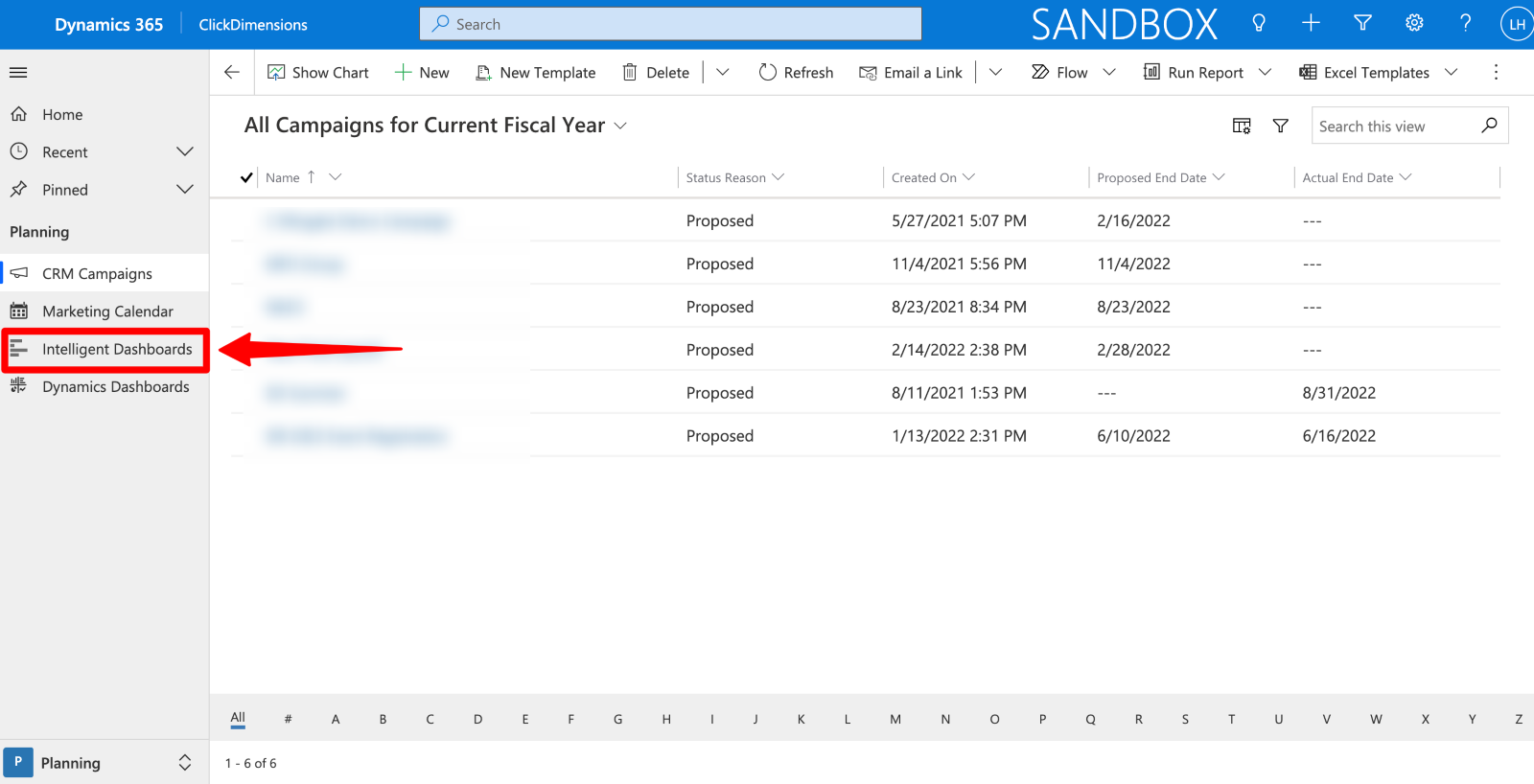 When clicked, the default user dashboard of the Intelligent Dashboards solution will be opened.
3. Options to open your dashboards
After clicking the Intelligent Dashboards link, the CRM will ask how you prefer to access the dashboards.
There are two options: 'Current Dynamics tab' or 'New browser tab':

3.1 Current Dynamics tab
If you select the 'Current Dynamics tab' option, then the corresponding dashboard will be opened embedded within the CRM view: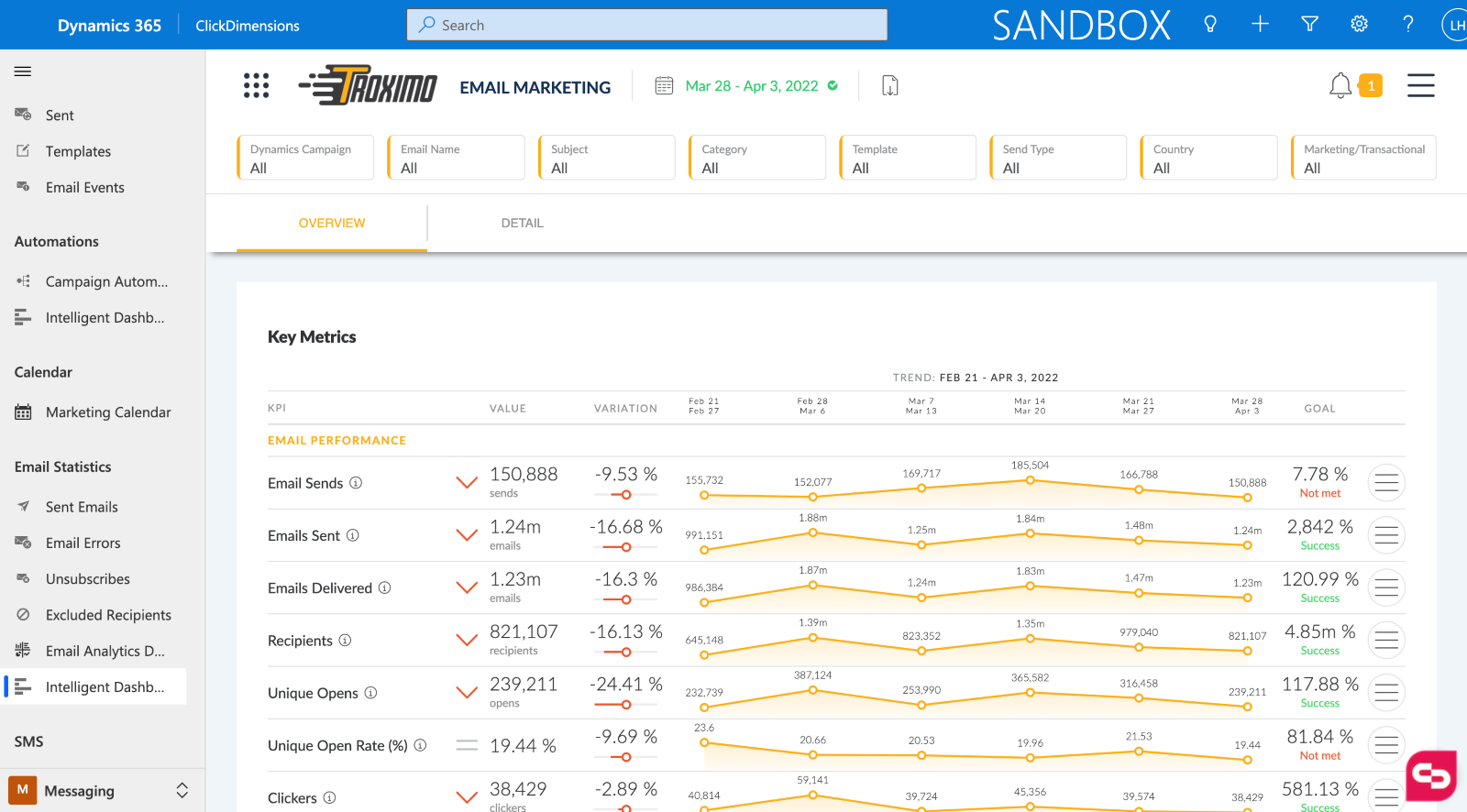 3.2 New browser tab

If you select the 'New browser tab' option, the Intelligent Dashboards platform will be opened in a new browser tab and will show the following message in the current Dynamics tab:


4. Best practices

The following best practices apply to Intelligent Dashboards customers.
Microsoft Edge and Firefox browsers are fully supported to view Intelligent Dashboards content, regardless of if it's the embedded view within the Dynamics tab, in a separate web browser tab, or a combination of these.

Please note: In the case of using Chrome or Safari browsers, to have the smoothest user experience, we recommend accessing Intelligent Dashboards using only one of the two options mentioned in section 3; either being the embedded view within your Dynamics tab or in a separate web browser tab. These 2 browsers manage user sessions in a different way than Microsoft Edge and Firefox, so opening Intelligent Dashboards in both options (the view within your Dynamics tab and in separate web browser tabs) at the same time may end up in users losing their sessions on Intelligent Dashboards and being redirected to the platform's login page. Our engineering teams are working hard to find a way to avoid this behavior and improve the experience of users using these browsers.


5. What happens if I don't have an Intelligent Dashboards subscription?
Intelligent Dashboards links are visible to all ClickDimensions users, including customers without Intelligent Dashboards subscriptions. For those customers who don't have an active Intelligent Dashboards subscription at the moment of clicking on an Intelligent Dashboards link, the following landing page is shown: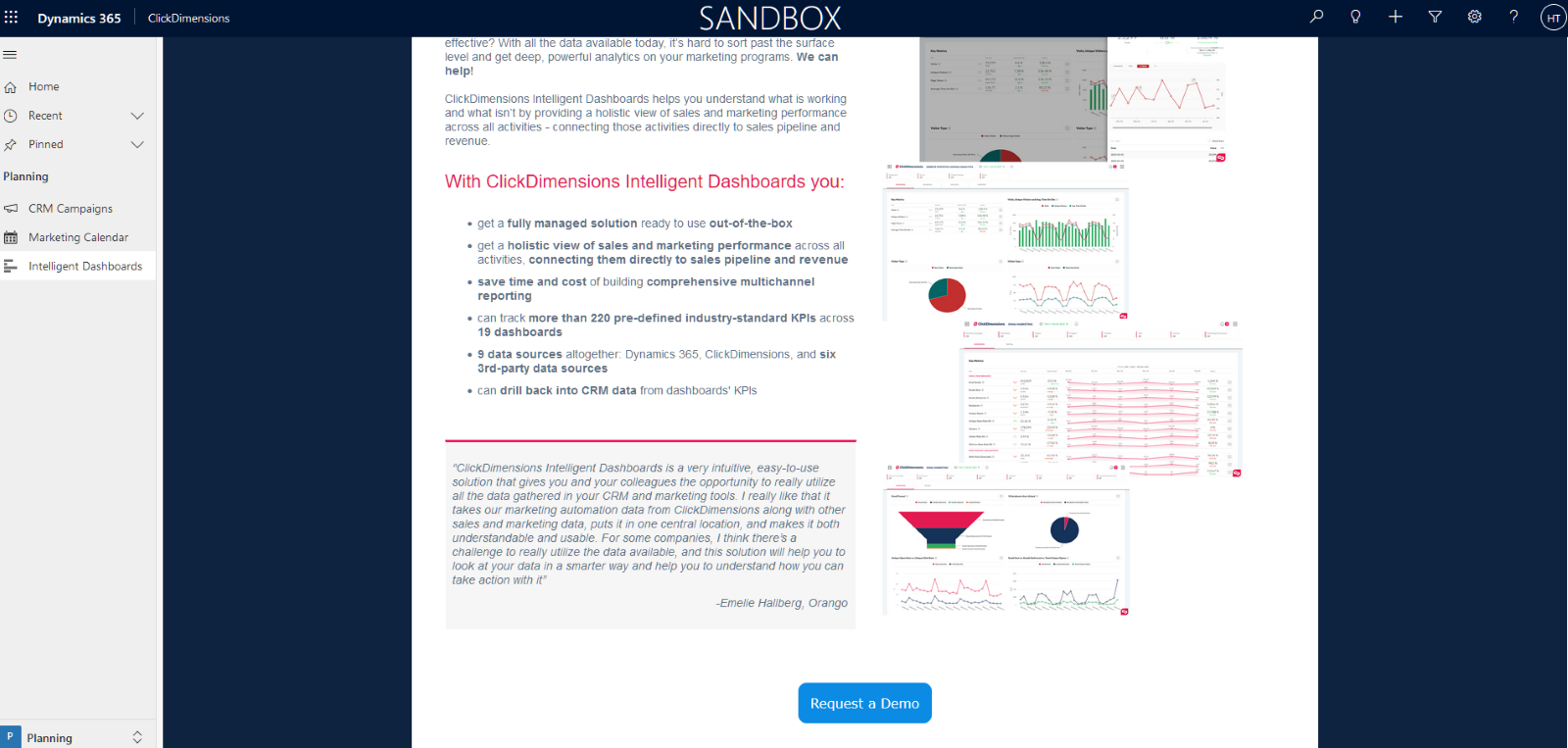 Users can request a demo of the platform by clicking the Request a Demo at the bottom of the landing page.
6. What are the requirements to run Intelligent Dashboards?
Intelligent Dashboards is a browser-based application that requires a modern version of Safari, Chrome, Firefox, or Edge to run. There are also additional requirements on Dynamics and ClickDimensions Marketing Automation Platform. These are:
Microsoft Dynamics 2016 or greater. (on-premise and Cloud deployments are supported)

ClickDimensions Marketing Automation Platform 10.4 or greater.




We

highly

recommend that you keep up with the latest version of ClickDimensions Marketing Automation Platform so that you can take advantage of new features that are being added to both the Marketing Automation Platform and Intelligent Dashboards. Note that you may not have access to Intelligent Dashboards features or they may not work correctly if you are not on the most recent version.

Intelligent Dashboards has access to your instance of Dynamics so that contacts, leads, opportunities, and accounts can be accessed.