Handoff to Sales

Once the marketing team have qualified a prospect, they can assign this lead for sales follow up in the Sales Handoff entity.
Step 1: To use a sales handoff, start with creating a marketing list that will be used to add leads or contacts to the Sales Handoff entity.
Step 2: Click on the Marketing List and enable Handoff to Sales List.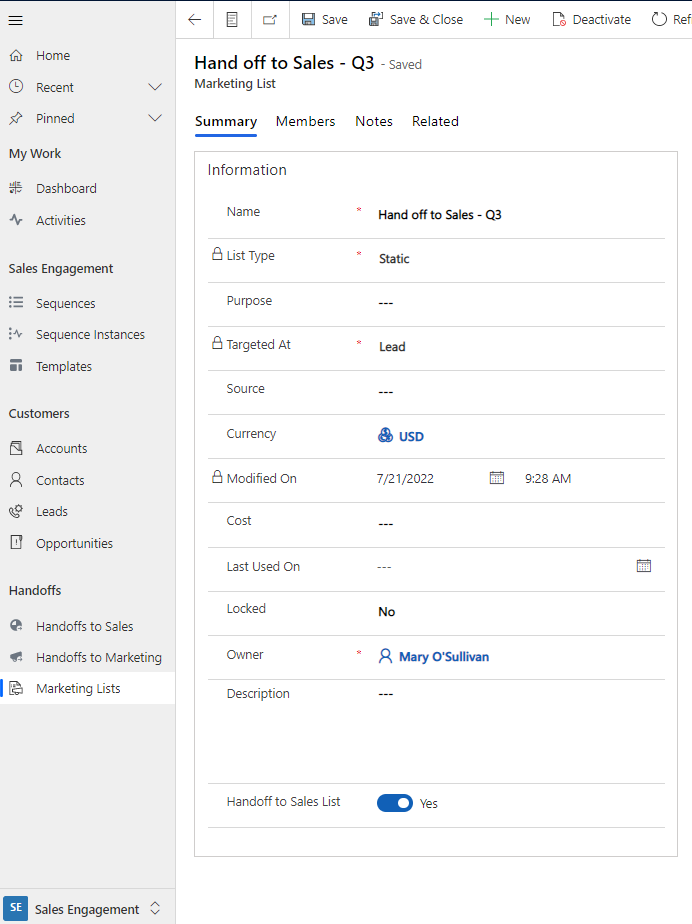 Step 3: Set up the sales owner of the Sales Handoff entity in the Configuration page. The sales owner is responsible for reviewing any incoming prospect and assigining them to a sales rep.
Step 4: Create a Campaign Automation based on your use case with the action to assign the lead or contact to a marketing list
Some use cases include:
Prospect has submitted a contact us form and requires outreach from a sales rep. Marketing can create a Campaign Automation flow to create a new lead or contact upon form submission and assign that lead to your Sales Handoff specific marketing list.
A lead or contact has reached the target score using the lead scoring feature, as a next step add the prospect to your Sales Handoff specific marketing list.
Step 5: Once a prospect has been added to the Handoff Sales List, the assigned sales owner can review the list of all prospects that marketing has shared. You can see whether the prospect has been assigned and the date/time of the assignment.
Step 6 To assign a prospect to a sales rep, select the record, click on Assign in the top menu and select the sales rep.