The first step for a ClickDimensions Sales Engagement user is to define their settings. This article will explain the options and settings available to your users.
NOTE: Only Admins can create new user records via the "New" button in the ribbon at the top of the page:

Non-admin users will not have access to this button and can only modify already existing user records. Setting up new records and/or modifying existing records each follow the same steps as listed in this article.
Navigating to Users
To begin, navigate to App Settings > Users. This area will show your existing Users and allow you to create new ones.

Once you have selected an existing User or created a new one, you will be brought to the User record: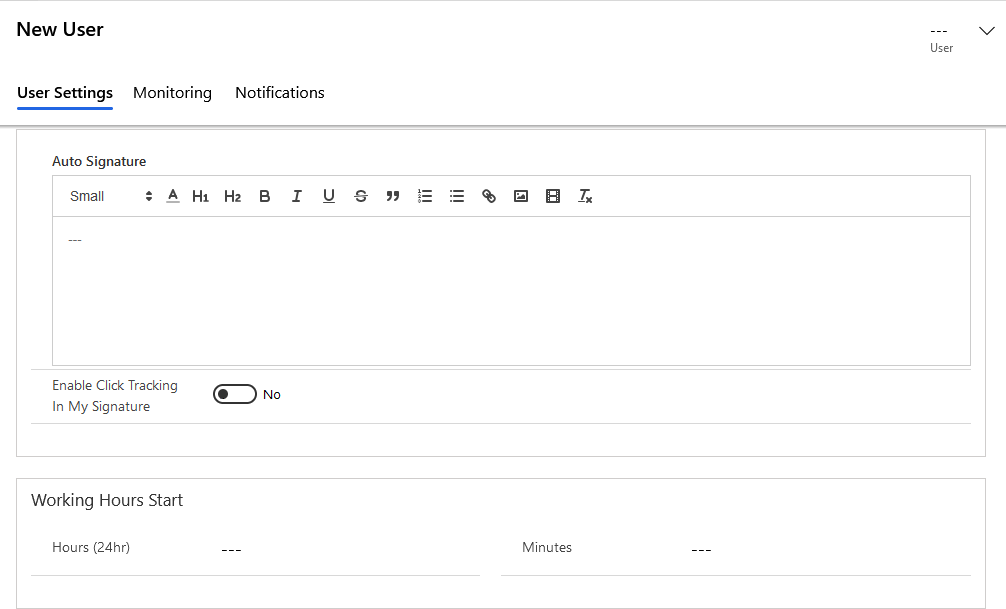 User Settings

The Auto Signature section lets you set and edit a personal signature that will follow each email that is on this User's sequences.
The Enable Click Tracking In My Signature option will let you check who has clicked on your signature to send your User an email.
Working Hours

The Hours and Minutes fields under the Working Hours section lets you define the start and end times for your User's working hours. All of the User's auto-emails and triggers on their sequences will activate during these times.
NOTE: If you also use the ClickDimensions Marketing Automation solution, then please note that those settings are NOT directly integrated with your ClickDimensions Sales Engagement settings. Your settings for each will need to be set separately.
Default Sequence

The Default Sequence settings let you set a default sequence so that contacts/leads do not need to be manually added to a sequence every time. If you select a Default Sequence and set Auto add to default sequence to Yes, then every time that a contact/lead is assigned to this User in ClickDimensions Sales Engagement, then they will be automatically sent to the default sequence.
Monitoring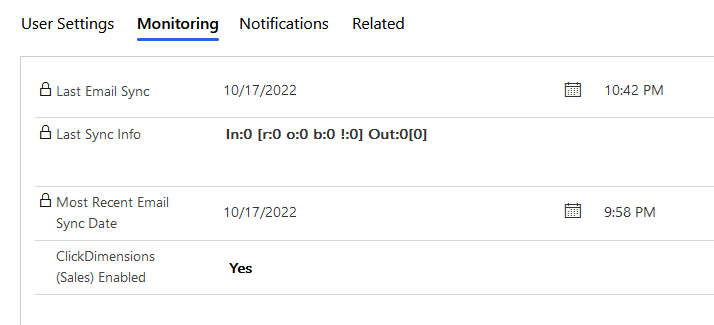 The Monitoring area displays the date and times that emails have been synced for this User. The ClickDimensions (Sales) Enabled field can also be enabled to allow ClickDimensions Sales Engagement access to the User's email information.
Notifications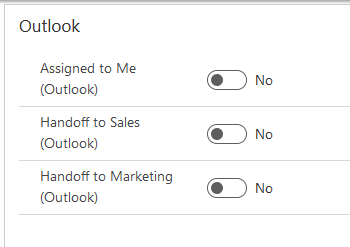 The Notifications area allows you to set whether or not a notification should be sent when the appropriate action is taken for this User. The current actions are:
Assigned to Me
Handoff to Sales
Handoff to Marketing