ClickDimensions scores your leads, contacts, and anonymous visitors. The scoring is based on several different actions, including submitting a Form (or receiving an error when submitting a form), visiting your website, each page visited, CRM opportunity created or lost, and clicks on email links.
With the introduction of our new Score Models, we will no longer be applying further improvements, enhancements, or fixes for the legacy scoring system. We are working to ensure that the new Score Models cover the same functionality while also providing some new features, so we highly recommend that you consider migrating to the new Lead Scoring if you have not already.
Goals
Learn where scoring data for ClickDimensions is recorded in CRM
Score Settings
These are given a default value when you first deploy ClickDimensions. You can view and change these values by going to Settings > ClickDimensions Settings > Score Settings.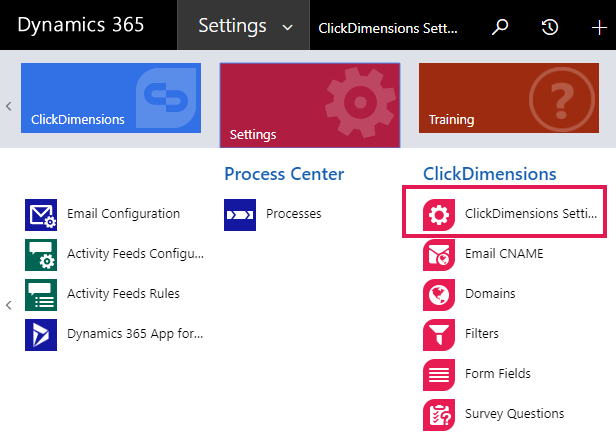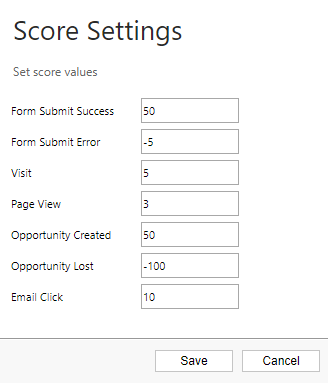 The values in Score Settings can be adjusted at any time to suit your organization's needs. The values can be positive, negative, or zero.
NOTE: When Score Settings are changed, these do not retroactively update previously recorded scores within CRM. Any new scores coming in reflect the newly-updated settings, but scores earned with a former points setting was in place will remain the same. Scores are reformulated from the beginning each time a new score is added.
Form Submit Success: Score change that occurs when a Lead or Contact submits a form.
Form Submit Error: Score change that occurs when a Form Capture redirects to the "Redirect on Failure" URL. This could occur if the Form Capture was not set up correctly or if the submitter did not provide some data that was set as required.
Visit: Score change that occurs when somebody accesses your website and initiates a Visit. This score would occur once per website visit.
Page View: Score change that occurs for every page that includes the ClickDimensions tracking script that a person views on your website or every time a Web Content Record (Form, Survey, Landing Page, or Subscription Page) is accessed. Whereas the visit score is recorded once per visit, the page view score would be recorded as many times as the number of pages viewed during the visit.
Opportunity Created: Score change that occurs when a CRM Opportunity record associated with a particular Contact is created.
Opportunity Lost: Score change that occurs when a CRM Opportunity associated with a particular Contact is marked as lost.
Email Click: Score change that occurs every time an email recipient clicks on a link within a ClickDimensions email they received.
NOTE: The Page View score can be customized on a per-page basis. You can add a bit of tracking script to a page to give that page a different score from others. To do this go to Settings > ClickDimensions Settings > Tracking Script. Copy the second box of script and follow the instructions there. For more information, see our article on web tracking.
You can see scores earned by Leads and Contacts throughout CRM in many different places.
Web Analytics
For the Web Analytics related scores [Visits and Page Views] you can see the score under the Anonymous Visitor section.
Go to ClickDimensions > Anonymous Visitors.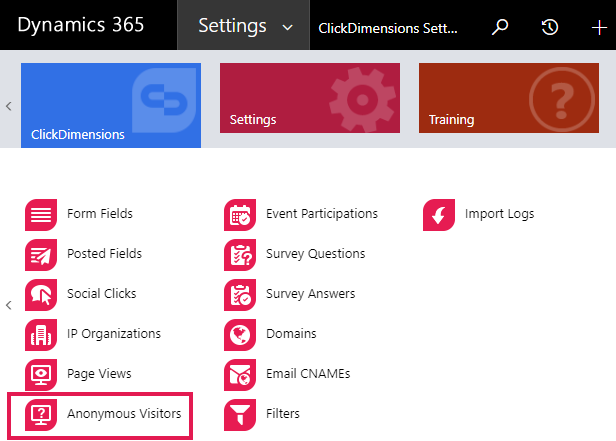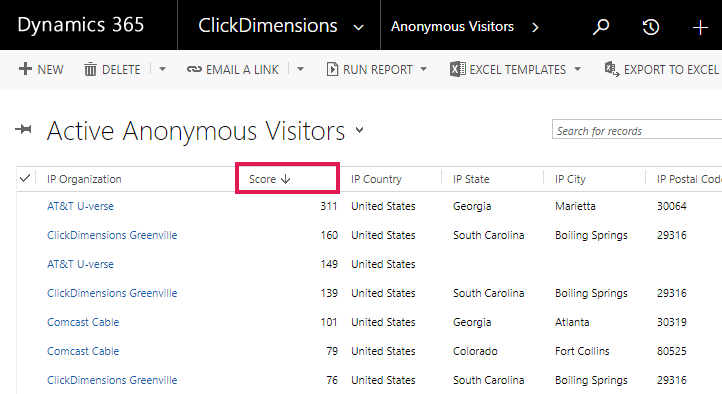 Here you can see the Anonymous Visitor's total score in the second column. That adds up all the points they've received for everything since they first became an Anonymous Visitor. These records are also clickable to show more in depth information. Please note that Anonymous Visitors are visitors that have not been associated with a Lead or Contact in your CRM.
Scores can also be see on the Visits page. Go To ClickDimensions > Visits.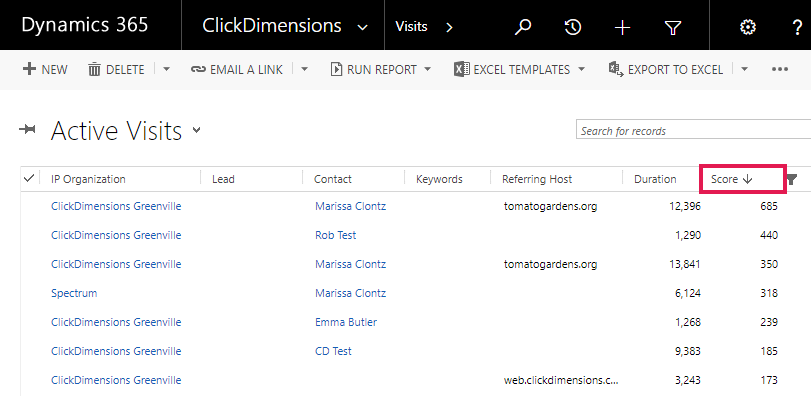 In this view, the score includes only the points accumulated in this one visit.
A Visit starts when someone comes to a page on your website and ends when they leave the website.
Page Views also show a score for each page view. Go to ClickDimensions > Page Views.

The score here is in the 8th column and is based on that one page view.
Emails
The Email Click scores can be found in Email Send statistics. Go to ClickDimensions > Sent Emails.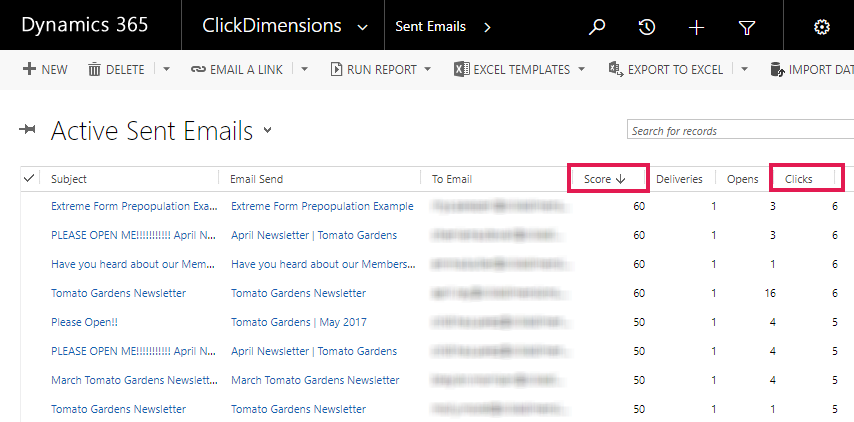 If the contact or lead clicked on any of the links in your email there will be a score in the 4th column (Sent Emails can also be viewed in the Email Send record, and on a contact/lead/account record).
Total Score
In a Contact or Lead record, you can also find the total score accrued by the person in the Total Score field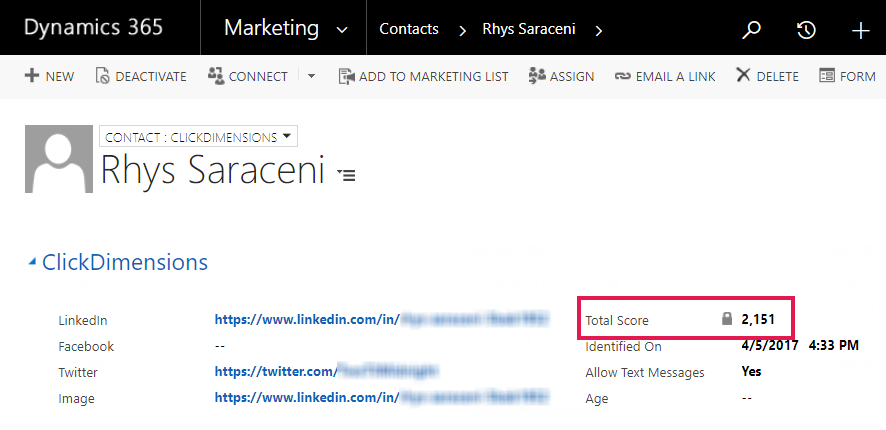 This is the total score of that contact or lead that they have aggregated through all of their interactions with ClickDimensions content.
It is also visible in the Profile section of Lead and Contact records.