Any Form, Survey, or Subscription Management Page records created in ClickDimensions are set to be web responsive by default. This means that the layout of the fields and components on the Web Content record will dynamically update in order to best fit the size of the display on which they are being viewed. For example, when someone accesses the form on their phone, it will rearrange the fields so that they're all visible on the screen without needing to scroll left or right.
Goals
Learn how to set whether or not a Web Content record should be Web Responsive
The Web Responsive Field
Navigate to Settings > Web Content, then open any Web Content record. There is a field labelled Web Responsive. This field is set to Yes by default.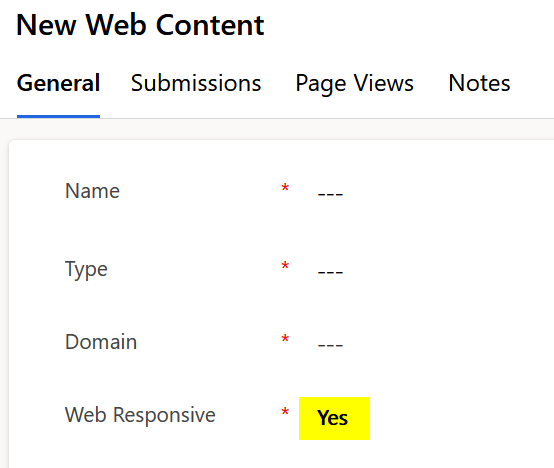 NOTE: If your form or other web content record was created before January 25th, 2015, it will not be responsive automatically. However, after you open the designer of the web content record and press Save, it will be updated to be responsive (the fields will arrange to fit the screen). We suggest cloning the Web Content record first and making sure everything looks good with the clone before changing your live form. After doing that, any form that is on the direct page or in an iframe will be changed automatically. If you have used widgets anywhere, you will need to copy the new widget code in the Embed window and replace any widgets you have on your site now with this code.
Disabling Responsive Design
By default, ClickDimensions Forms, Surveys, and Subscription Management Pages are generated with responsive code, but you can disable this feature if you prefer. To do so, you can toggle the Web Responsive field on the Web Content record to No, then Save and Publish your changes.
---
Feature Added: Jan 25, 2015
Feature Updated: Apr 27, 2015
ClickDimensions Version Needed: 6.5.1