The Hyperlink Manager allows you to add links to your text and images in the Email Template. To add links to your images, use the Image Manager. First select the text you want to hyperlink. Then click on the Hyperlink button:

This will open the Hyperlink Manager window:

Website URL
The first tab is Website URL. Here you can put in a regular link to any webpage. You can include parameters and/or anchors in your links.

Email
The Email tab allows you to insert a mailTo link into the Email Template.

Phone
If the recipient clicks this link when the email is accessed from a mobile phone, then the number will automatically be dialed.  If the recipient clicks this link when the email is accessed from a computer, then Google Hangouts/Skype/etc. will be used to dial the number.  A country code is not required, but if a country code is included, a plus sign is required to be appended at the beginning of the phone number.  It does not matter if dashes are, or are not included.
NOTE: The clicks on Phone and MailTo links are not be tracked by ClickDimensions.
Anchor
You can set anchors to navigate recipients to various places within your email template. A more in depth explanation of how to set up Anchor links can be found here.

File
Clicking the File tab opens the Document Manager. This is how ClickDimensions handles attachments. Use the left column to organize and create folders and subfolders to categorize your files. Click +New Folder to add a new folder or subfolder.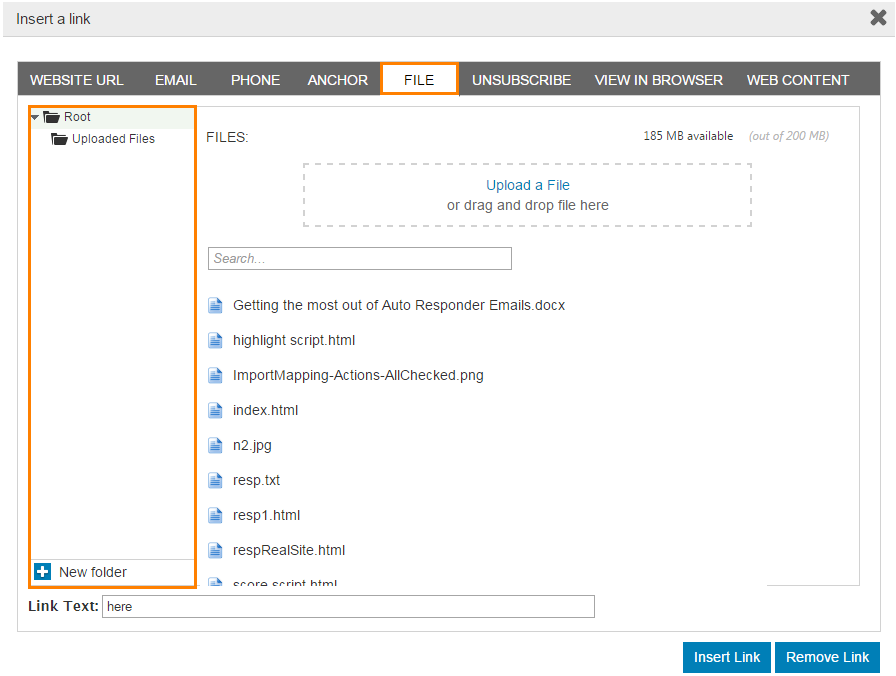 Upload files by either clicking Upload a File or dragging and dropping your files into the designated field from your computer. You may select one at a time, or select multiple files at a time to upload.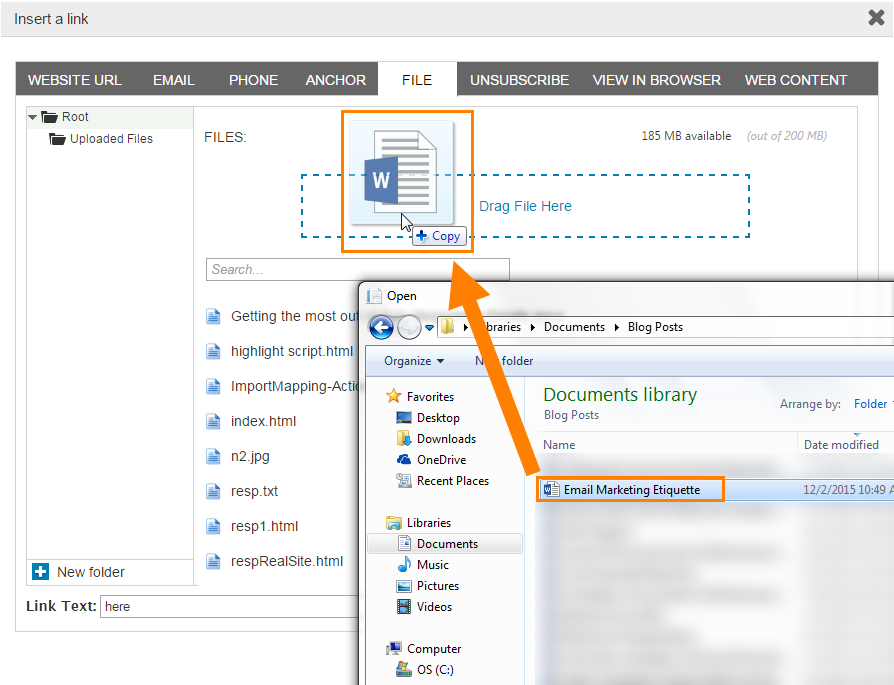 Once the file(s) has been uploaded, select which file you wish to include in the link. If you wish to delete a file, a trash can icon that you can click will appear when you hover over the file.  If you wish to search for a file to upload, use the Search bar. Type a keyword into the search field and hit Enter on your keyboard to query results.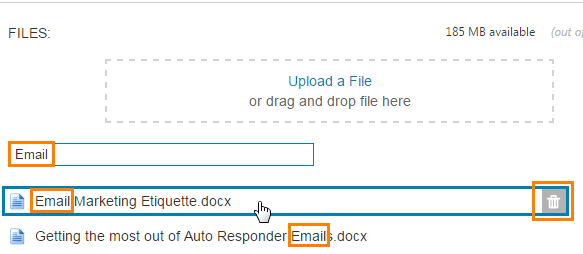 Once your file has been selected, click Insert Link to include your link to the file within your Email Template.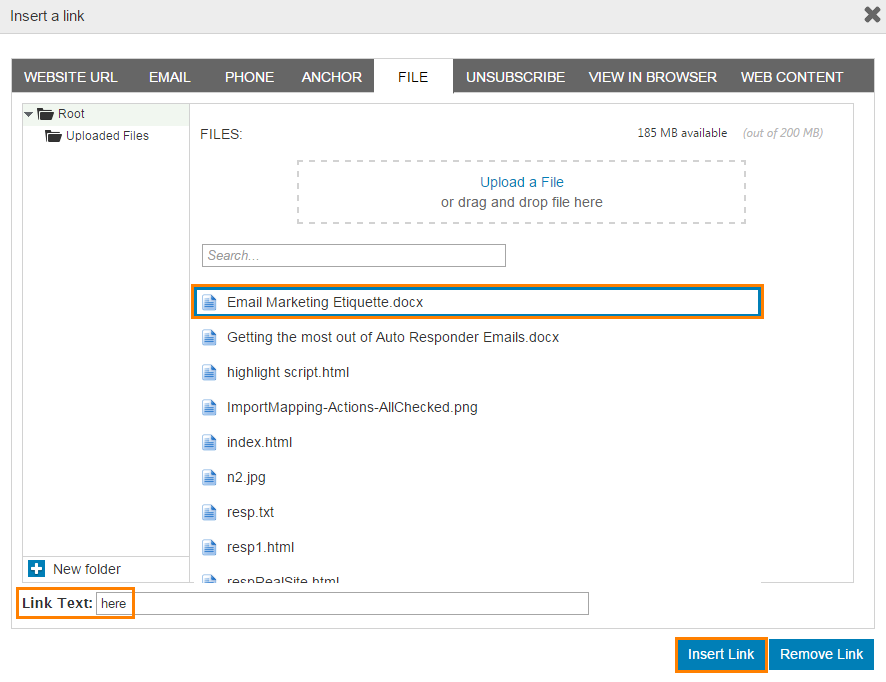 Unsubscribe
Insert a global unsubscribe link or the link to a ClickDimensions Subscription Management page you have already created.

Learn more about how unsubscribes and subscription preferences work in this article.
View in Browser
You may want to put a view in browser link at the top of your emails so that if the reader is having trouble seeing all of the email, they can click on this link to see the web version of the email instead.

Web Content
To insert a link to a Profile Management Form, Survey, or Landing Page that someone already created in ClickDimensions, use the drop down field to alternate between displaying a list of forms, surveys, and landing pages in your CRM, then choose the record you would like to link to.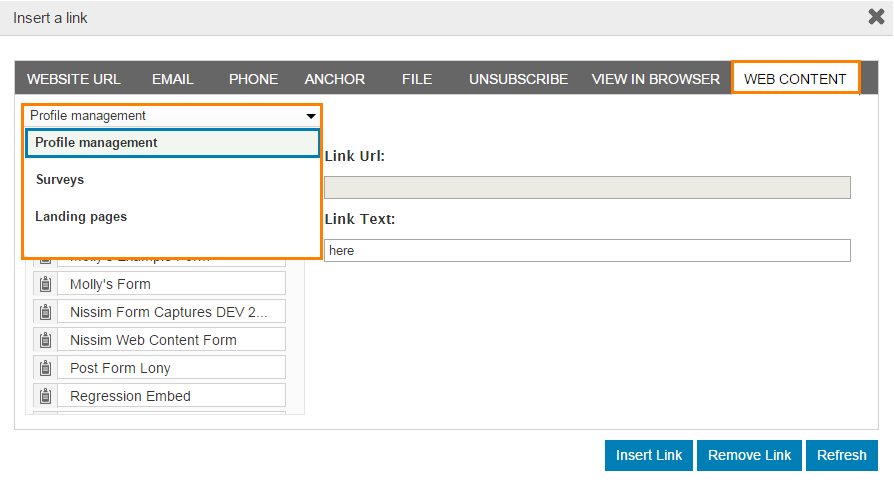 When you've chosen the link you want click Insert Link and your text will now go to that page when the reader clicks.
---
Feature Added: 2010
Feature Updated: July 2016
ClickDimensions Version Need: Any