Email is more than a half-century old, and it is sometimes easy to think that it has changed little over the years, email addresses still use the @ sign to this day. Of course it isn't long when you send even moderate numbers of email messages to subscribers before you find that actually change is the only constant. This will be truer than ever in Q1 2024, as two of the major Mailbox Providers (MBPs) for consumer addresses are changing how they treat the email that you send to them, Yahoo and Gmail.
Not only are they two of the largest such providers, Gmail includes Google Workspace and they are seen providing email services to many educational establishments and other organizations and businesses, so this change will affect not just email sent to gmail.com addresses – it is not purely B2C subscriber audiences that you'll need to consider. So what are the changes? They can be boiled down to some best practices for sending bulk email that are going to become requirements. This will be good news for many senders who already follow such best practices, and will functionally not need to make any changes. We would recommend reading both through both Yahoo's and Gmail's articles first of all:
Yahoo - https://blog.postmaster.yahooinc.com/post/730172167494483968/more-secure-less-spam
Gmail - https://blog.google/products/gmail/gmail-security-authentication-spam-protection/
And then also read through Gmail's more detailed information here: https://support.google.com/mail/answer/81126
All the tools to support best practice are built right in to ClickDimensions. So what do you need to do if you think you may ever send to more than 5,000 Gmail addresses (or Google-Workspace-hosted addresses) in a single day, or almost any amount to Yahoo? You could well find yourself reaching that limit sooner than you think, even if your subscriber counts are quite modest, so you should almost certainly go ahead and set your email up for success, and follow some steps, that we have laid out here.
Authenticate and Monitor
Identify all of your sending domains that you send your email messages from. Then work out which of those you also send from using ClickDimensions. It is likely all of them, but maybe not. It might be one domain, but it might 5, 10 or more! Your sending domain(s) are what you use in your From: address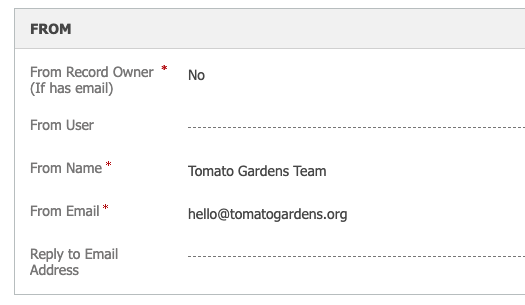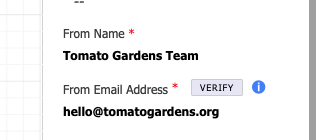 The examples above would be a sending domain of tomatogardens.org.
Now you have a list of sending domains you use or plan to use, go through a checklist of features in ClickDimensions, Internet technologies that can authenticate your email messages, and also data you can get from third-parties that you may want to monitor.
Set up your sending domains as Email Sending Domains in ClickDimensions using this feature: Email Sending Domains. It is important to know the process itself needs Change Management safeguards which means you should be planning and executing now in 2023. What this feature does is make sure you have SPF and DKIM configured for each of the sending domains that you use.
Check if you have DMARC set up on those sending domains that you listed earlier. Ask yourself and your various people and teams (IT, Change Management, CTO etc.) some questions. What are the DMARC policies you've enacted, if any? What mailstreams do we use and are they all authenticated correctly? Are you now, or soon going to get close to that 5,000 email messages threshold where Gmail is going to insist on DMARC? Do you already monitor DMARC using a third-party tool like Dmarcian, EasyDMARC, Valimail, or others?
Set up Google Postmaster Tools for all of your sending domains. Google have instructions for how to do that here: https://support.google.com/mail/answer/9981691 . Or you can follow the steps "Gathering Prerequisites" and Set up in Google" from this article Setting up Google Postmaster Tools for access by ClickDimensions Deliverability. You do not need to follow the "Share with ClickDimensions Deliverability Team" section unless we specifically ask you to.
If you find you have no DMARC in place then set it up with at least the bare minimum that Google have suggested in their documentation, that is have a policy of none, e.g. p=none; . Make sure you are following your organizations Change Management policies and processes!
Decide how you should monitor DMARC for all of your sending domains? Who in your organization should do it? With what tools? Where should Aggregate and Forensic reports be sent to?
If DMARC is new to you, the best place to start is https://dmarc.org. It is a product and service agnostic collection of very detailed information that will get you up to speed in no time. Major MBPs are going to move to DMARC enforcement at some point in the future, and you'll need to be ready. Be aware that DMARC applies to all the mailstreams that are sent from any sending domain. If you want to dive deeper into how SPF and DKIM works the Wikipedia articles come highly recommended.
Easy Unsubscribe
Once you have all of your sending Domain authentications squared away, make sure you are making healthy use of features like Subscription Management, Introduction to Subscription Management or Global Unsubscribes, ClickDimensions Unsubscribe Process
Be sure to check all of your Email Templates and designs that you use have their Unsubscribe option presented as accessible, graphically clear, and easy to spot and interact with as a subscriber.
Data Quality
Also make sure you are pausing, segmenting, suppressing, and ultimately removing unengaged subscribers from your sends and your data. Getting ahead of subscriber disengagement and negative sentiment is going to be more important than ever as email marketing moves in 2024 and beyond. We have a great collection of articles on best practices such as:
that can make that path clearer.