The HTML editor allows advanced users the ability to tweak and customize the source code of their emails to achieve their desired effect.
HTML Editor
The HTML editor can be used by selecting HTML as the Editor Type for an email, or by clicking on the HTML tab within a New Drag and Drop editor.
If you are using the New Drag and Drop editor, then you will not be able to return to the Designer tab once you have begun making edits to the HTML, so it is recommended that code edits only be performed after the design of the email is complete.
Once created, the HTML editor will appear like this:

Full Screen
This option will expand the editor window for easier visibility.
Preview
Preview opens a pop-up window that shows how the template will display on a Desktop or Mobile email client once sent out. The Preview window also includes an Inbox Preview button for the template and a Dynamic Preview that will let you preview any FreeMarker personalizations as the selected recipient.

Test
Test Email allows you to specify one or more email addresses to send a test copy of your template to in order to confirm that the template displays how you want it to in your inbox.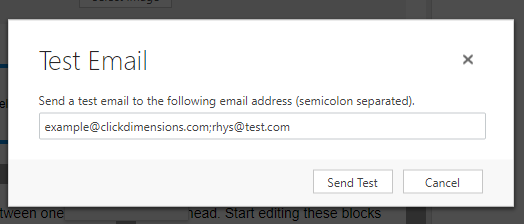 The test email will come from "ClickDimensions Test Email" at "system@clickdimensions.com".
Validations
Validations will automatically check if the FreeMarker used in your template is correctly formatted and alert you to any problems. A Spam Assassin check will also be run to let you know how likely the template is to be treated as spam if sent out in its current form.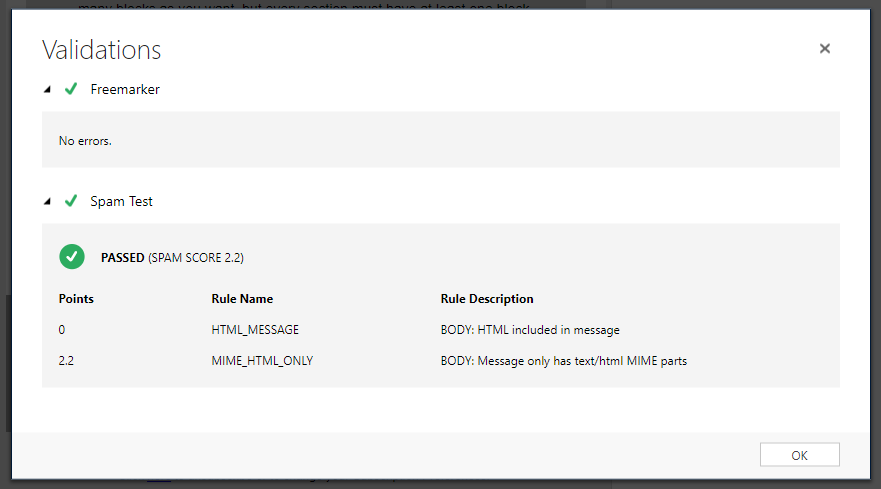 Email Layouts
Clicking Email Layouts in the toolbar will re-open the initial layout selection window, allowing you to choose a new layout. If you do chose a new layout, it will overwrite the existing content in the editor.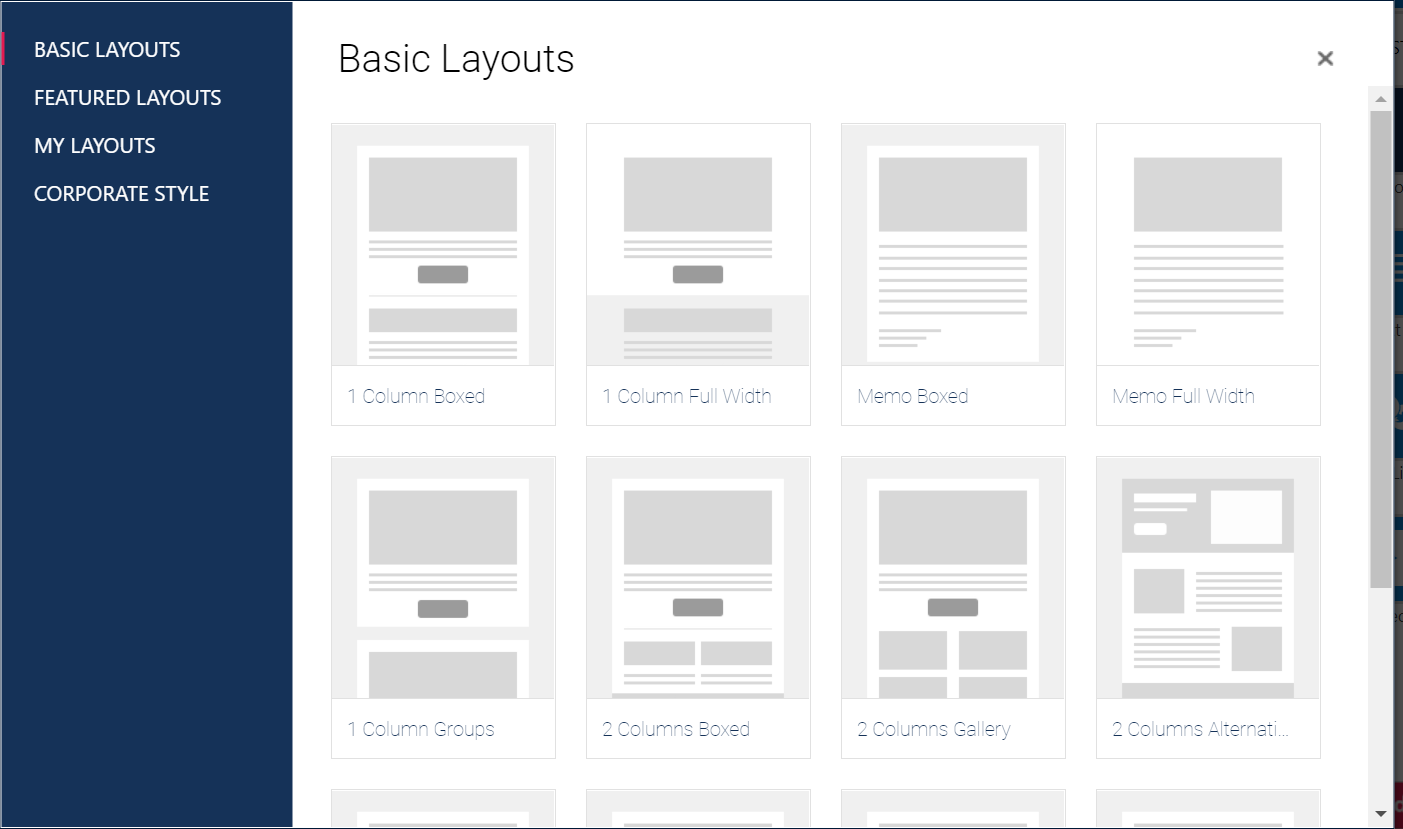 Edit HTML
When using the HTML tab in the New Drag and Drop editor, this will allow you to make edits to the HTML code. Once the HTML code is edited, it is not possible to switch back to the Designer tab, so it is recommended that code edits only be performed after the design of the email is complete.
Insert Image
Version 11.4 introduced the Insert Image option which allows you to access your Image Manager to upload or select images to add to your email.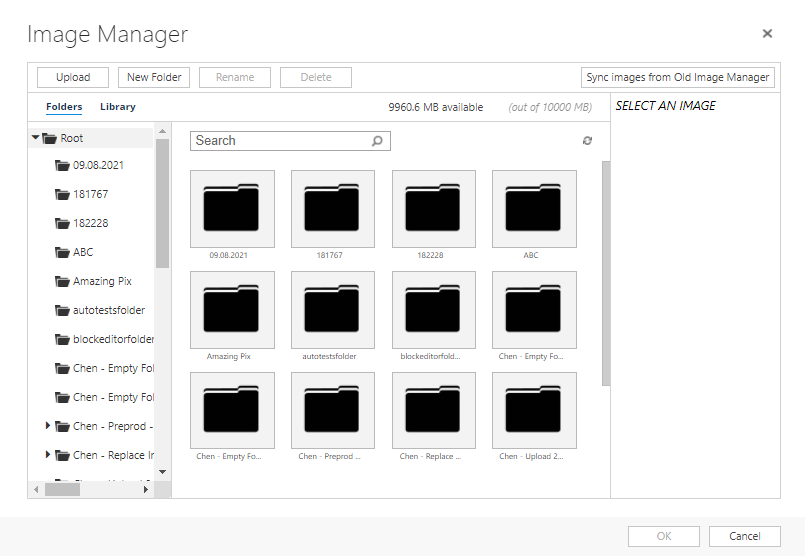 Insert Link
Version 11.4 also introduced the Insert Link option which allows you to specify a type of link, an appropriate URL, and some link text to insert into your email.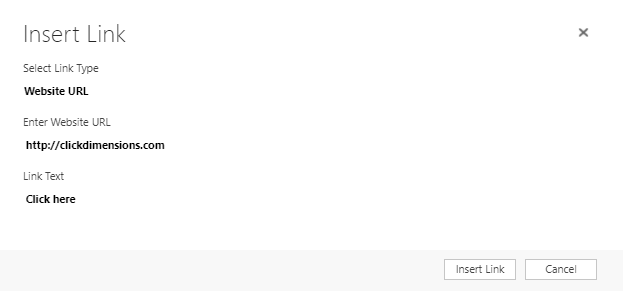 Social Share
Version 11.10 added the ability to add Social Share links directly from the HTML editor. Selecting this option will allow you to pick what social icons you would like to include as well as their general shapes and orientation.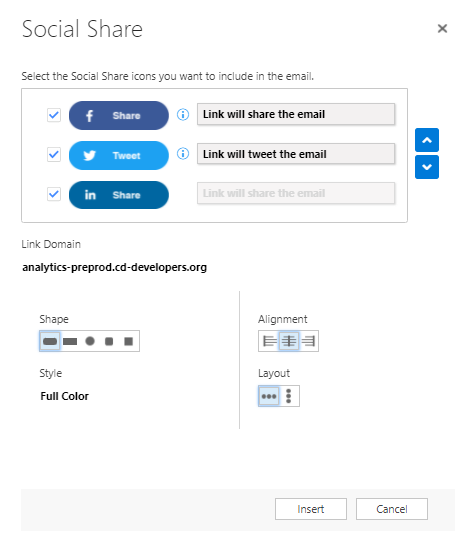 ---
Feature Added: 11.4
Feature Updated: 12.1
ClickDimensions Version Needed: 8.13.0 (9.6.0 for NEW branding)