PAUSE A SEQUENCE OR SEQUENCE INSTANCE
There are situations where you may want to pause everyone in a Sequence or where you need to pause just one person's sequence instance. Read below to find out how.
What It Means to "Pause"
When you follow these steps, everything does not just stop where it is. Each Sequence step creates an activity record, and those activity records are created as soon as the previous step is completed (or, in the case of the first step, as soon as a contact or lead is added). When the Activity record is created, a due date is set based on the wait time set in that step. Since the record is already created and set, that date/time will not change, which means existing Activities will still be due when they were originally due. However, if there are any auto email steps that come to their due date when "Paused", the emails will wait until the Sequence is re-enabled. So, you may have overdue tasks when you pause, but no emails will go out.
Pause an Entire Sequence
If you are going out of the office for a while, you may want to put everyone on pause, so you do not come back to a ton of emails. Follow these few steps to pause a Sequence.
Step 1: Go to Sequences and open the Sequence you want to Pause.
Step 2: Click on Settings.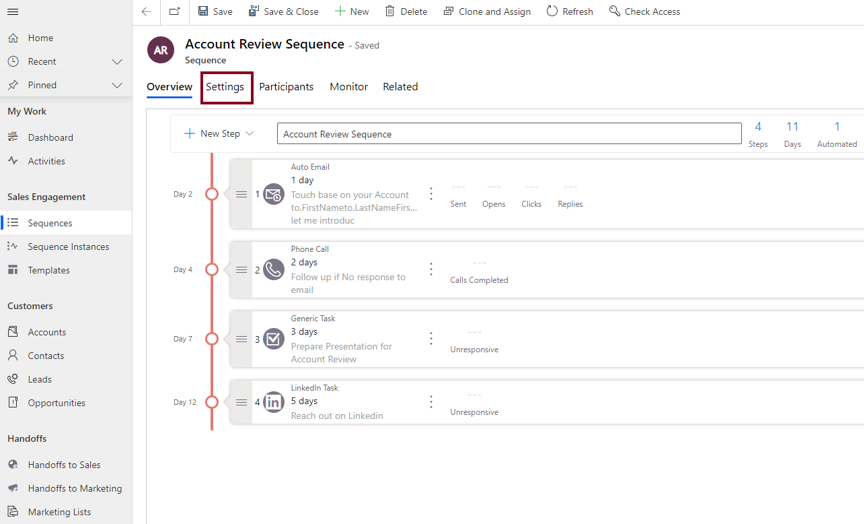 Step 3: Flip Enabled to No.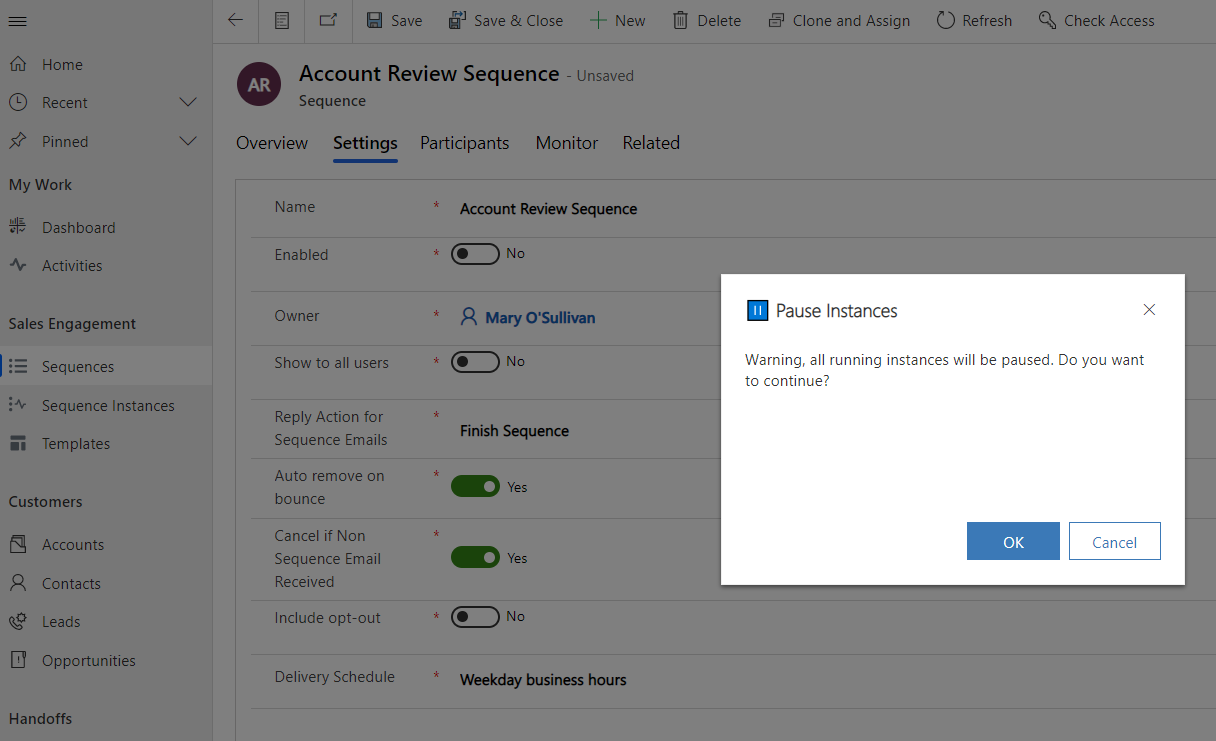 This will also mean that no one can be added to the Sequence. When you are ready to re-enable it, switch Enabled back to Yes.
Pause a Sequence Instance
To pause just one person (Sequence Instance) follow these steps:
Step 1: Navigate to the Contact or Lead record.
Step 2: Click on the Sequence tab, select the instance, and click Pause.

To resume the Instance just select it and click the Resume button (next to the Pause button).
Another way to Pause an Instance
Another way to Pause an instance or multiple instances is to go to Sequences Instances on the left navigation, select the one you want to pause, and press the Pause button:

Note: If an Out of Office Reply is received, the Instance will automatically be Paused, and you will need to set it back to Running when you are ready to start interacting with them again.