With Microsoft Dynamics 365, the notion of 'Apps' was introduced for Dynamics environments, along with the unified interface.
Since CD Version 8.8, we created a specific solution file for customers deploying in Dynamics 365 that has ClickDimensions as an App. Then starting in CD Version 9.13 we updated the Solution to become compatible with Microsoft's Unified Interface (UCI) version of Dynamics 365 Online so the App resides in and utilizes UCI. CD Version 11.9 added compatibility with the Unified Interface for the Dynamics 365 version 9.1 On-Premise. We do continue to update our ClickDimensions UCI app to better service you!
To get the UCI version, you just need to be on version 9.1.x or higher of Dynamics. Here is how to find out what version of CRM you are on.
How this can be viewed is different depending on if the Dynamics 365 environment is online or on-premise.
Dynamics 365 UCI - ClickDimensions App
Click the down arrow next to Dynamics 365 and click the ClickDimensions app option.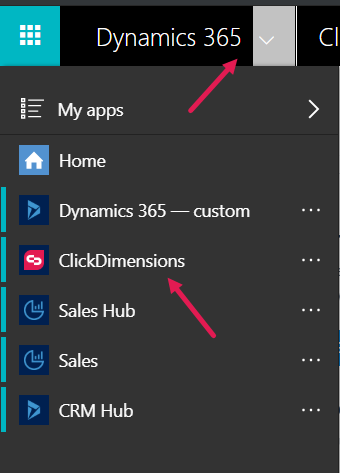 You will then be in the ClickDimensions UCI (unified client interface) application with 6 different areas to navigate through and ClickDimensions entities spread throughout.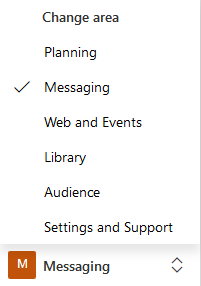 Click in the bottom left to see the 6 areas and in each area you will see ClickDimensions entities, as well as the Dynamics entities that we interact with.
For a list of ClickDimensions entities and where they are located in this ClickDimensions UCI App, see our help article here.
Dynamics 365 Legacy - ClickDimensions App
Navigate to Dynamics Settings and click My Apps.

From My Apps, you will see ClickDimensions, as well as other apps that you may have installed within your CRM environment.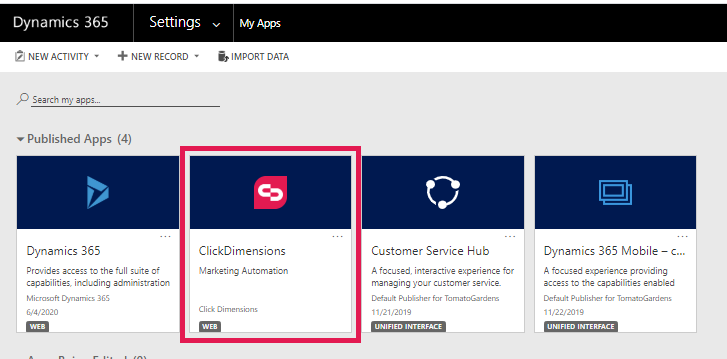 If you click on ClickDimensions, you will be redirected to a welcome dashboard.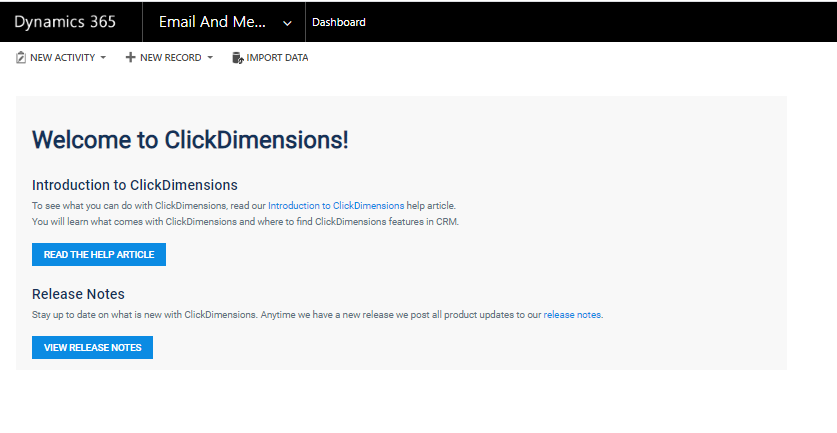 Clicking the down arrow next to Email and Messages in the top ribbon menu is where you can navigate through the various ClickDimensions entities, as well as Dynamics CRM entities that we interact with.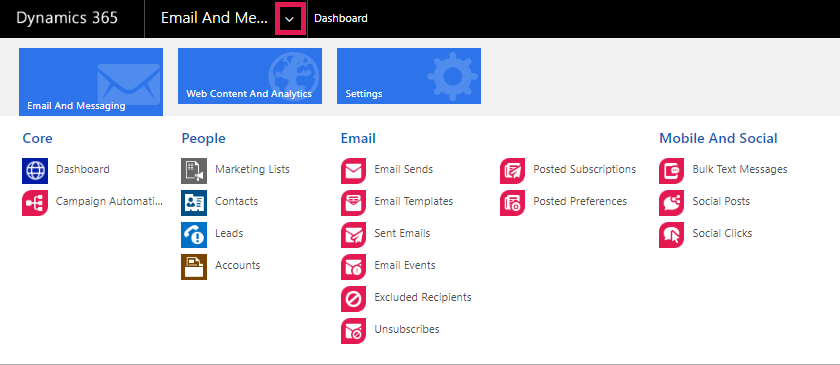 Click Web Content And Analytics to see more of these related ClickDimensions entities.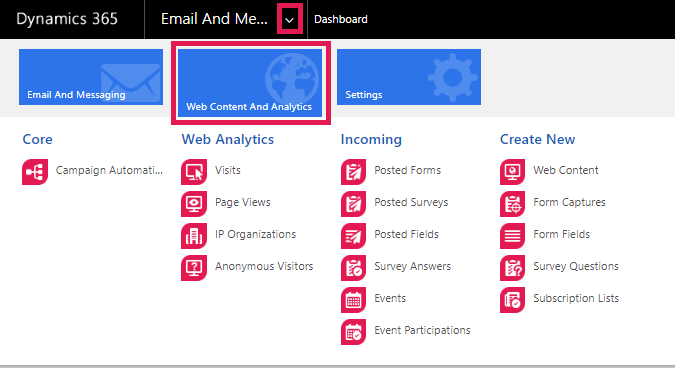 Click Settings, and you will see settings-related ClickDimensions entities.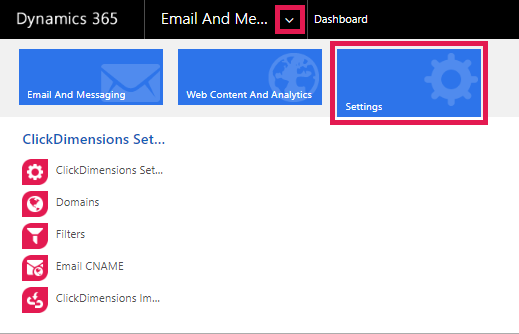 ---
Feature Added: 8.8
Feature Updated: 11.9
ClickDimensions Version Need: 9.13+