9.13.2 [April 2019]
All Data Centers: Instant Update/Cloud - April 21st, 2019; Solution - April 21st, 2019
For instructions on how to update, see this article. There is no additional charge to update and updating is quick. 
ClickDimensions Unified Interface Compatible Solution
With this update, ClickDimensions is now compatible with Microsoft's Unified Interface. We are releasing this in Beta because we do know of a few minor remaining issues (listed below).
To enjoy the benefits of the new ClickDimensions Unified Interface compatible solution, you will need to:
Be on Microsoft Dynamics 365 online version 9.1.x or higher (How to find your version)

Please notify our support team via chat or a ticket to tell us that you have version 9.1.x of Dynamics so we can update our side to ensure you are able to download 9.13.2.

Update your solution file (How to Update). 
What is the new solution file
It still contains the ability to see the "classic app" if it is turned on in your D365 environment
It contains the App module in the Unified Interface
It will replace the App module that was included in the Microsoft Dynamics 365 version 8+ ClickDimensions solution file
Where to find the app
Once you have updated, click on the down arrow on the top left next to Dynamics 365, and chose ClickDimensions. It should look something like the below screenshot.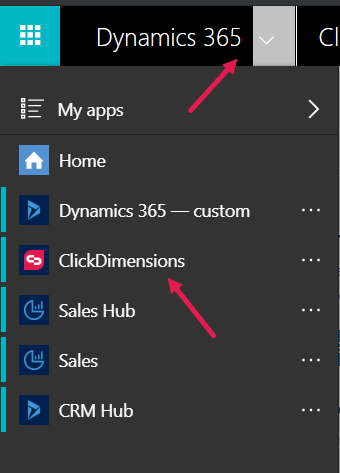 What is Unified Interface? 
From Microsoft's article (found here): 
Unified Interface - which uses responsive web design principles to provide an optimal viewing and interaction experience for any screen size, device, or orientation.

The new Unified Interface brings all the rich experiences to any client that you are using. Whether you are on a browser, tablet, or phone, you will be able to consume similar experiences. Some examples:

Similar form experiences to update and view your records.
Interactive dashboards across all devices to view your information and drill into it.
Reference Panel is now available to be used with all entities supported in Unified Interface.
We now support right-to-left (RTL) languages.
All experiences on Unified Interface have accessibility improvements.
Known Issues
On an Email Send record, in the Lead grid (where you add Lead recipients), the more commands button (...) is not present. This is a known Microsoft bug that they are working on.
Some icons are not displaying or are displaying incorrectly when using Internet Explorer.  This is a known Microsoft bug that they are working on.
In the ClickDimensions Import record the add Marketing List button does not work. (Workaround: use the wizard by clicking the "ClickDimensions Import" button in the ribbon.) This is a known Microsoft bug that they are working on.
On a Domain record the Save & Close button does not close (workaround: Press Save and then X out of the record)
French translations are not included yet
Email Statistics Icon is missing in the sent Email Send ribbon (The button still works)
When opening a sent Email Send record, the General tab shows first instead of the Statistics tab (workaround: click on the Statistics tab)
On Contact/Lead related record lists, sometimes the items do not show up. For example, if you go to Sent Emails on a Contact record, the grid shows dashes for every record rather than the actual text. (if you double click any line, it will open the record  and then show the text in the grid for that record). We are working with Microsoft on this issue.