The Email pop-up will show you the scheduled Send On date or the date the email actually Sent. You can also see a quick overview of stats so you know how your email performed at a quick glance.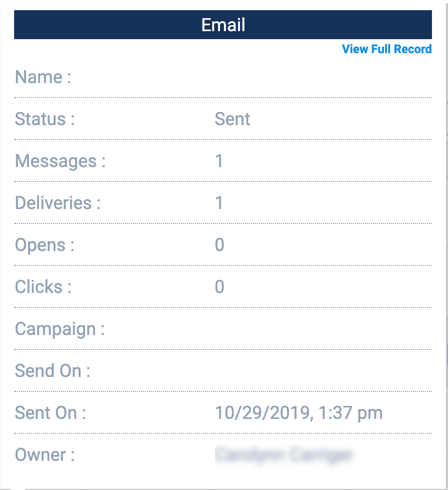 One thing to keep in mind is that the Name field, not the Subject, is reflected in the Marketing Calendar. So if you don't give your Email a name then it will show as an Untitled email item on the calendar and the pop-up's Name will remain blank as shown below.
Types of Emails
All ClickDimensions emails will be shown in the calendar except for those sent via Campaign Automation. So your Quick Send emails, InboxCast emails, and bulk/individual emails will all show on this calendar.
If you're not sure if an email was sent by a Campaign Automation, you can view the Campaign Automation field on the sent Email record as shown below.

---