When using ClickDimensions Event functionality, there are a few options to having your event created. You can manually create events without a connector, you can use a connector to create your events, or you can use the Event Sync Flow.
Manual Event Records
Event records can be created manually if you choose not to use any of the Connectors. To do so, go to CRM Marketing > Events > click +New and fill in the required fields. Click Save.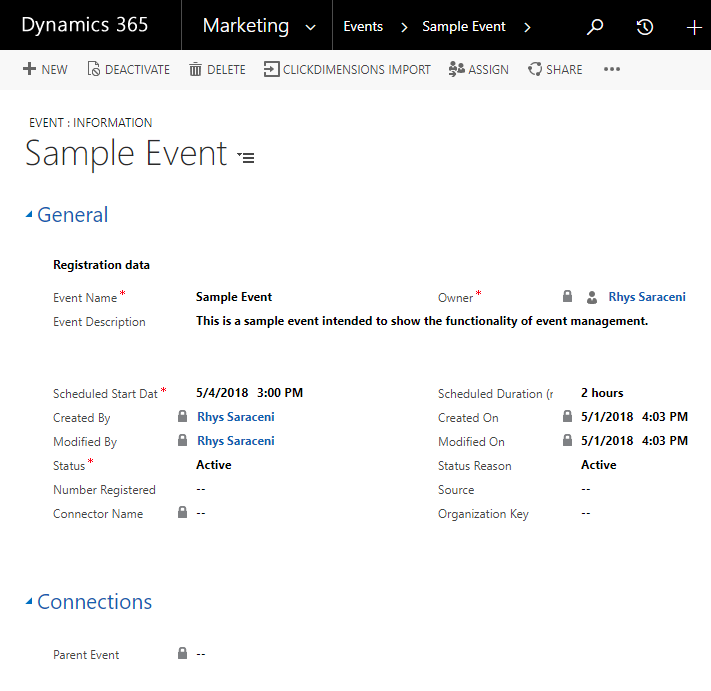 Manually-created records will not receive any data synced from ClickDimensions connectors—this would be a standalone Event or Event Participation record.
Event Connectors
Simply set up a connector, as shown here, and the Event records will be created automatically. You won't be manually creating any of the records as the connector will do all the work.
Event Sync Flow
The Event Sync Flow is an option that works with Event connectors but does not automatically sync new events to CRM. This functionality allows you to only sync the events you want, into your CRM. If you have internal events or other events that are not focused on lead generation, you can opt to not sync them to CRM and then not have to exclude them from your CRM data when running your reports.
Using this functionality, requires three steps.
Your ClickDimensions version should also be at 9.22 to fully use this functionality. The item shown in Step 1 below was made available via a cloud update but the Step 3 item requires the solution to have been updated to at least version 9.22.
Step 1 - The Connector
When setting up your connector, select the Generate Leads/Contacts for Specific events checkbox. This tells the connector that you don't want all events automatically synced.

Step 2 - The Event
Create the Event in the event connector account (such as Eventbrite). It will not automatically be created in your CRM.
Step 3 - The Event record
Then, when you have created an event via a connector, if you want to sync that event, go to Events > +New. You'll see a form appear which will allow you to select the Event (step 2) you want to sync.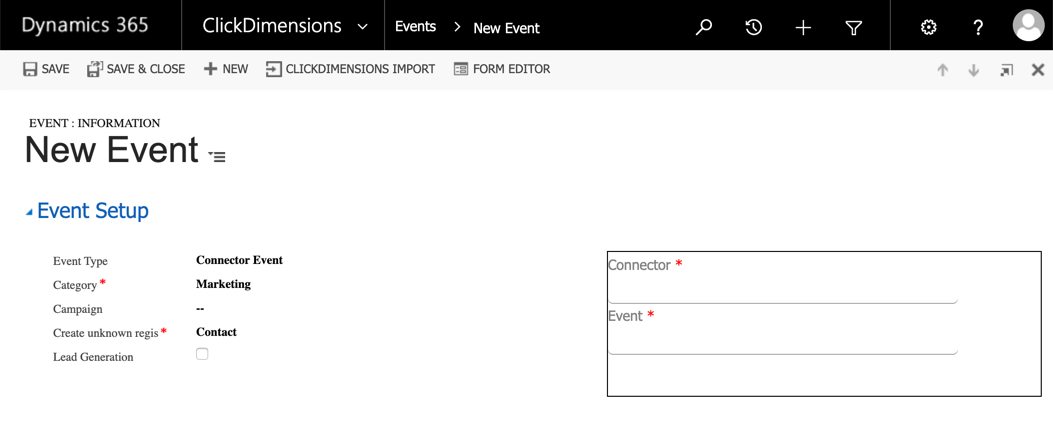 On the form, complete the following fields.
Event Type - This optional field allows you to denote what type of event this is.
Category (required) - Select from the built-in options of Marketing, HR, or Other. You can add additional options to this list field if needed.
Campaign - This optional lookup field can be associated to a CRM Campaign.
Create unknown registrant as (required) - Select which entity type your event registrant should be stored as in your CRM.
Lead Generation - Check this checkbox to indicate if this is a lead generation event. This is purely for reporting purposes.
Connector (required) - Select which connector (you previously set up in ClickDimensions Settings) that the event was created in.
Event (required) - Select the event from the connector that you want to sync. Events from the connector selected (previous field) will display in this list dropdown.
Once the form is filled out, click Save. The Event will sync to your CRM the next time that connector sync to your CRM.