Event and Event Participation records can either be created manually, or they can be created via one of ClickDimensions event-specific connectors: GoToWebinar, WebEx, Eventbrite, and Cvent.
ClickDimensions has two options for Webinar Integration - GoToWebinar and WebEx, and two options for in person events - Eventbrite and Cvent. You can integrate as many accounts of any of these services as you like. Read below for more information on what these are and how to set them up.
How can I create my own Event?
Go to CRM Marketing > Events > click +New and fill in the required fields.  Click Save.  Manually created Event records will not receive any data synced from ClickDimensions connectors; this would be a standalone Event or Event Participation record.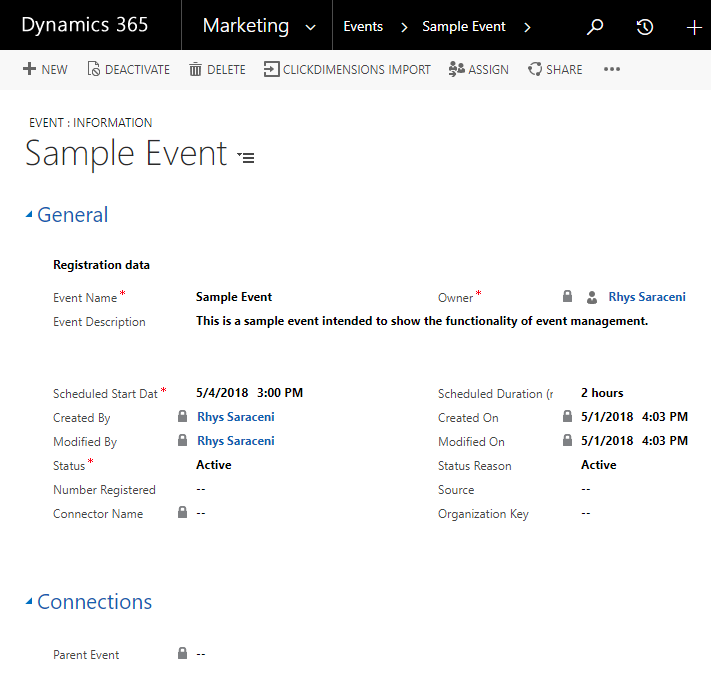 What is GoToWebinar Used for?
GoToWebinar is a service developed by Citrix Online that is used to host or attend web-based training, meetings, and seminars with up to 1000 attendees. Sign up for an account with GoToWebinar if you don't already have one here.
What is WebEx Used for?
WebEx is a service developed by Cisco that is used to host or attend large or small webinars with up to 3000 attendees. Sign up for an account with WebEx if you don't already have one here.
What is Cvent Used for?
Cvent is a cloud-based enterprise event management platform that offers software solutions to event planners for online event registration, venue selection, event management and more.  See here for more information.
What is Eventbrite Used for?
Eventbrite is an online ticketing platform that people all over the world use to create events, sell tickets and manage registrations for events of all types and sizes. See here to create an account.
What can you do with Event Integration?
With Event integration and ClickDimensions you'll be able to create Event Records to keep track of hosted webinars and events and Event Participation Records (that can be associated with lead and contact records) to track participations in your webinars and events. These records will be generated automatically once you have integrated GoToWebinar, WebEx, or Eventbrite with ClickDimensions. To do this, simply set your "connections" once, and we'll do the rest!
How to Set Up Event Integrations