The Score Models feature allows you to create multiple Score Models that control when and how Lead/Contact scores are modified when certain actions occur. This article outlines how to create and use Score Models.
Note: The Score Models feature requires at least a ClickDimensions Business license level to be accessible. In addition, our system will hide the information from the Legacy Scoring feature and will no longer update those legacy scores once the new Score Models are enabled. If you would like to upgrade to gain access, please reach out to your Customer Success Manager for more details.
Create A Score Model
First, navigate to the Score Models section within the Audience navigation area: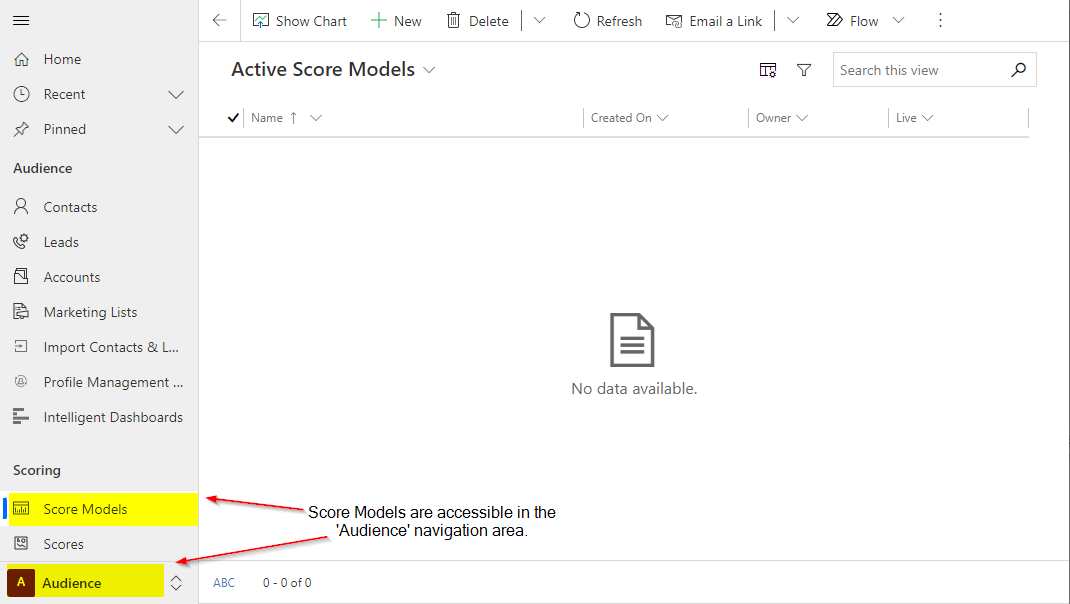 Once in this view, click New to create a new Score Model. When the new Score Model opens, provide a name and save the record: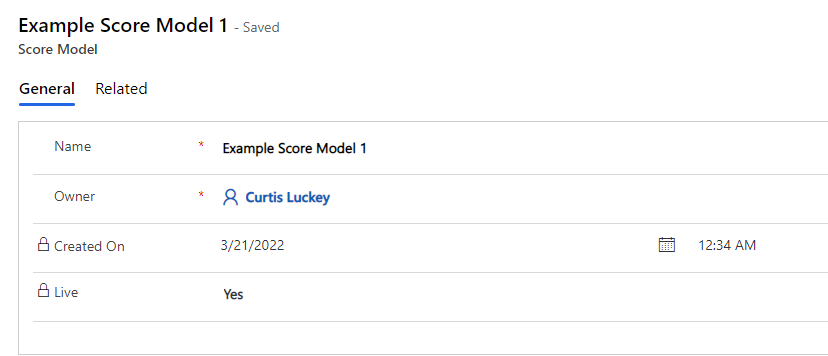 Next, click the Design ribbon button to open the Score Model Designer: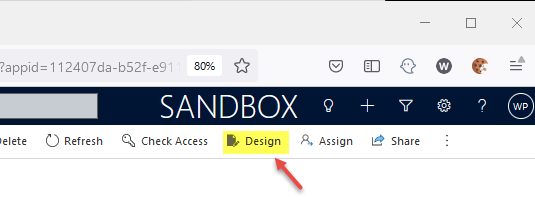 The blank Score Model Designer will look like this: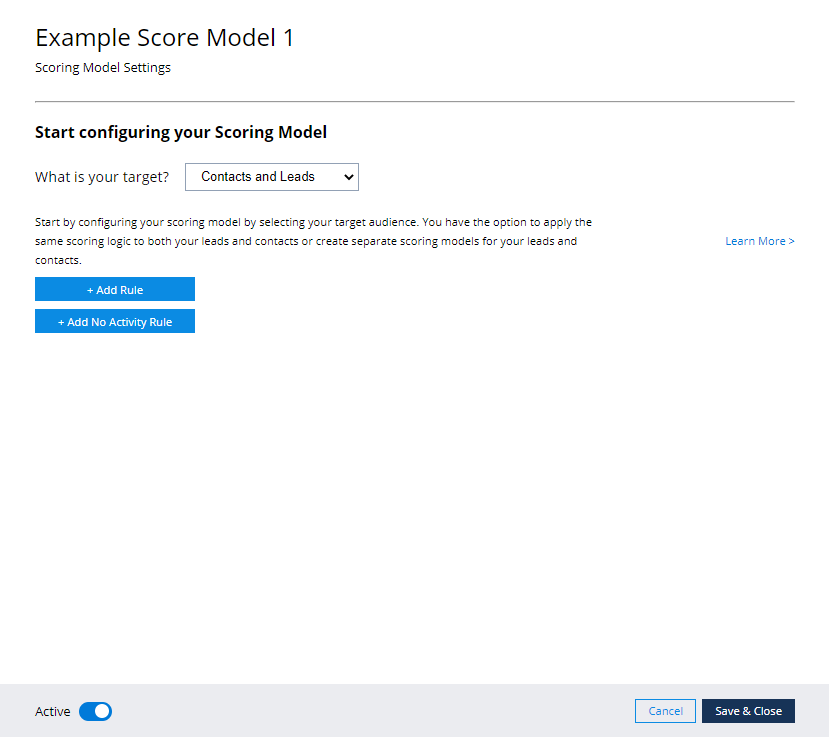 Target Audience and Multiple Models
Now that you've opened the Score Model Designer, you can select a target audience to apply the Scoring Model to. This setting is for the current Scoring Model and allows you to select the following record types:
Contacts and Leads
Contacts
Leads
Since you can create multiple Scoring Models, this allows you better control over how you can score your potential Leads versus your existing Contacts and gives you the ability to check and compare different Scoring Models to find the most accurate predictive models for your needs.
Score Rules
The Score Rules specify how a Lead or Contact's score will be modified when certain actions occur. To add a new Rule, click the + Add Rule button:

This will cause a new, unconfigured rule to appear in the Score Model Designer:

Next, simply choose the IF condition, the Action, and the Value to create your desired rule. You can choose from the following IF conditions:
Email Opened
Email Clicked
Form Submitted (includes Web Content Forms/Form Captures)
Form Submission Failed
Website Visited (requires ClickDimensions tracking script on website)
Page Viewed (requires ClickDimensions tracking script on page)
Opportunity Lost (for Contact models)
Opportunity Created (for Contact models)
Event Registered (all event connectors)
Event Attended (all event connectors)
Unsubscribed (emails)
And the available actions are:
Increase Total Score By
Decrease Total Score By
Set Total Score To
You can also add a Degradation Rule by clicking the + Add No Activity Rule button:

This will allow you to perform a selected action if they are inactive for the specified number of days:

The available actions are:
Decrease total score by
Set total score to
You can add multiple Rules to your Score Model, but you can only have one 'No Activity' rule and one rule per action. For example, here is a screenshot showing a Score Model that is configured to increase a Lead/Contact's Total Score by 10 if a Form is submitted, to increase the Total Score by 5 if an email is clicked, and to decrease the Total Score by 3 if a Lead/Contact has no scoring activity within 31 days: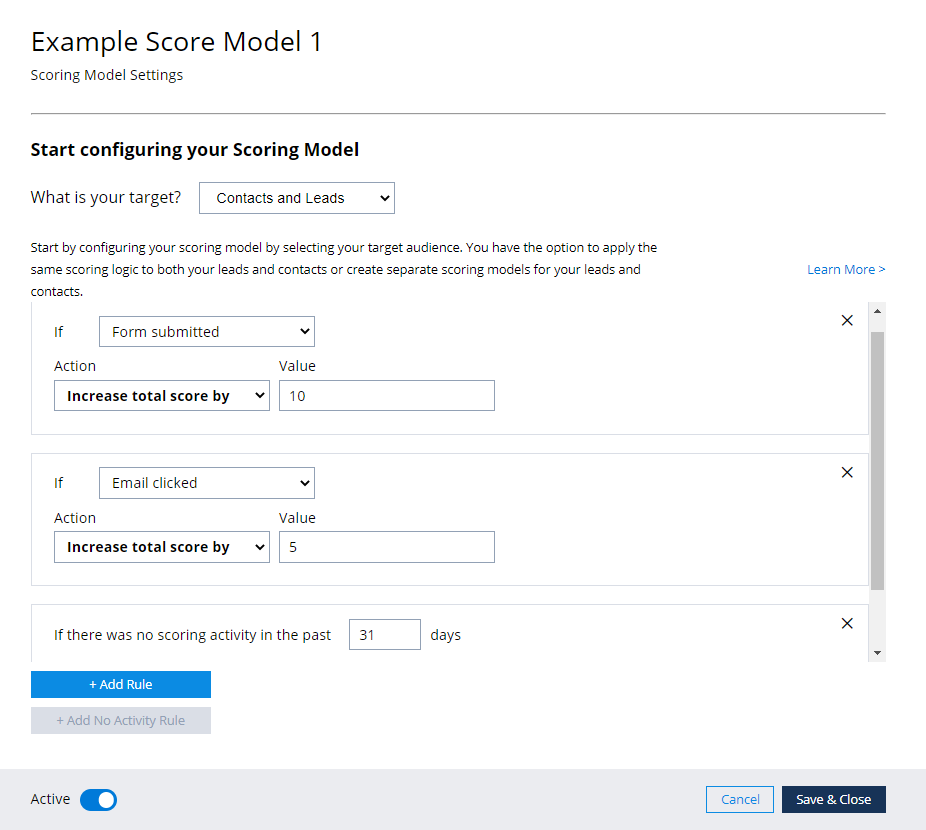 Finally, decide if you want your new Score Model to be active or inactive by toggling the Active setting near the bottom of the Score Models Designer and, once you've set it how you want, click Save & Close to finish creating your Score Model.
Viewing Scores
After your Score Models have been set up with your desired rules, they will begin to generating Scores for your Contacts/Leads. Please see our Scores article here for more details on how to check your Scores.
Conclusion
The Score Models feature provides an easy way to help gauge your target audience's interest and interactions with your marketing activities. Now that you are able to create Score Models to generate Scores, you can take this further by using Campaign Automations to automate actions when a Lead/Contact reaches a set score on a specific Score Model. This can be done with our Score Reached trigger which you can read more about here.
---
Feature Added: 12.3

Feature Updated: 12.9
ClickDimensions Version Needed: 12.3
Additional Training: Check out the ClickDimensions Academy for more on this topic!