A CNAME is an entry within your domain's DNS host.  You may already use CNAMEs to brand your links in ClickDimensions emails, or brand web content links.  A separate CNAME is required in order to use ClickDimensions Social Marketing feature.
Goals
Learn what your Social CNAME must point to in your DNS Host
Learn how to add your Social CNAME to CRM
Where to Point Your Social CNAME in Your DNS Host
The CNAME for ClickDimensions Social Marketing must point to okt.to within your DNS host.  An example of what the CNAME might look like for this feature is: social.mycompanydomain.com
NOTE: You must enter your CNAME within your DNS host BEFORE setting up the following within your Dynamics environment:
Add Your Social CNAME to CRM
Once you have entered your CNAME into your DNS host, you are ready to proceed within Dynamics.  Navigate to Settings > ClickDimensions Settings and click DNS Settings.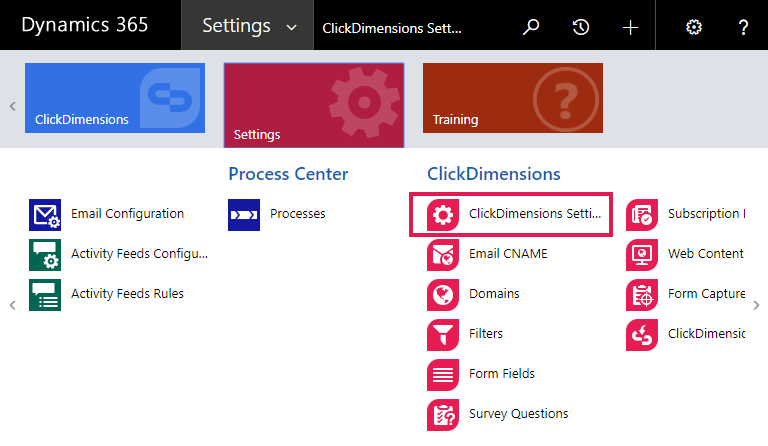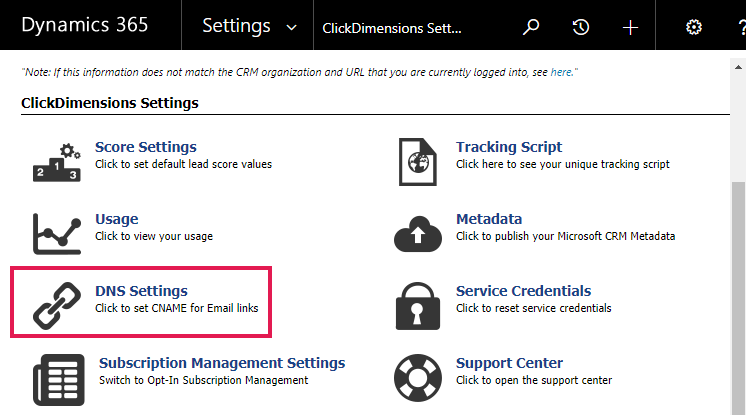 The DNS Settings window will open and this is what you will see: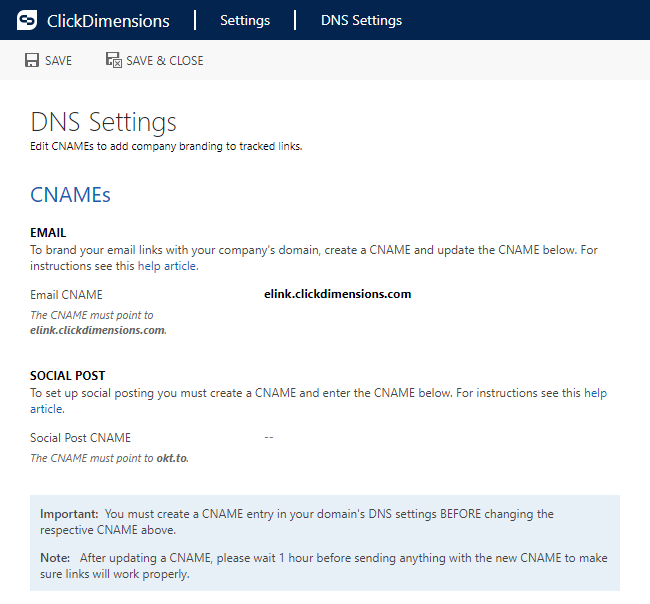 Enter in the CNAME you used within your DNS host for social posting within the Social Post CNAME field.

The URL that you will be using for this Social Post CNAME will be used for when people click on the social post.  It is designed so that when a person clicks on the social post link, the person will be redirected to that URL.  Parameters will be automatically added to the URL redirect for precision tracking. This data will then be pushed into your Dynamics environment for analytics and reporting purposes.
NOTE: Be sure to wait for at least 1 hour before sending anything with the new CNAME you have just updated.  This will allow enough time to make sure all links work properly!
---
Feature Added: 8.8
Feature Updated: 8.13
ClickDimensions Version Need: 8.0