What is ClickDimensions?
In a nutshell, ClickDimensions allows you take your Email Marketing and web content and integrate it seamlessly with your Dynamics CRM. For example, you can design emails with us, send them to Leads and Contacts, and get live statistics on who interacted with your message.
You can also see Leads and Contacts browsing your website, use forms to generate new Leads and Contacts, track survey responses, and much more.
ClickDimensions in CRM
Since ClickDimensions is fully integrated into CRM, new users may find it tricky at first to spot which parts of the software are ClickDimensions features. Most ClickDimensions features can be found in two sections of CRM: Settings and Marketing.
NOTE: A ClickDimensions navigation option that places all ClickDimensions content into the same place is also available.
Settings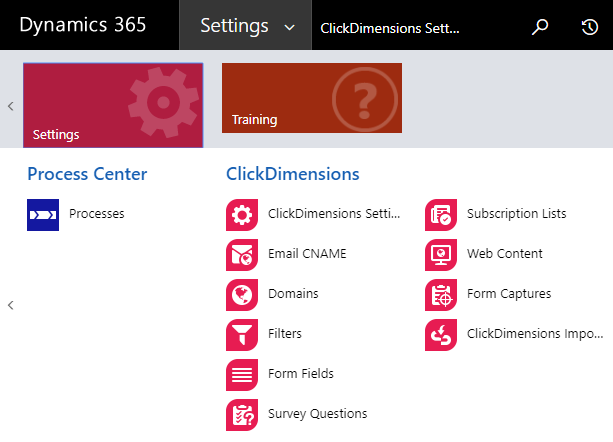 ClickDimensions
ClickDimensions Settings - Set basic options for our solution. Read More
Email CNAME - A CNAME is a way you can brand certain links when using ClickDimensions. If you require multiple email link brandings, you may choose to set up multiple email CNAMEs. Read More
Domains - You'll need to create records here for each website you want to integrate with your Web Content. This is also where you'll set up your Web Content CNAME. Domain records and associated Web Content CNAMEs are essential to making sure your Web Content functions properly. Read More
Filters - Filters let you ignore web traffic coming in from certain domains or IP addresses. Some companies choose to exclude hits from bots or internal traffic using this tool. Read More
Form Fields - For every box that you'd like to have filled out on a form you'll first need to create a Form Field record here. Form Fields will be aggregated on a Form type Web Content record to create your Form Builder form. Read More
Survey Questions - Just like Form Fields, you'll first create a record here for each question you'd like to ask on your Survey. These will also be put on Survey Type Web Content records to make your surveys. Read More
Subscription Lists - If you're using Subscription Management, you'll get started by creating Subscription Lists here. These will represent every time of mailing you're going to send out and will allow people to opt in and opt out. Read More
Web Content - This is where you'll create and edit any Forms, Surveys, Subscription Management Pages, and Landing Pages within our system.
Form Captures - If you'd like to use or write your own HTML form to integrate with ClickDimensions, you'll need to integrate your form fields and set up a Form Capture record.
ClickDimensions Import - The ClickDimensions Import Tool allows you to pull in a list of participants into CRM, create new Leads or Contacts for any new participants, and add existing and newly created record to a Marketing List, remove them from a Marketing List, or generate Event Participations for them. Read More
Marketing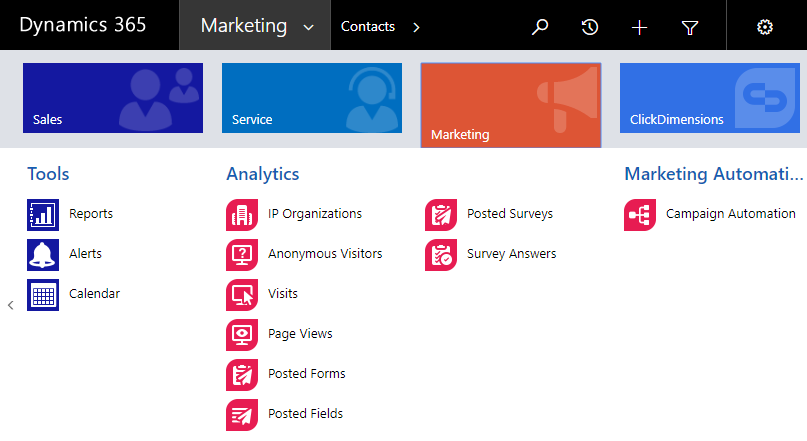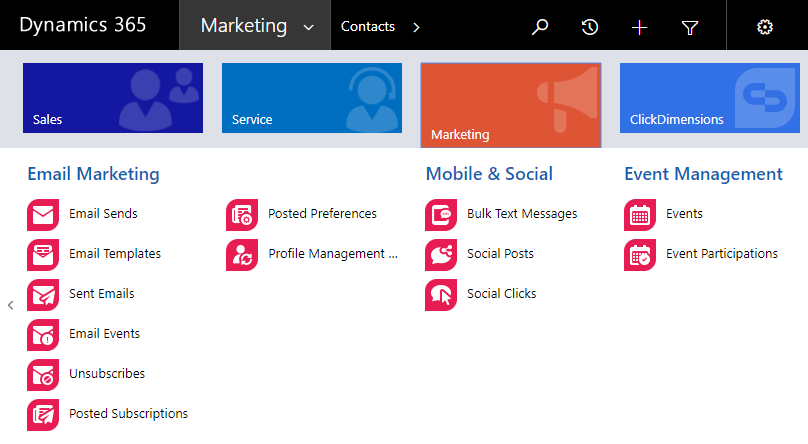 Analytics
IP Organizations - These are records of all the IP Addresses that have ever accessed your site. Read More
Anonymous Visitors - These are people who have visited your site but we haven't been able to link them to a Lead or Contact record or create a new record for them yet. Read More
Visits - Every time anyone accesses your site we'll create a record here. Inside you can see which pages they viewed in order. Read More
Page Views - Page Views note every time anyone has visited any page on your website. Read More
Posted Forms - These will be generated whenever someone submits a form either through the Form Builder or Form Capture. Read More
Posted Fields - These are all the responses ever submitted in any Form Field in any Form. Read More
Posted Surveys - This will show you all the Surveys that have ever been submitted to your system. Read More
Survey Answers - These are all the answers ever submitted to every Survey Question. Read More
Marketing Automation
Campaign Automation - Campaign Automations allow you to set up a dynamic paths for a contact or lead to follow based on actions taken by that contact or lead. Read More
Email Marketing
Email Sends - This is the main record used for sending emails. Here's where you'll set properties for your send, choose your template, and add your recipients. The views on Email Sends are very important and reflect the status of your email. Read More
Email Templates - You can create the design and content of your email here. It's very easy to clone and re-use templates in multiple mailings depending on your needs. Read More
Sent Emails - These are records for every email message that has ever been generated and sent through an Email Send. So if you send one Email Send to 100 people, you'll have 100 records here. Read More
Email Events - These log all the things your email does and all the interactions with your message. This includes things like deliveries, bounces, opens, and clicks. Read More
Unsubscribes - These records are automatically generated and allow customers to opt out of emails. Read More
Posted Subscriptions - Every time someone fills out a Subscription Management Page we'll create a record here with the submitted information. Read More
Subscription Preferences - These are all the preferences ever submitted for anyone who has filled out a Subscription Management Page. If someone submits multiple times, we will generate multiple records. Read More
Mobile & Social
Bulk Text Messages - You can send out a text message to multiple recipients using a Marketing List. Read More
Social Posts - Create, post, and report on posts for various social platforms, such as Facebook and LinkedIn. Read More
Social Clicks - See who is interacting with which of your Social Posts and when. Read More
Event Integration
Events - If you've set up an event connector, all your webinars will come in here as Event records. The "Active" view shows upcoming webinars and the "Past" view is for those that have already completed.
Event Participations - A record will be created here for every instance of every person signing up for every webinar. It will include information they submitted upon registering, how long they were in the webinar, any questions they asked and more. Read More