The Submitted Survey trigger may be used as an Entry Point Trigger or as an Internal Trigger. If the trigger is an entry point and a contact or lead has submitted the selected survey, the Campaign Automation will begin. Add a Submitted Survey trigger to the canvas and click on the node. You will see the right panel change to show the properties of this trigger.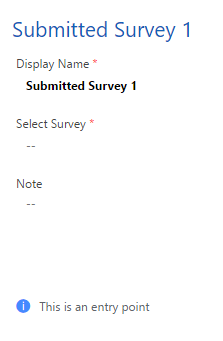 Display Name (required): Once you select a survey, this will change automatically to the name of that survey, however you may change it to whatever you would like.
Select Survey (required): Choose an already created Web Content survey. For help on how to create a survey, see here.
Note: A note is an optional field for any details that need to be written about the trigger.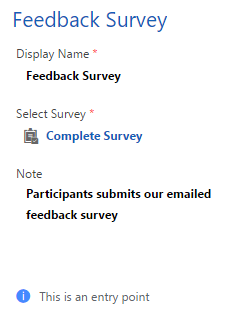 Now connect the Submitted Survey trigger to at least one series.
---
Feature Added: 8.6.0
Feature Updated: 8.6.0
ClickDimensions Version Need: 7.0