If your company blocks IP addresses, you will need to permit a couple of IPs to use this feature. Refer to the "Processing of Email Sends" and the "Subscription Management" Services described in our firewall article here.
As of CD version 9.2, there is an option to switch to a Subscription Management Opt-In method. The current default method is Opt-Out which means when sending an email or a text message we will send to anyone on your list who has not unsubscribed.
With the Opt-In method we will make sure they have an opt-in as well as no unsubscribes. This method was created to help you be compliant with the General Data Protection Regulation (GDPR) in the European Union.
Goals
Learn how the Opt-In Subscription Management method differs from the default Opt-Out Subscription Management method
Learn how to switch your CRM environment to the Opt-In Subscription Management method
What's Different in the Opt-In Subscription Management Method?
After switching, all emails sent will require you to select if it is transactional or not. Transactional means that it is required to go out to all recipients regardless of their preferences and unsubscribes. Read more about transactional emails and examples of them here. If it is not transactional, you will choose a Subscription List. You are setting what type of email this is. So if you have a Subscription List for newsletters and you are setting up a newsletter email you will select the newsletter Subscription List.
When the emails go out associated to a Subscription List, it will check to make sure the recipients all have an opt-in for that Subscription List (as well as the other steps taken in the opt-out method like checking for unsubscribes, etc.).
When you switch to the Subscription Management Opt-In Method, we will run a process to get you switched to this method. This process includes looking at all of your current Subscription Lists, and creating an opt-in on ClickDimensions' Azure for each email address on that Subscription List at the time you switch. Then we will take all unsubscribes you have and switch any of those opt-ins to opt-outs. This will ensure that we have the current subscriptions for that email address.
NOTE: The Opt-In records mentioned above only exist in Azure; there are not corresponding records created in your CRM environment during this process. Moving forward, submissions of Subscription Management Pages will still create opt-in and opt-out Posted Preference records in addition to recording this information in Azure, but these Posted Preference records exist for record-keeping purposes and do not control whether or not a recipient is opted-into our out of a Subscription List.
Switching to the Subscription Management Opt-In method will also give you access to subscription management for SMS. Currently SMS is only a global opt-in or opt-out. With this switch you can now have Subscription Lists for different content sent via SMS. This also means you must select a Subscription List for every text message you send (there is no transactional option for SMS).
None of your current automated emails or text messages will break when you switch. If you have any non-transactional Send Email actions set up in your Campaign Automations, then these automations will be paused until a subscription list(s) is specified for those actions. If you have any automated workflow emails/SMS, they will continue to go out using the old opt-out method until you update the settings for each.
Switch to the Opt-In Subscription Management Method
To switch to the opt-in subscription management method you must first be on ClickDimensions solution version 9.2. For help on how to update, see here.
Once updated, go to ClickDimensions > ClickDimensions Settings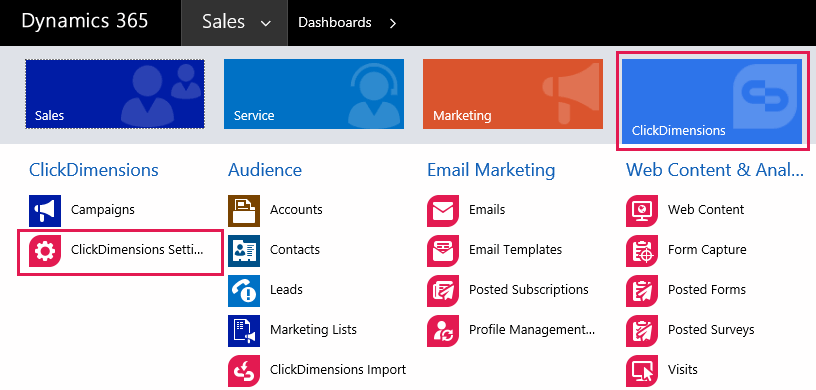 Then click on Subscription Management Settings.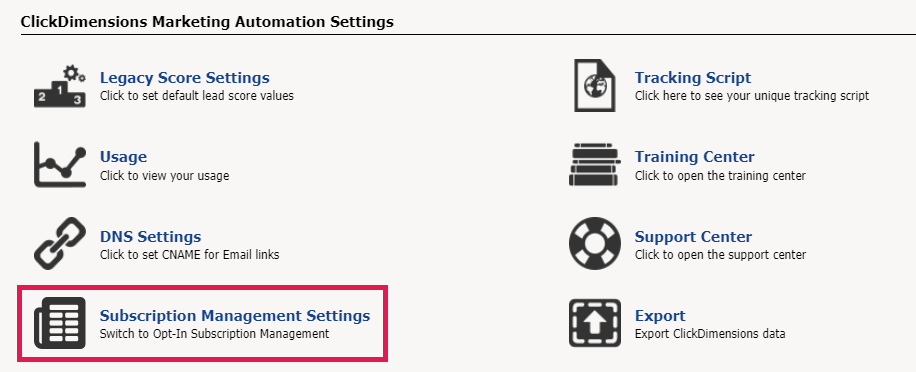 Here you can see which method you are currently running and you can switch to opt-in if you are not already on it.

Once you click Activate you'll need to just check some boxes saying you understand what the switch means. As well as enter an email address that will receive the notification that the switch process is completed.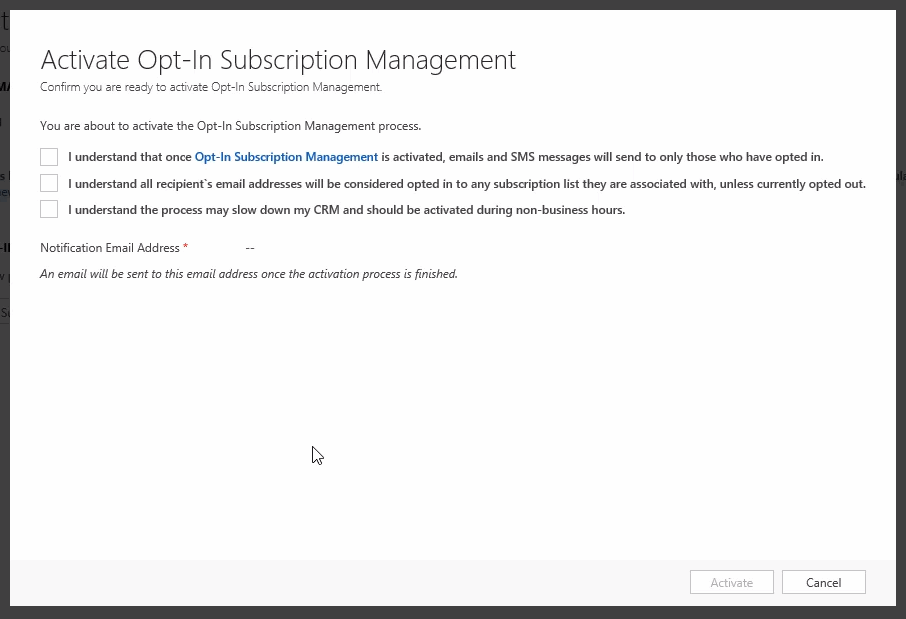 Once you've filled that out, press Activate at the bottom and you'll be presented with a screen that says it has started the processs.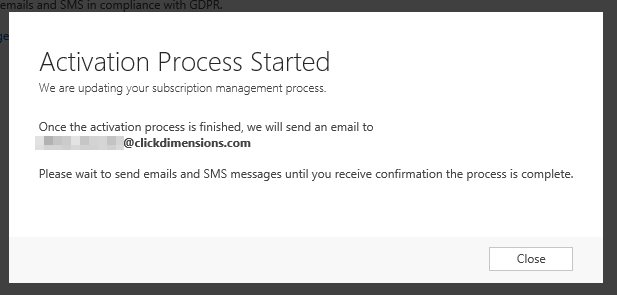 An email will be sent to the notification email address you provided when the process is completed and your environment has been transitioned to the Subscription Management Opt-In method.
Can I Revert to the Opt-Out Subscription Management Method?
Although we do not recommend it, it is possible. Once your environment is on the Opt-In Subscription Management method, you can revert to the opt-out method by opening Subscription Management Settings again and clicking Revert to Opt-Out Subscription Management.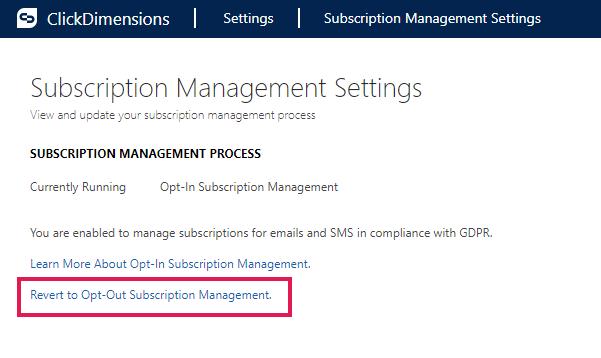 Clicking this link will display a pop-up asking you to confirm your decision to revert to opt-out.

If you choose to do so, we will automatically delete any subscription data we have stored for your environment on the cloud. We will also revert all changes made within your environment to accommodate the Opt-In Subscription Management, such as the display of Subscription List and Transactional fields on a number of entities.
---
Feature Added: 9.2.0 (8.2.2 for CRM 2011)
Feature Updated: 9.2.4 (8.2.3 for CRM 2011)
ClickDimensions Version Needed: 9.2.0 (8.2.2 for CRM 2011)