Campaign Automations allow you to build out an automation scenario to market to your customers in a timely manner. However, since there are many different ways to build your automation, we've created several templates to help get you started.
Purpose
Campaign Automation templates are designed to outline a possible flow for your automation. But since your needs may vary, you can still add/delete nodes (actions, triggers, or timers) as needed. The Campaign Automation can still be customized to your needs but you're starting with a framework in place.
Templates
There are five templates available or a sixth option, which is simply starting with a blank automation builder.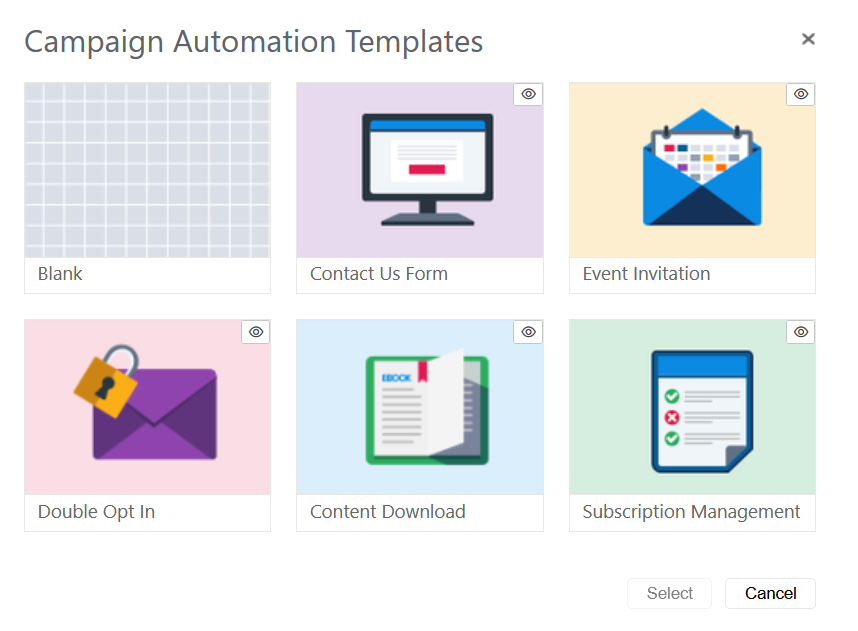 You can learn more about each of the templates by clicking on the names below.
Selecting a Template
You can select a template to use when you create a new Campaign Automation. To create a new Campaign Automation, in CRM go to Marketing > Campaign Automation. Select the New button in the toolbar.
Add your Campaign Automation's name and select Save.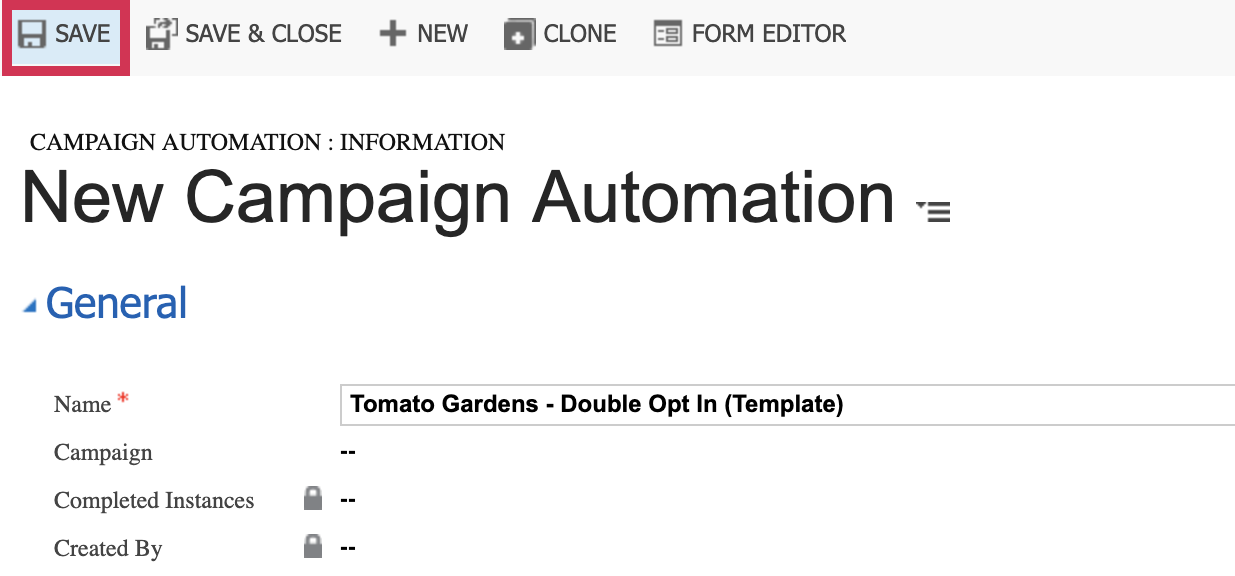 You will then see the Open Builder button available in the toolbar. Select it to open the builder window.

When the builder window loads, the template options will automatically load as well. You'll need to select either the Blank option or one of the templates. After making your selection, click the Select button. In example below, the Subscription Management template has been selected.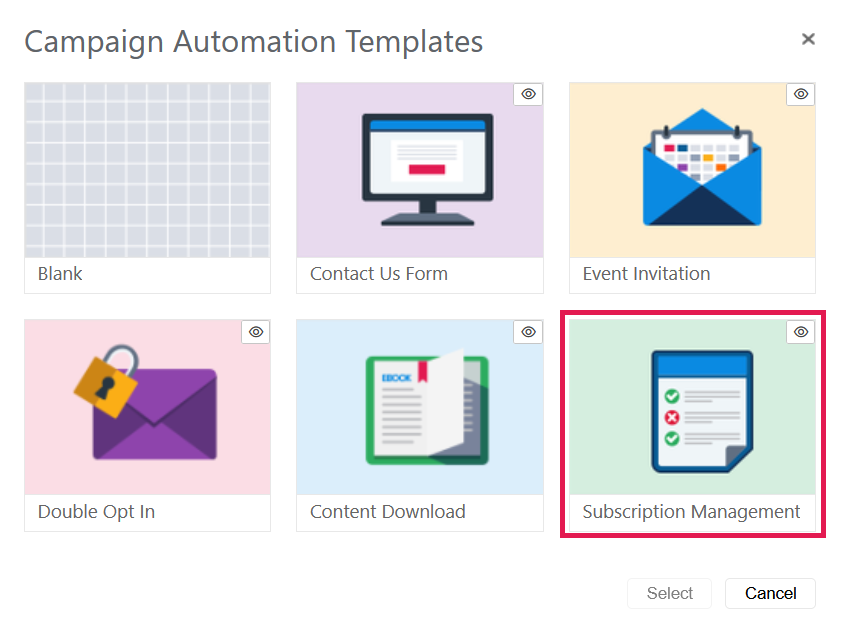 You can also preview these default templates by clicking on the Preview icon in the upper-right hand corner of the template.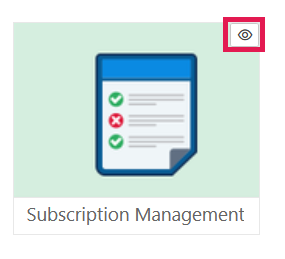 This will display a preview that shows all of the elements included in the selected template.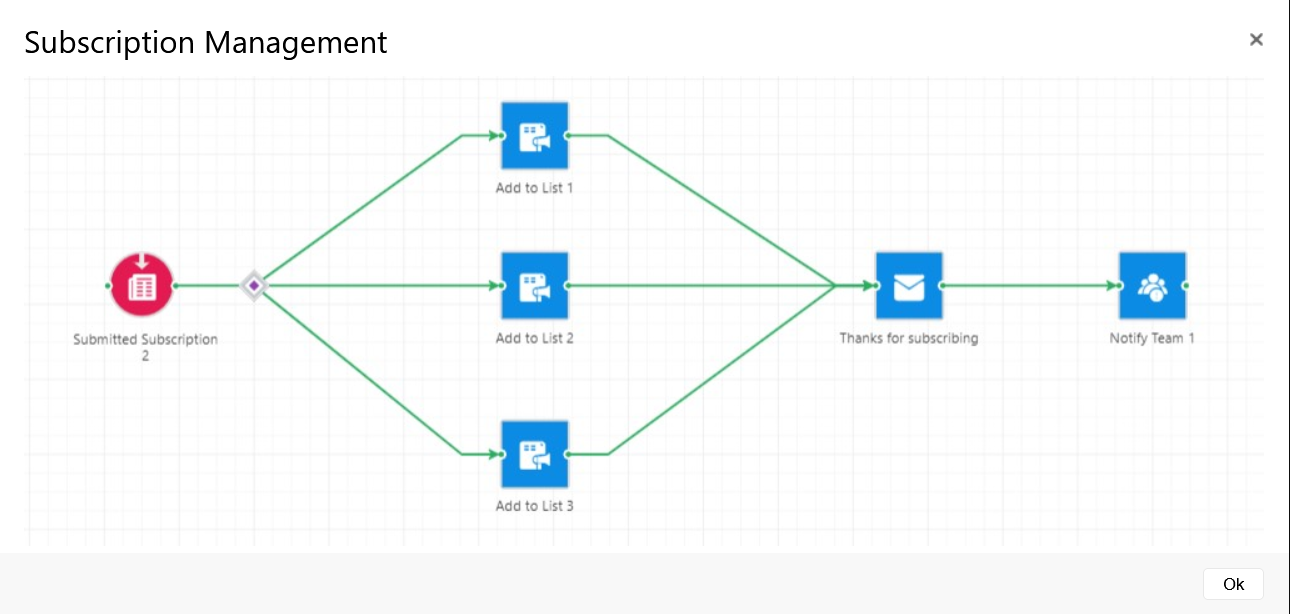 Editing a Template
When your selected template loads, it comes with a framework of nodes to get you started.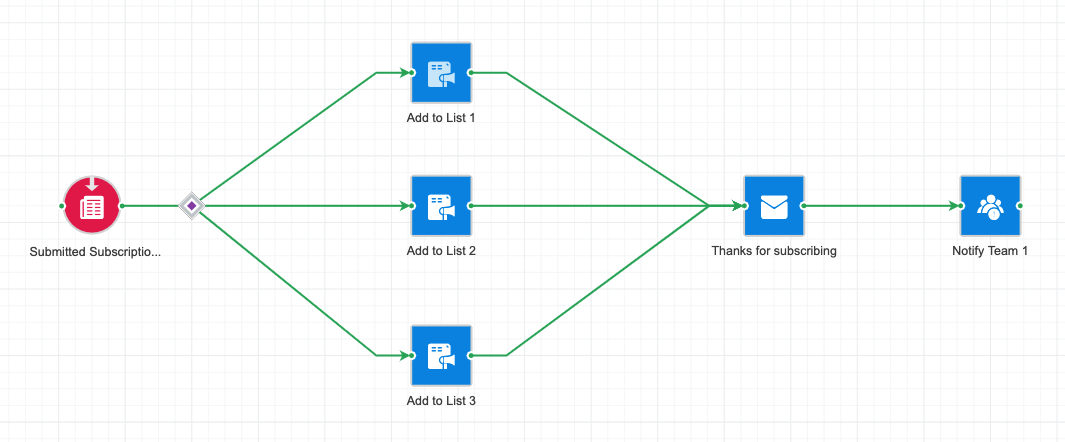 You can add or delete nodes as you need. The Campaign Automation builder still has all the functionality that you're used to, so you can customize the automation. But keep in mind that all the template's nodes are essentially empty; you need to add in your own content (Marketing Lists, Email Templates, etc.) for the automation to correctly function.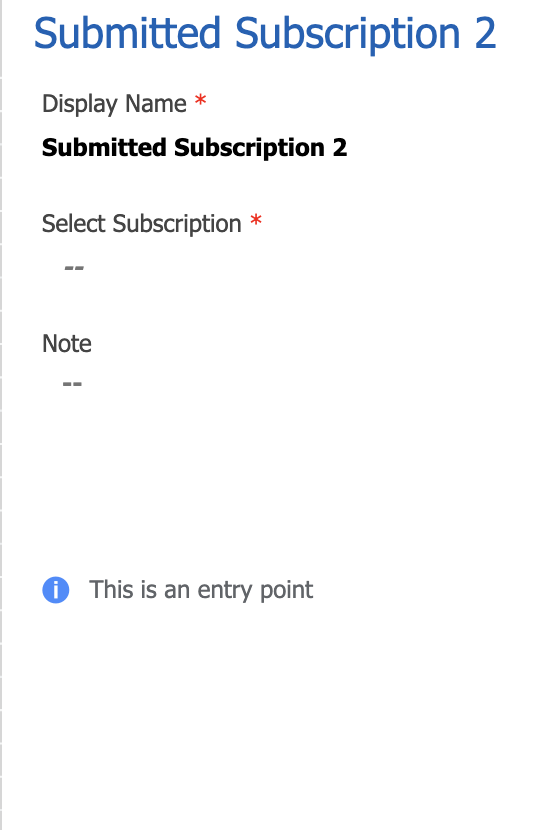 Saving or Publishing from a Template
As you edit your Campaign Automation, you can still save it and come back to it later, but you won't be able to publish it with any empty nodes. If you try to, you'll see an error message reminding you that there are invalid nodes in the automation that need to be addressed before you can publish.

FAQs
Can I create my own templates?
Can I select a template for an existing Campaign Automation?
---
Feature Added: June 2019
Feature Updated: 11.6.0
ClickDimensions Version Needed: 9.16