Typically, Emails are created from an Email Template, but sometimes you may create an Email, or modify it from the original template enough that you want to save it as a new template to use in the future. The Create Email Template function allows you to do that.
Using the Create Email Template Function
Open any Email Send record in your CRM, go to the ellipses menu (...) and select Create Email Template.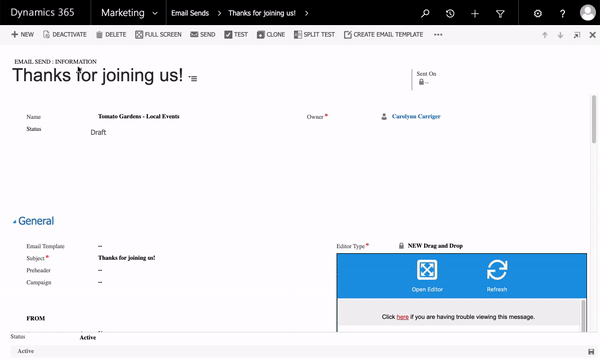 Once you click on that button, a new window will appear with the new Email Template record. The Email's content will be in that template but you will still need to fill in the required fields (Name and Subject) before saving the record.
The Owner field (also required) will automatically populate with the Service User, so you can either change it to your user or leave it as the Service User.
After the record has been saved, you can use it as a template in your Emails or Quick Send emails.
FAQs
Can I create a template from a previously-sent Email?
Yes. It doesn't matter whether your Email has been sent or is still a draft; you can still use the Create Email Template function.
---