Social Marketing with ClickDimensions allows you to create, schedule, and publish social posts all from within your Dynamics environment!
All ClickDimensions customers will be able to access Social Marketing with ClickDimensions as an embedded feature. The basic ClickDimensions solution includes support for up to 5 social profiles.
If you are interested in increasing the number of available social profiles or accessing additional social marketing functionality, you can contact your ClickDimensions Customer Success Manager for information regarding upgrading to the Basic or Business social packages.
The Instagram Connector is only available as part of the paid social marketing plan. Contact your ClickDimensions CSM to learn more about this connector as part of the upgraded tiers.
To use this embedded social feature, connect your various social profiles, then you will need to set up a separate CNAME within your DNS host. Once set up, it is easy to create, schedule, and publish social posts and report on the interactions, as well as tie these social marketing efforts to CRM Campaigns.
Setting up a Social Account with our Social Wizard
The first thing you will need to do is set up your Social Marketing account. To do this, you will need to navigate to Settings and Support > ClickDimensions Settings > Social Marketing Settings.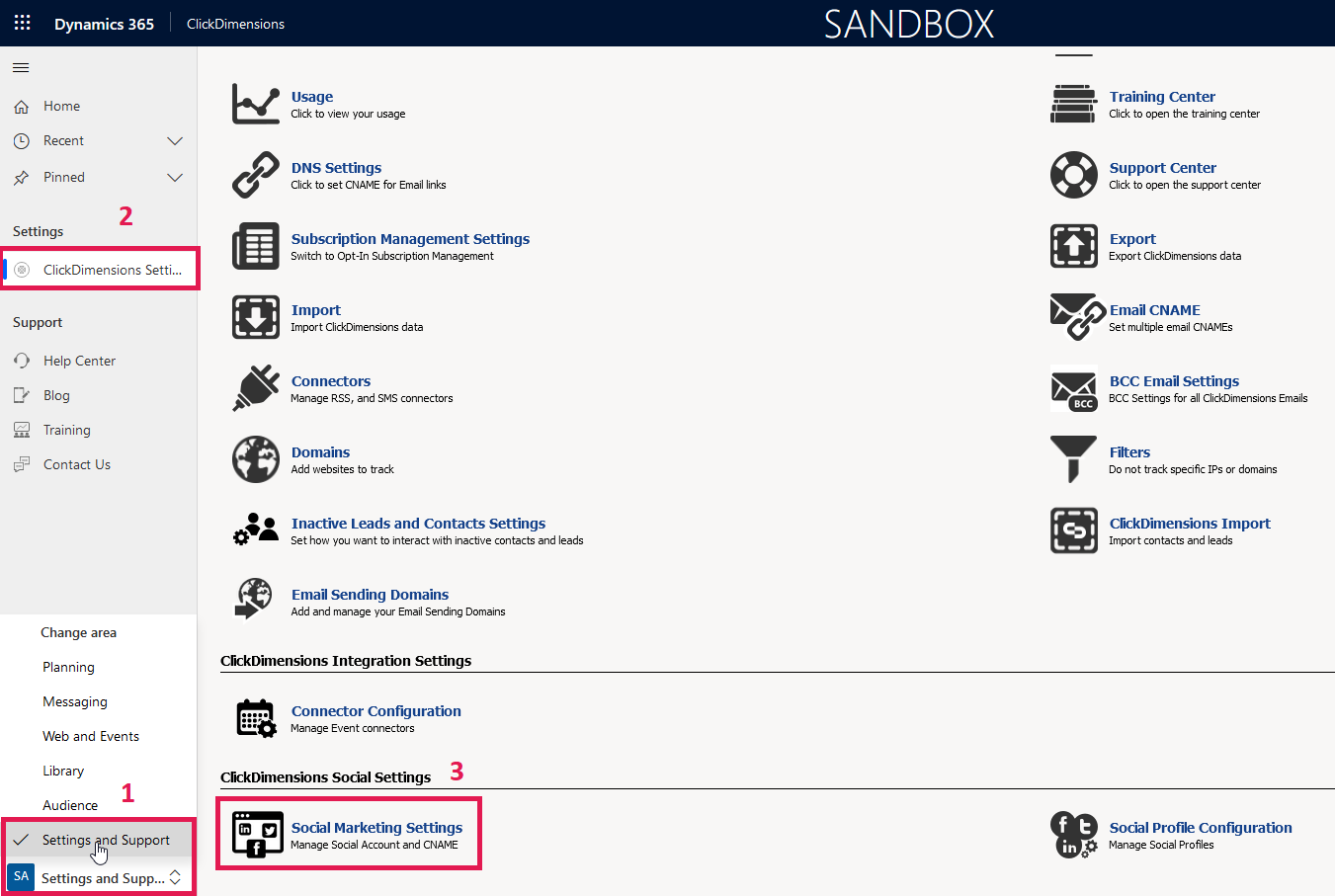 If you have not already set up an account, then this will open our Social Wizard to help guide you through the account creation process. If you instead try to select "Social Profile Configuration" to create a Social Profile before creating your social account, you will receive an error and will not be able to create a profile. The first screen of the Social Wizard requires your acknowledgement of our Account Owner and CNAME requirements: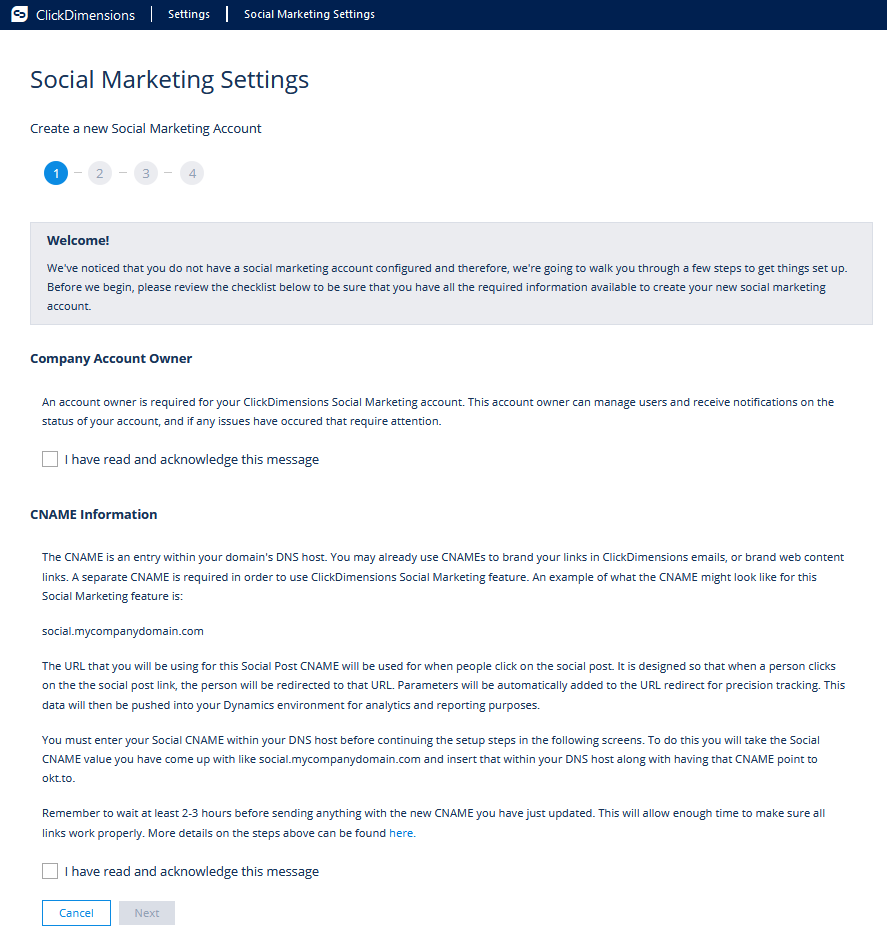 After reading and acknowledging these requirements, the next page will request the details for your desired Account Owner. Please note that the email address must be unique and cannot be used for a Social Account for another environment: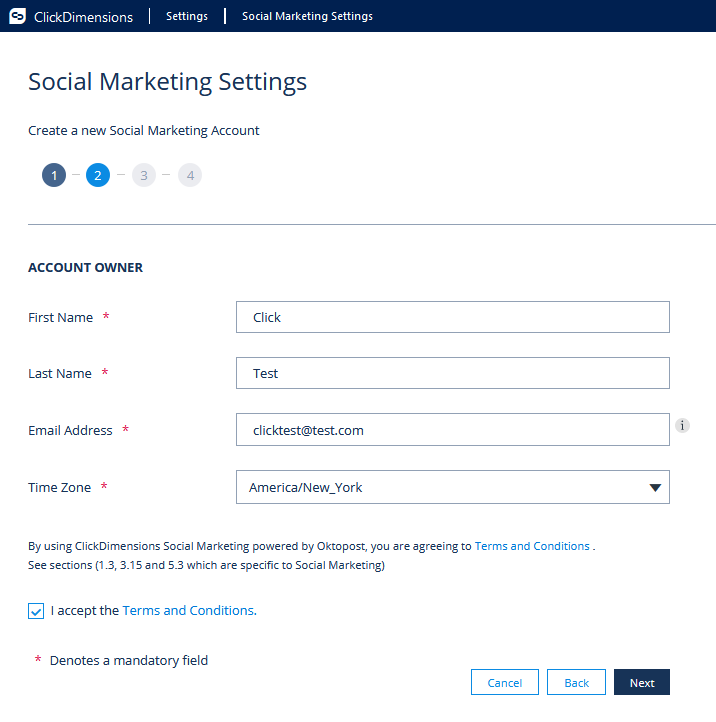 After entering your Account Owner's details, you will then need to enter the CNAME that you would like to use for your Social Links. For more details, please see our CNAME article.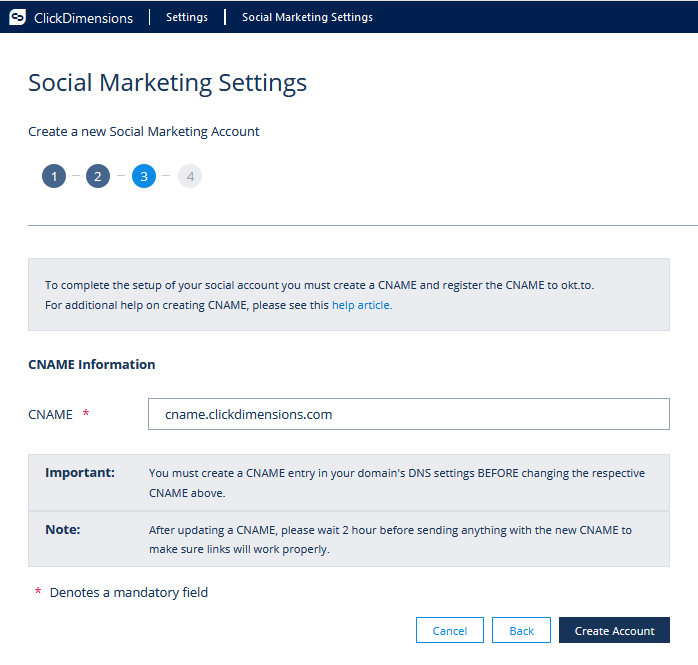 Upon clicking the 'Create Account' button here, our service will display a success screen and finalize the account creation process so that you can begin creating profiles.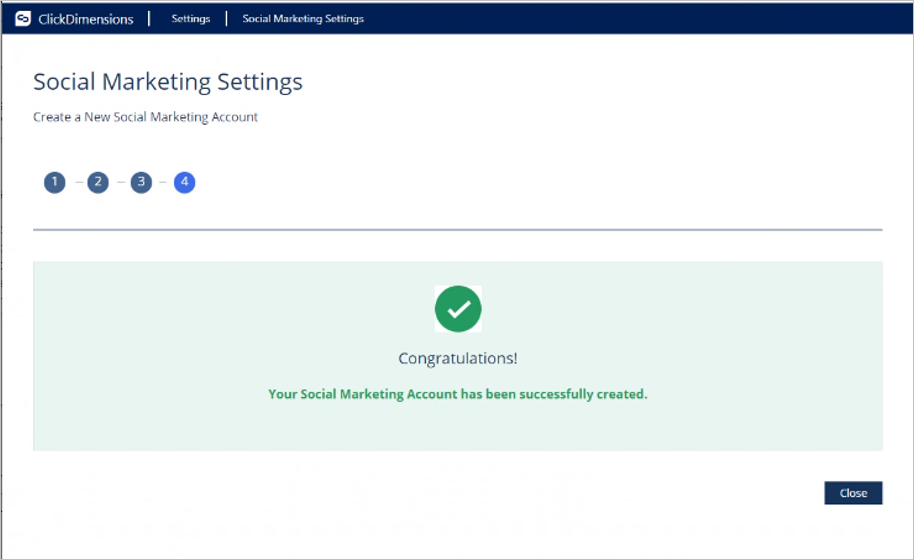 Multiple Social Accounts
Version 11.4 introduced support for two integrations using two social CNAMEs. In order to enable this, please reach out to your ClickDimensions account manager and ensure that you are on at least version 11.4 of our solution. Once it is enabled for your environment, you will be able to navigate to the social portal, and then to the General > Integrations area to add a new ClickDimensions integration.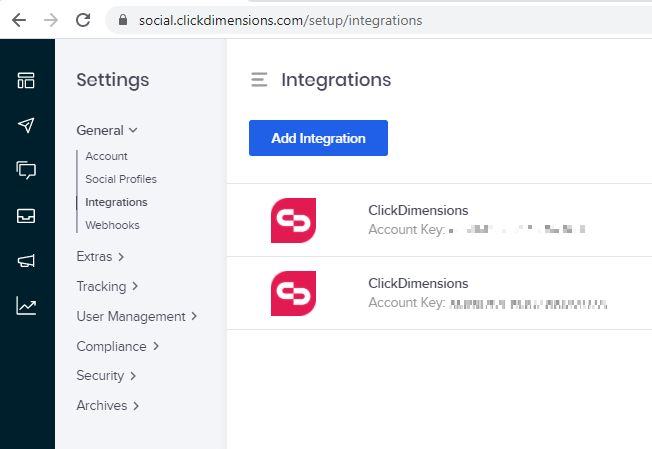 The new integration will use the same account key from your environment and a new social CNAME.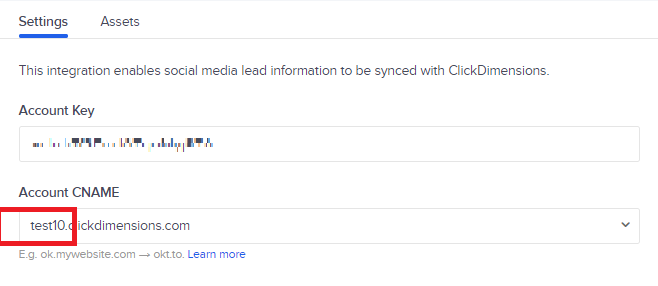 Once your two integrations are set up, then you will need to go into the Assets section in order to assign your desired social profiles to each integration to determine which CNAME they will be associated to.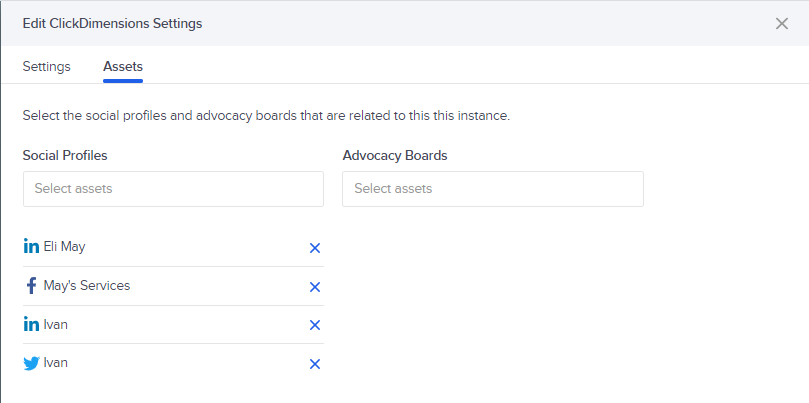 After you complete the setup, you will then be able to see which integration/CNAME your Social Posts are associating to via the CNAME field on your Social Posts. If you have updated to version 11.4, then you will be able to check which CNAME a post was made under in the Active Social Posts view as shown below: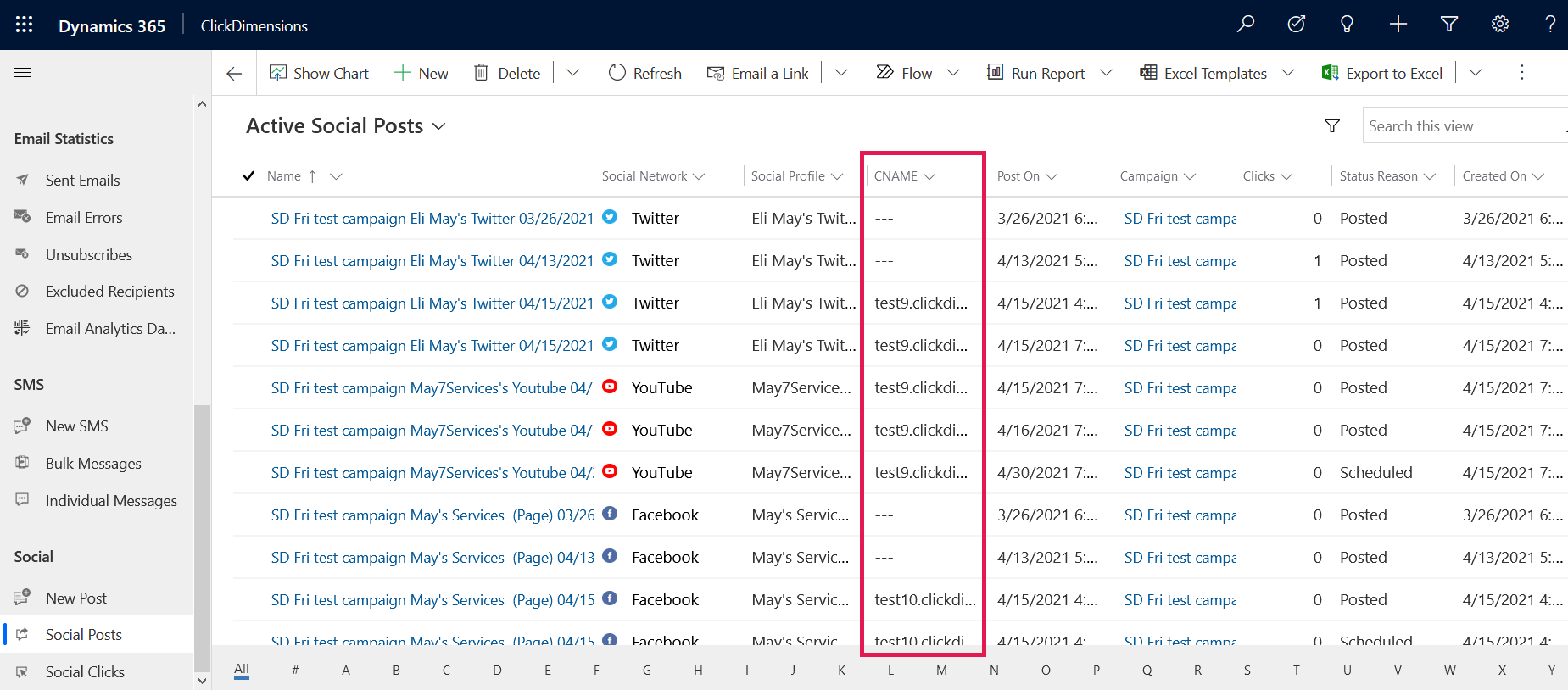 The following articles linked are designed to take you through the social connector setup process, as well as explain how to fully utilize this feature!
To set up the various social profile connectors:
Make sure to also setup a Social CNAME:
Start posting:
To learn more about reporting on ClickDimensions Social Marketing:
How to View Activity from Social Posts within CRM (track clicks from social posts)
---
Feature Added: 8.8
Feature Updated: 11.4
ClickDimensions Version Need: 8.8