Social Marketing with ClickDimensions allows you to create, schedule, and publish social posts from the ClickDimensions Social Platform while tracking the analytics from within your Dynamics environment!
To use these social features, you will need to set up a separate CNAME within your DNS host and create a social account to access the Social Platform. Once set up, it is easy to create, schedule, and publish social posts and report on the interactions, as well as tie these social marketing efforts to CRM Campaigns.
This article will cover some of the basic features offered by the Social Marketing platform.
License Levels
ClickDimensions Social Marketing offers 3 license levels:
Basic - 1 user and up to 5 social profiles
Professional - 1 user and up to 10 social profiles
Premier - Up to 5 users and unlimited social profiles
All ClickDimensions customers should have access to the Basic license solution, which includes support for up to 5 social profiles and 1 user. For the Basic license, your account owner will count as your 1 user and only your account owner will be able to log in to the Social Platform to make use of the social publishing features. Below is a table showing the features offered by each license level: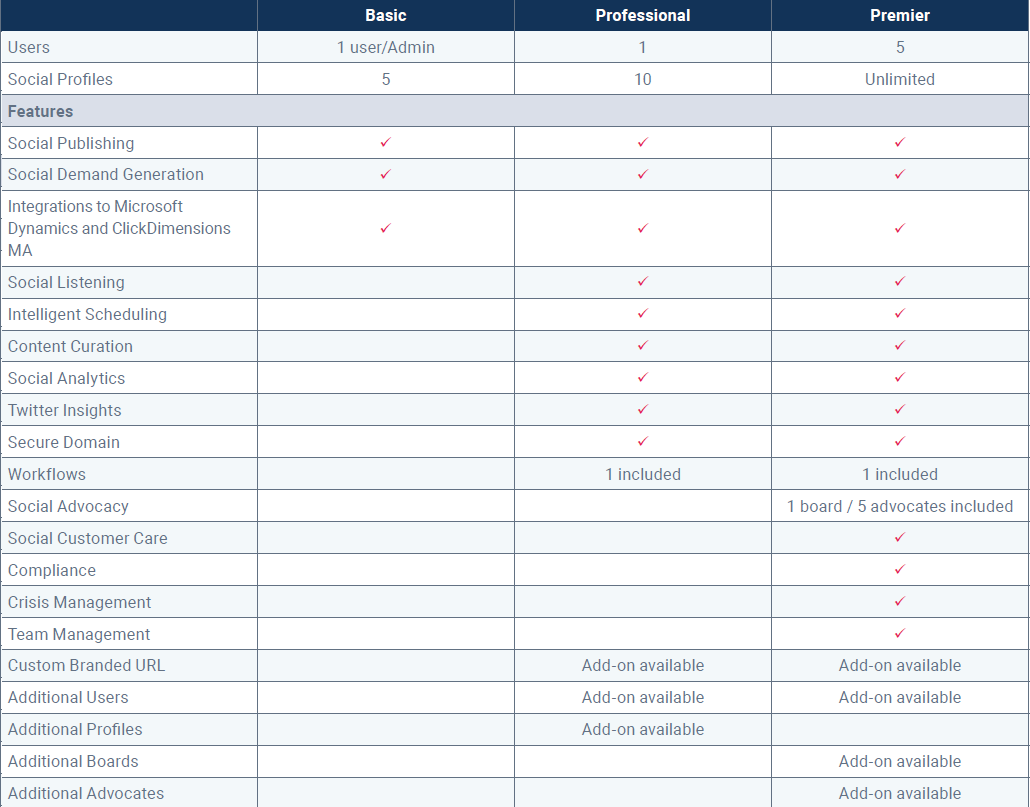 If you are interested in increasing the number of available social profiles, users or accessing additional social marketing functionality, you can contact your ClickDimensions Customer Success Manager for information regarding upgrading to the Professional or Premier social packages.
Basic Features
ClickDimensions Social Marketing gives you the tools needed to efficiently create and post content to your social networks while allowing that data into Dynamics so that you can easily analyze their performance. Features, such as the Calendar view, give you a view of how your posts are scheduled so that you know exactly when posts are occurring: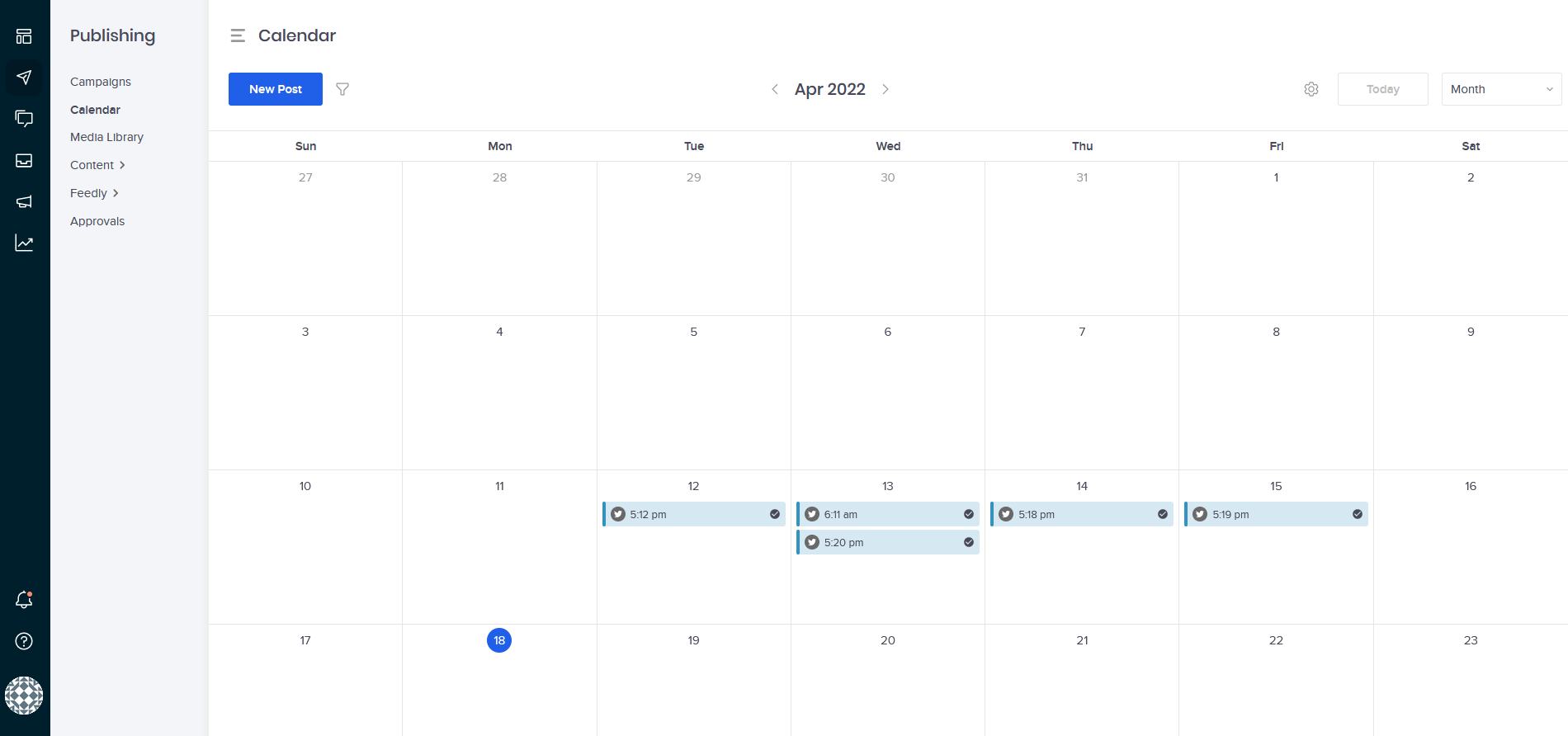 The Post Console makes it simple to switch between your different social networks and profiles and to schedule when your social posts should be sent: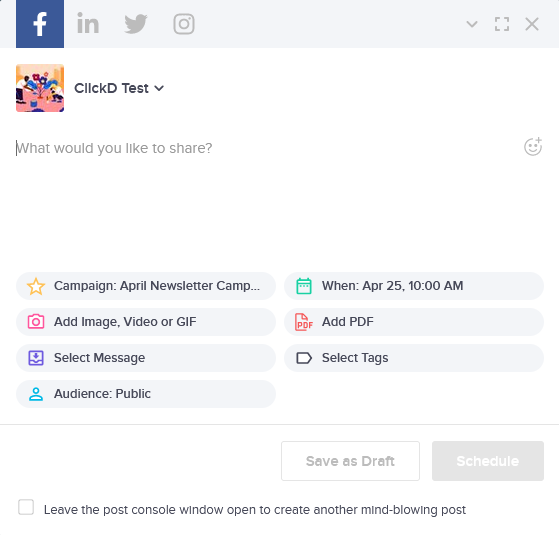 After a social post has been successfully posted, then you will be able to re-visit it and check a report of its performance to gain insights into how your visitors may be interacting with each post: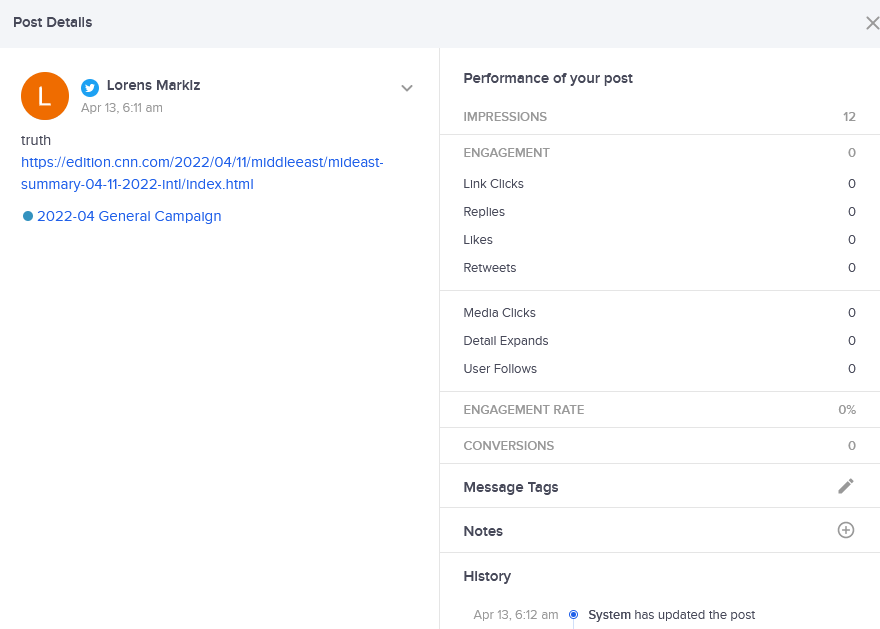 Social Marketing Setup and Usage
The following articles linked are designed to take you through the Social Marketing setup process, as well as explain how to fully utilize this feature!
To create or update your social account:
To set up a Social CNAME:
To set up the various social profile connectors:
Start posting:
Simplify posting with social campaigns:
To learn more about reporting on ClickDimensions Social Marketing:
How to View Activity from Social Posts within CRM (track clicks from social posts)
Additional Training: Check out the ClickDimensions Academy for more on this topic!
---
Feature Added: 8.8
Feature Updated: 12.3
ClickDimensions Version Need: 12.3